Loons Drop Season Finale to Kansas City, Miss Playoffs for First Time Since 2018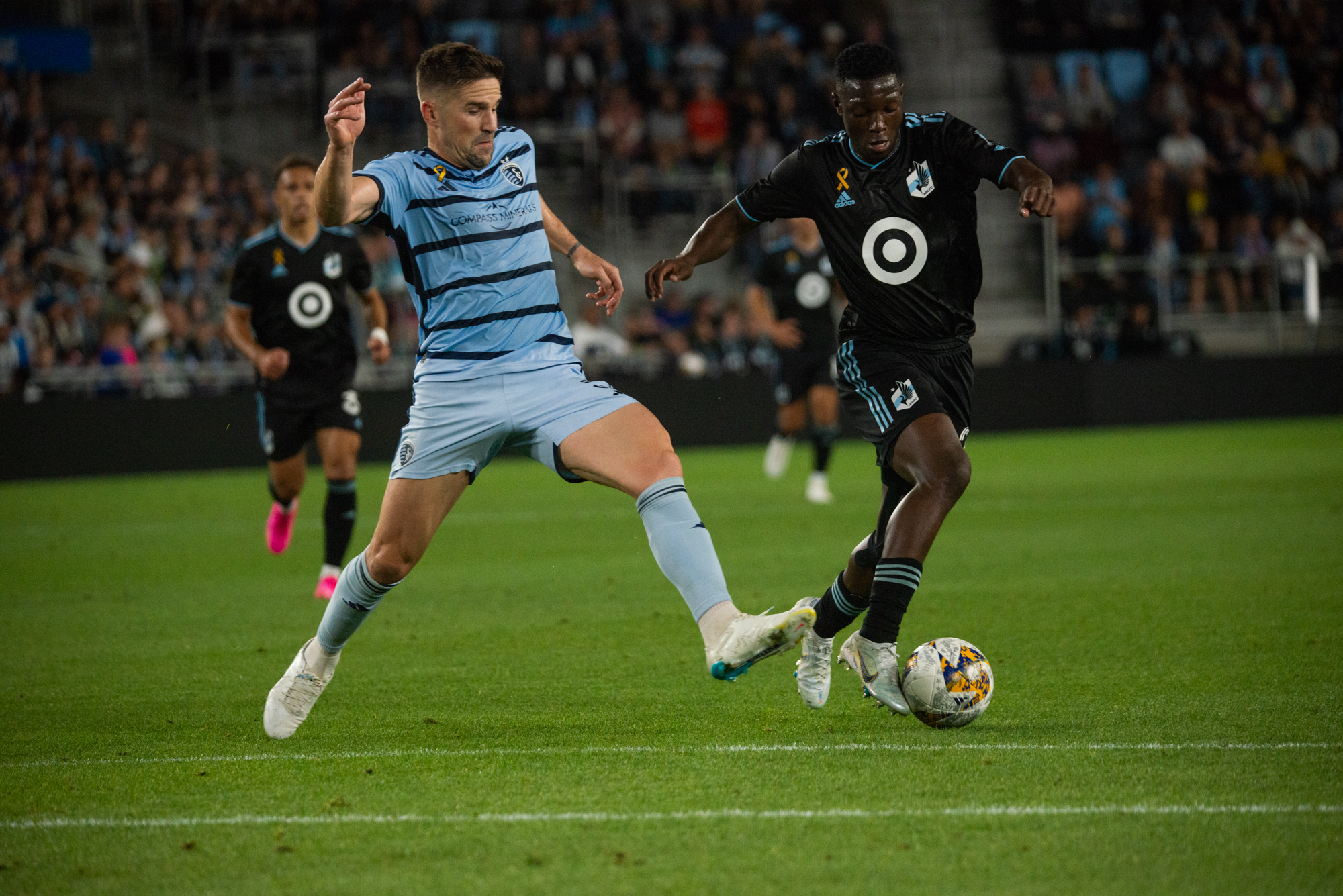 Heading into Decision Day, Minnesota United had an outside chance at making the MLS Cup Playoffs. The Loons had to win along with getting some help from either a Dallas, Portland, or San Jose loss in order to make the playoffs. While the assistance needed came in the form of Portland's loss, Minnesota's win did not as the Loons fell 3-1 away to Sporting Kansas City.
Heading into the season finale, Interim Manager Sean McAuley swapped Minnesota from their traditional 4-2-3-1 to a 4-3-2-1 formation. But in the process made only one change to the Starting XI with with Franco Fragapane starting at attacking midfield replacing Bongokuhle Hlongwane.

Feeling festive.#SKCvMIN | @AllianzLife pic.twitter.com/Wj5iFnA1Df

— Minnesota United FC (@MNUFC) October 22, 2023
Unlike many of Minnesota's previous matches, this one started off with a slow and prodding pace. Minnesota managed just a single shot inside the opening 25 minutes. Reynoso's 13the minute shot forced Tim Melia  to make a diving safe to prevent a goal. Unfortunately for the visitors, it was Sporting Kansas City who struck first fifteen minutes later on a goal by Johnny Russell, his first against the Loons this season.
"We spoke about Johnny Russell and when he's on that right-hand side, he wants to cut in. We said all the time to keep him outside and take him to his right foot," said Sean McAuley. "He skilled up Jan [Gregus] and brought the ball inside, then it's really difficult because the goal looks a lot bigger when he brings it inside because he's on his strong left foot."
JOHNNY! RUSSELL!

The cap opens the scoring just before the 30 minute mark!

Watch #SKCvMIN live now on @AppleTV 👉 https://t.co/ZKvjHiCZrS pic.twitter.com/VxT96qSoXP

— Sporting Kansas City (@SportingKC) October 22, 2023
Three minutes later, Sporting added a second tally, this time coming from Rémi Walter.
We weren't even done celebrating the first goal when Remi added a second!!!

Watch #SKCvMIN live now on @AppleTV 👉 https://t.co/ZKvjHiCZrS pic.twitter.com/5LRUHwPeJj

— Sporting Kansas City (@SportingKC) October 22, 2023
At the end of a rough first half, Minnesota found themselves down 2-0 with their opposition playoff bound if the result held. Heading into the second half the Loons made a halftime change, brining DJ Taylor and Kervin Arriaga on to replace right back Zarek Valentin and midfielder Ján Greguš. "I wanted to play more attacking from the fullback areas and get them further up the pitch," Sean McAuley later said. Just eight minutes into the second half Wil Trapp was shown a yellow card, the first of three for MNUFC and four on the night. This set the tone for the second half as the teams went on to combine for 20 fouls in the second  half after just eight combined during the first 45 minutes.
After holding Minnesota to just two shots inside the first 30 minutes of the second half Sporting KC, in 78th minute Russell tacked on his second of the night and pushing Sporting to a 3-0 lead.
CAP ADDS A THIRD!

JFR earns himself a brace 🙌

Watch #SKCvMIN live on @AppleTV 👉 https://t.co/eqHMfaKWZP pic.twitter.com/Rij902Q0ds

— Sporting Kansas City (@SportingKC) October 22, 2023
Tree minutes later, down 3-0 with less than 10 minutes to play, Minnesota was handed a golden opportunity on a free kick from just outside the box. Emanuel Reynoso floated the set piece into the far side of the box, where a waiting Michael Boxall leaped and drove a header into the back corner, avoiding the Loons being shut out.
Fly like a Loon.#SKCvMIN | #MNUFC pic.twitter.com/Cm36me8Z7w

— Minnesota United FC (@MNUFC) October 22, 2023
Unable to mount a two goal comeback in less than eight minutes plus stoppage time, the Loons fell by two goals, with the loss meaning MNUFC would miss the playoffs for the first time since the 2018 season. "Any season is never easy. We're disappointed, that's reality. At the same time, there was no quitting from the group at the end and you can always take some positives from that. But disappointment just in the way the game went." Wil Trapp said "The first 30 minutes we felt good about it; conceding the back-to-back goals in two minutes was certainly a more difficult way to go about the game. But no one quit, which I'm super proud of the boys for that."
With the regular season finished, the league will now focus on the MLS Cup Playoffs that kick off on October 25th and wrap up with the MLS Cup on December 9th. Minnesota's focus now shifts from on the field to off field, as the search for a permanent head coach and new technical director will be a major focus of the offseason.
---
Northland Soccer Journal thanks our Patrons for supporting our coverage.
If you would like to support independent soccer media, subscribe to NSJ on Patreon.