Predicting a Starting Lineup for an Unsettled Team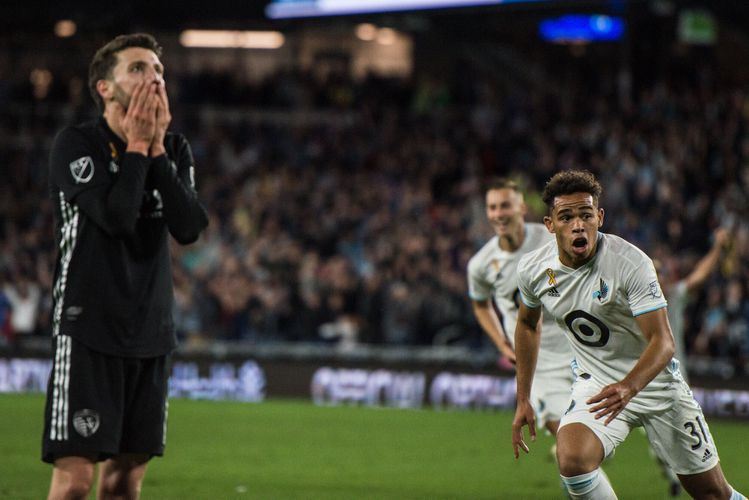 It is, of course, a bit of an understatement to say that, in the final week of pre-season, the roster is still in flux. Emanuel Reynoso is suspended, without explanation or understanding. As the team has always chosen a tactical Ibsanity – get the ball to one player and hope for some magic – this pre-season has been spent experimenting with formations searching for a Plan B. At the same time, Bakaye Dibassy is still out, recovering from an injury so rare and unusual that there's no real timeline for his return. His presumptive replacement, Miguel Tapias, has only been with the club two weeks and has just received his work visa, while the starting left back, Kemar Lawrence, has been with the team in training for only three weeks. Hassani Dotson, who looked set to take over the midfield last year before his injury, is still not quite at full-fitness after a season ending ACL tear, and so remains a very close but still unknown. And, at the time of writing, Kervin Arriaga and Joseph Rosales are in Honduras working on their green cards, making a very full midfield feel quite thin. This also might be a year of generational turnover, a youth movement of sorts so that even at full health and strength there are only four starters to confidently carry-over from last season. Though it doesn't necessarily equate to depth, there is some real competition for positions this year. And, of course, there is still and always one or two more signings to come.
All of that roster chaos exists this year in what might be a more general time of transition for the game: with the continued over-crowding of the soccer calendar and the general acceptance of five substitutions, teams may start moving away from anything like a preferred XI that is also always a starting XI. Rotation will become the norm over the course of a very busy season while the ability to change out half of a team's field players in a game will offer the possibility of more flexibility, tactically and positionally. How any of that might affect this year's Loons is hard to say: head coach Adrian Heath has been committed to a 4-2-3-1 during his time in Minnesota and has not liked to use his subs. He has also been quite willing to play people out of position to get the most in-form players on the field. And in his time in charge, the team's greatest tactical and formal innovations have come from necessity. This season is certainly beginning as a time of necessity so that the roster's gaps and redundancies, so frustrating in seasons past, may this year open onto quite unexpected possibilities and innovations. The unknown really is the excitement as this season begins.
So trying to speculate on a possible starting XI or depth chart for the team is a bit difficult. What is offered below is presented as a 4-3-3, more for convenience than anything else. In pre-season the team has experimented with a 4-2-3-1, a 4-3-3, a 4-4-2, and a 3-5-2; as long as Rey is out, it seems a 4-2-3-1, a 4-3-3, and a 4-4-2 are all possible. The preferred back five is most likely Dayne St. Clair, Kemar Lawrence, Tapias, Michael Boxall, and DJ Taylor. Taylor picked up a bit of a knock early in pre-season and so is working his way back into full fitness; Alan Benítez impressed last season, but Zerek Valentin has been getting a lot of time in these early scrimmages. With Rey absent and Dotson's recovery not yet known – he got his first minutes of preseason in the final game at Coachella – the midfield has the most questions. Wil Trapp remains the preferred defensive midfielder, while Robin Lod has become the preferred central playmaking midfielder. The other one or two midfield spots is still open: Heath has had high praise for Arriaga all pre-season, while also being quite excited by Dotson's progress and possible return. While they play with a bit different style, they are positionally quite similar and so may be interchangeable.
With Lod moving centrally a space is opened for Bongi Hlongwane to start on the right; this is a big opportunity for the kid and will be his chance to step up and secure a place on the team. The left side of the attack presents Heath with his most tactically determined decision: the more stable, inverted wing play of Franco Fragapane or the more creative, deep play of Mender García. Part of that decision may depend on whether the team goes as a 3-1 up front or as a 3-3. But the decision will also be complicated if Luis Amarilla has a slow start: Heath has mentioned on several occasions that, at some point, García will be a central forward. For the moment that spot is Amarilla's, but it is hard to imagine Heath will make the same mistake he made with Amarilla as he did with Adrien Hunou; a slow start from Amarilla should see García leading the attack. A decision on that combination, Amarilla, Fragapane, García, will be quite interesting to watch and will go a long way in letting everyone know Heath's mood, if he is feeling conservative or creative.
And so that is, it seems, how the season will start. Except to add this one caveat: Heath has always been committed to individual quality over team tactics and formation. As he has often said in one way or another, player performance determines the team rather than a preconceived commitment to formation or tactics. And that doesn't seem to have changed this year. This season might still end up with Lod as the preferred (false) 9 and Arriaga as the preferred center back alongside Boxall. 
---
Northland Soccer Journal thanks our Patrons for supporting our coverage.
If you would like to support independent soccer media, subscribe to NSJ on Patreon.