Decision Day 2023 Preview: MNUFC @ Sporting KC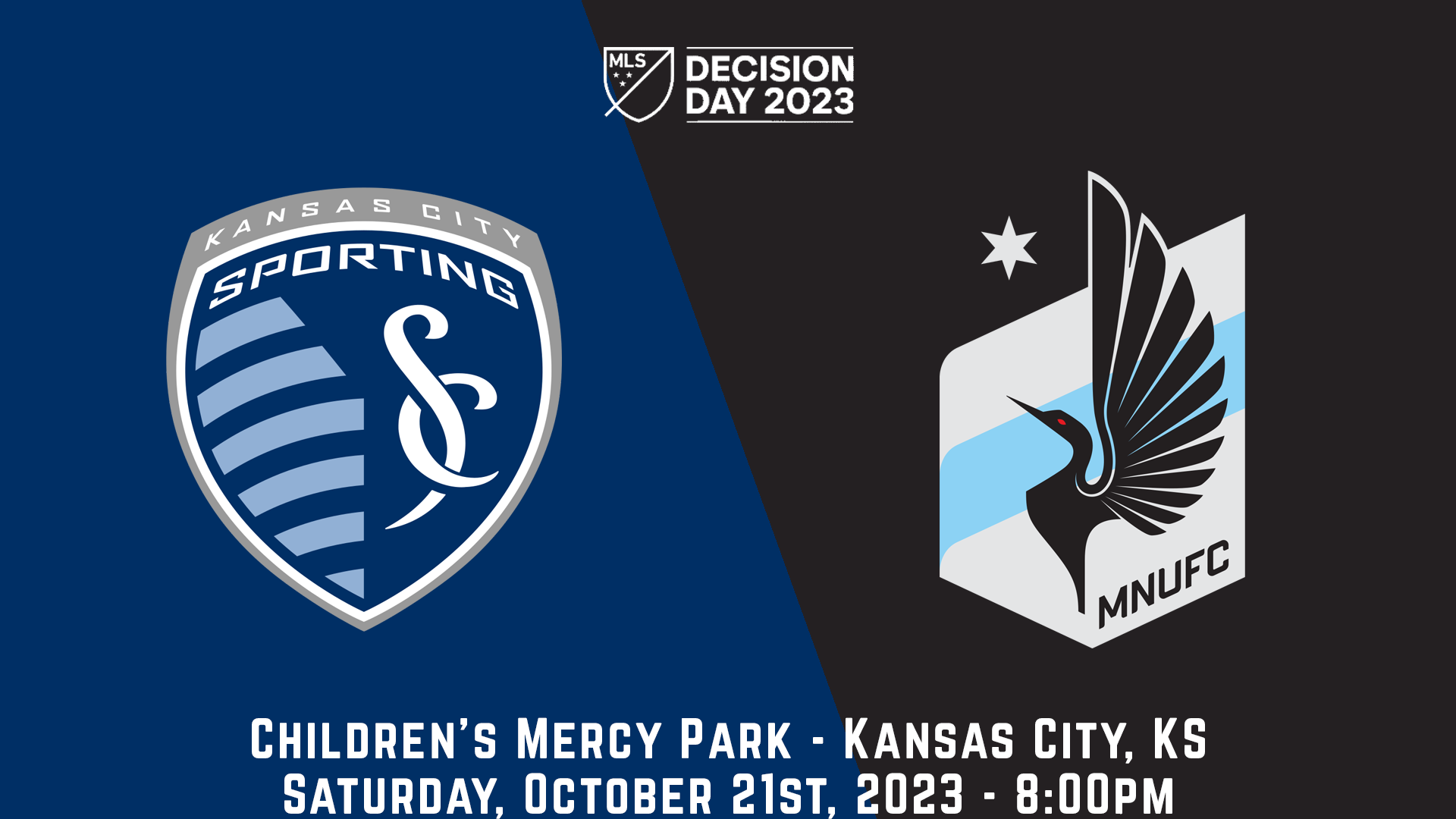 Decision Day 2023
SKC vs. MIN
AppleTV | 1500 ESPN
For the third and final time in 2023, Minnesota United clashes with Sporting Kansas City as both teams look to squeeze their way into the playoffs on Decision Day. MNUFC has struggled down the end stretch of the season, going winless in seven matches before firing manager Adrian Heath. Caretaker manager Sean McAuley won his first match in charge two weeks ago with a huge 5-2 result over LA Galaxy, keeping Minnesota in the playoff race heading into Decision Day.
Sporting KC on the other hand has rebounded well after a less-than-stellar start to the campaign, earning just 5 points in the opening 10 matches. Now on the final day of the season SKC sits one spot above MNUFC in the Western Conference, level on points but with 11 total wins to the Loons' 10. But both teams need a win and a lot of luck or their season will end tonight.
Form
MIN: 11th in West, 41 pts; 10-11-12 (WDL), 6-2-8 away; 45 GF, 48 GA
Last match: 5-2 win vs LA, broke seven match winless streak
SKC: 10th in West, 41 pts; 11-8-14, 8-2-6 at home; 45 GF, 50 GA
Last match: 3-2 win at RSL
Key Performers and Moments
Two weeks ago it was the Teemu Pukki show for Minnesota, as the forward snagged a hat trick+one with four goals against the LA Galaxy. Pukki has scored 10 goals in league play, the most on the team, in just 13 matches played since joining MNUFC in the summer transfer window. Right below him with eight goals in the MLS campaign is Bongokuhle Hlongwane who also leads the Loons in assists this season. The winger had two assists in MNUFC's 5-2 win over LA Galaxy, marking his first points since the Loons 4-3 loss to LAG in September. Hassani Dotson has continued to show his versatility and after a goal last time out, he is one of only five Minnesota players with more than two goals this season.
"I feel as [though] if we had taken a chance, it might have been a completely different story. The front three of them [Sporting Kansas City] are obviously a threat, and they do like to control the middle of the field with possession of the ball, so we need to manage that as well," said Interim Head Coach Sean McAuley. "The big thing will be that we've got to bring our own style and identity to the game to be able to put it onto the opposition."
Shutting down Kansas City's Alan Pulido and Johnny Russell will be key for Minnesota United in order to win. The ever dangerous pair combine for 20 of SKC's 45 goal total this season, though neither player has managed to score on Minnesota keeper Dayne St. Clair this season. Both Pulido and Russell are listed as questionable however, they are expected to be available. Alongside a series of good forwards, Kansas City midfielder Gadi Kinda caused Minnesota fans heartbreak in September when he scored SKC's 84th minute winner — the second time he scored an 84th minute goal on the Loons in 2023.
Playoff Picture
With just one win separating them heading into tonight's match, Minnesota and Sporting Kansas City's playoff outlook and scenarios are the exact same. Lose or draw and the season ends. But a win also isn't quite enough as they'll need other results to swing in their favour. Either Dallas, Portland, or San Jose must lose in order for either MNUFC or SKC to make the playoffs. If all three of those teams win or draw then regardless of tonight's result in Kansas City, neither team makes it.
A hope of making the playoffs requires the Loons to do something they have not done before: Defeating Sporting at Children's Mercy Park in the regular season. The Loons' only win in KC was in the 2020 MLS Cup Playoffs and played in front of limited attendance due to COVID-19. MNUFC is 6-4-13 all time against SKC, including two NASL-era US Open Cup losses, and has been outscored in Kansas City by a margin of 22-2 during the regular season.
"We try to forget about all of that but it is there. What we're going to try and do is approach it a little bit differently just so it doesn't feel the same," said Sean McAuley. "Things that don't change from our game against the [LA] Galaxy is it's 11 versus 11, there's referees, there's their [Sporting Kansas City] staff, there's our staff, the supporters are in the stadium but they're just wearing a different colour. Everything else is the same. That's the way we're going to try and approach it."
Availability
MIN:
Questionable: None.
Out: Robin Lod (SEI – knee), Ryan Jiba (SEI – knee)
SKC:
Questionable: Alan Pulido (foot), Johnny Russell (groin)
Out: Kortne Ford (Achilles), Tim Leibold (groin), Kayden Pierre (hamstring)
---
Northland Soccer Journal thanks our Patrons for supporting our coverage.
If you would like to support independent soccer media, subscribe to NSJ on Patreon.