Opponent Insight: Previewing NYCFC v MNUFC with Hudson River Blue
Minnesota United FC will return to league play on Sunday, August 20, with a cross-conference meeting in Queens, where New York City FC will play host from Citi Field, typically home to the New York Mets. With another "home" stadium added to their repertoire and a much changed squad since the two sides last met, NYC is a bit of an unknown. Northland Soccer Journal spoke to
Oliver Strand
, executive editor of
Hudson River Blue
, about how the struggles the club has faced in 2023 and what to expect moving forward, beginning of course with Sunday's match.
Match Vitals
MIN: 7-8-7 (5-6-1 on the road) / 10th in the West, 28 pts / 26 GF, 30 GA
NYC: 5-8-11 (4-2-4 at home) / 13th in the East, 26 pts / 25 GF, 30 GA
Squad availability: No players questionable or out for either side, aside from existing season-ending injuries.
---
Northland Soccer Journal: The New York stadium situation receives plenty of press from around the league but, with three different "home" stadiums this year (Yankee Stadium, Citi Field, and hosting Chicago at Red Bull Arena on Decision Day), how are NYCFC supporters feeling about the season? How has it affected support and results?
Oliver Strand
: After the NYCFC losses on the totally regulation-sized fields at
Yankee Stadium
 and 
Citi Field
 in consecutive weeks, it was conclusively proven that the club never had an unfair home-ballpark advantage. It just turns out that past NYCFC teams were really good, and this year's squad isn't. Take that, MLS.
The truth is NYCFC fans are accustomed to the nomadic life by now. Yankee Stadium is home, Citi Field is a great place to watch a game, and both are easy to reach on the subway. Red Bull Arena is a good facility with rotten transportation options, which makes it hard to draw a crowd. Overall attendance is up more than 17% this year, which is remarkable if you consider the team's poor results.
This is a long way to say that NYCFC supporters are frustrated with the team, happy with the front office (announcing a 
new stadium
 will do that), and hopeful that the six summer signings (six!!!) clicked into place during the two-week Leagues Cup break and will carry this team to a 
second MLS Cup
 ninth-place finish and a playoff appearance.
---
NSJ: Two years after winning MLS Cup, and one year after winning Campeones Cup, NYCFC is sitting at 13th in the East and just 4 points shy of the playoff line. What do you think needs to happen to get the club back to that stage?
OS: The easiest thing is if Apple TV and adidas chip in to help cover the costs of a $100 million player and two of his best friends, and MLS suspend certain rules to make the money work — fair is fair, right?
The truth is, NYCFC were without a striker for the past 12 months, and they have the results to prove it. The summer transfer window was unusually busy for the club – did I mention the six new players?!? – and if those players can be integrated quickly then there's a slim chance that the team
will make the playoffs
. I don't know if you heard, but last-place Inter Miami made some savvy signings, and they're suddenly in the playoff race as well — it's going to get tight in the Eastern Conference.
NYCFC probably need to win at seven of their last ten games to secure a spot, although they could do it with five wins and some draws plus favorable results elsewhere. Keep in mind that NYCFC have won five games all season.
---
NSJ: Longtime leader Maxi Moralez is back after an eight-month spell back in Argentina, on contract through 2024. What are your expectations for his return?
OS: His immediate impact will take place off the field: Maxi is a leader, a mentor, and an all-around good dude, and his presence in the locker room and on the training grounds will help the team regain a focus they lost this year. NYCFC have the second-youngest squad in MLS – one starter is 18, one new signing is 19, and other regulars are 20, 21 – and they need his wisdom and experience.
I'm not sure how much playing team the 26-year-old will see right away. He might come on as an impact sub, or start and come off at the half. His creativity and intelligence will more than make up for what he might have lost in his legs, and we missed his ability to control the tempo of a game: He's like a conductor who can slow down or speed up the rate of play at will.
---
NSJ: NYC is about level with MNUFC in terms of goals scored and goal differential and contributions are pretty evenly spread across the midfielders and forwards (Gabriel Pereira led the squad with 6 goals and 3 assists in MLS play before departing during the break for Al-Rayyan SC of the Qatari Stars League – a transaction which brought NYCFC a club-high $10 million transfer fee.). What offensive threats should we be watching for on Sunday and as Decision Day draws near?
OS: Four of the six summer signings are attackers, and I think we'll see a new-look forward line. Striker Mounsef Bakrar scored in his first start for the club in a Leagues Cup match, and he transformed the shape of the attack. Gabi is off to Qatar for a $10 million-plus fee, but the club added two new wingers in 19-year-old hotshot Julián Fernández and 24-year-old Costa Rica international Alonso Martínez. All that plus Maxi.
They're deadly on paper. Bakrar should allow Talles Magno to float in on the left, and Santiago Rodríguez to create chaos in the box; Fernández should bring that puppy-dog energy, and Maxi will pull the strings in the middle; Martínez and Matías Pellegrini can bring danger off the bench.
That's on paper. They've had two weeks of training to gel, and we won't know how they're clicking until they take the field on Sunday.
---
NSJ: Predictions: Starting XI? Final score?
OS: The Starting XI is a total guess. Head coach Nick Cushing is likely to play a favored 4-3-3, in which case this is the starting lineup — although I could see Maxi starting in the middle, in which case Santi might shift to the left and push out Talles Magno. Or Cushing could change formations and play new signing Birk Risa in a back-three. My assumption is Matt Freese will start in goal, but it could be Luis Barraza. Who knows?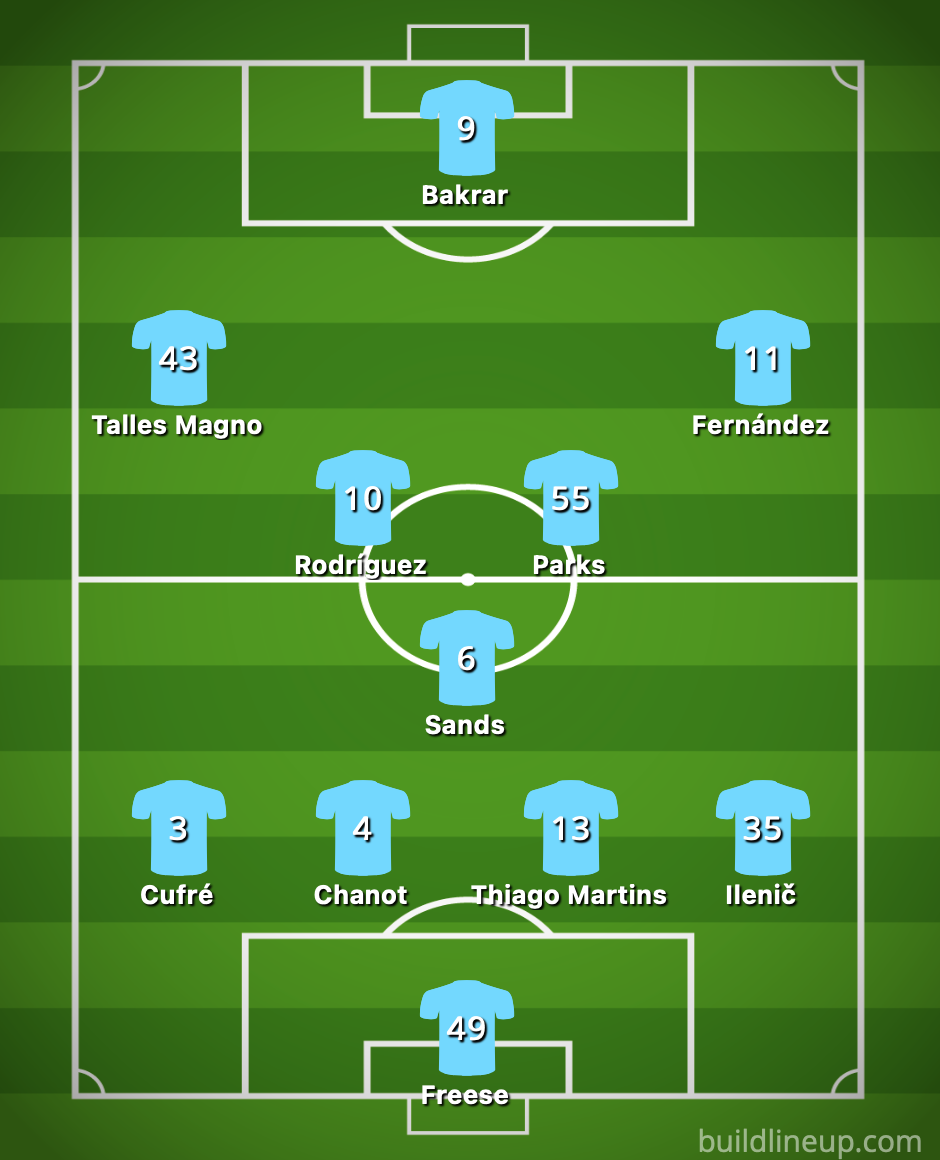 My final score is less of a prediction than a mandate: NYCFC win 3-0. If NYCFC are to make the playoffs, the new attackers need to attack, and the defense need to lock it down. Bakrar and Fernández need to be able to beat Boxall and St. Clair, and the defenders need to be able to handle strong players such as Hlongwane and Reynoso. Because if they can't do it on a totally regulation-sized field on a sweaty night in Queens, they'll have a hard time doing it in a temporary stadium in Ft. Lauderdale next month.
---
Northland Soccer Journal thanks our Patrons for supporting our coverage.
If you would like to support independent soccer media, subscribe to NSJ on Patreon.