Matchday 27: NYCFCvMIN Recap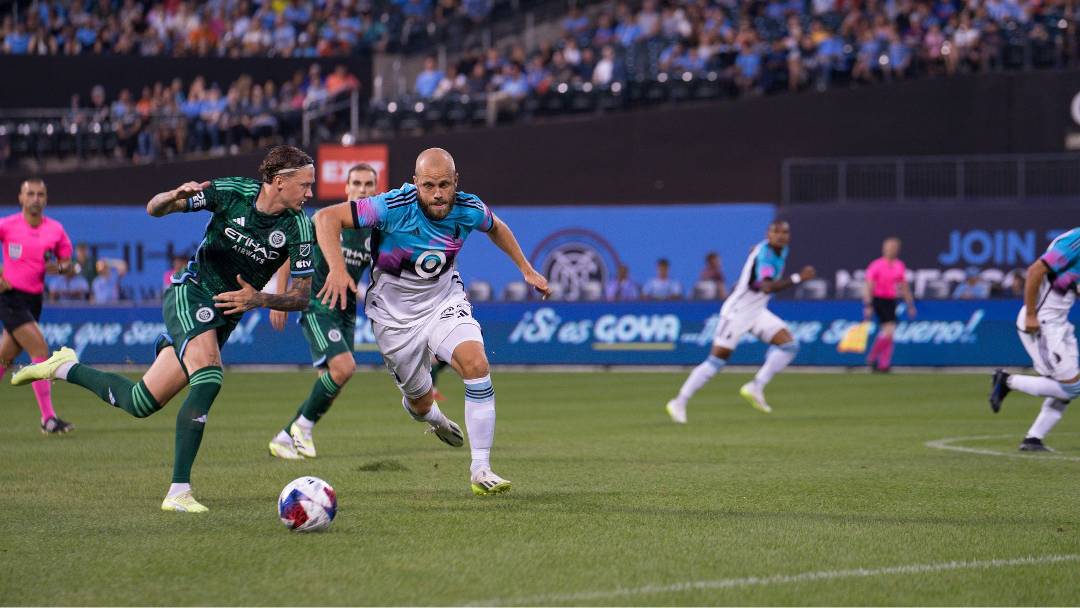 Minnesota United headed into the Big Apple for a Sunday night clash with New York City FC with plenty to prove. A plethora of new signings for NYCFC and the return of Maxi Moralez, plus their own crashing exit from Leagues Cup were just a few of the obstacles the Loons would have to overcome. Against all stats and probability MNUFC not only won the match, but also took a 2-0 clean sheet back home to the North Star State.
In the Leagues Cup, Minnesota United normally managed their first shot off in under 2 minutes, that took 8 against New York City FC, setting the tone for the night. After the shot NYCFC dominated for the next 10 minutes, getting 4 shots and 2 corners, requiring Dayne St. Clair to make just a single easy save from a clean on-target header.
In the 18′ Teemu Pukki and Bongokuhle Hlongwane paired up for a threatening chance for Minnesota. Pukki took the ball down the left wing, cutting in and dancing between defenders before sending a pass to Hlongwane. The right winger was unable to corral the pass immediately, but was able to get a shot off that was then blocked back towards the endline. Pukki snapped a pass from the left side of the six back to Hlongwane one-timed it just over the bar, from on the top of the six. This was his last shot of the night before being subbed off due to injury in the 38′ following a hard tackle from James Sands that resulted in a yellow card for the latter.
"He said he felt his knee. Everything will be inflamed so we'll have a better idea when we get back and we have a look at him tomorrow. Hopefully, it's nothing too serious," Adrian Heath said of Hlongwane's injury.
In the 21′ Moralez sent a through ball from midfield into the box where a sprinting Monsef Bakrar caught up to the pass at the top of the penalty box. After getting hold of the ball, Bakrar got off a shot that sailed over goal right as defender Michael Boxall caught up with him. Three minutes later Dayne St. Clair was called on to make a lunging save to his left, after Santiago Rodríguez took a shot from the top of the box, after working into open space. Matías Pellegrini sent a cross in from the right wing and Bakrar again came close to striking home in the 28th minute, one-timing a shot, from inside the six yard box just wide of goal.
While NYCFC had a large majority of chances in the first 45 minutes, it was Minnesota who took the opening goal early in the second half. Ján Greguš, who came on in 38′ for Hlongwane, scored the opener in the 53′.
FROM LEFT FIELD#NYCvMIN | #MNUFC pic.twitter.com/KRveLDKBfO

— Minnesota United FC (@MNUFC) August 21, 2023
From this point on things became very dicey for Minnesota United, with yellow cards issued to Wil Trapp and Emanuel Reynoso issued within just minutes of each other for bad fouls. In the 64′ minutes after the cards were issued, New York nearly evened the match when Bakrar found the back of goal, but was deemed offside.
Heath made his next substitution in the 68′ bringing on Sang Bin Jeong for Reynoso, who has been recovering from an ankle knock. "It's quite swollen," Heath said. "He said he doesn't have a lot of pain but if anything is not perfect and he's not planting [his foot] perfectly, anytime he stretches it, either internally or externally, he gets quite a lot of pain."
The final 20 minutes of the match was New York City FC doing everything in their power to win that match and, on occasion, Minnesota appearing they wanted to give away the victory.
Rodríguez fired a low shot that went sailing just wide of goal in the 70′. The 76′ was NYCFC's closest chance when Rodríguez took a shot from the left side of the box requiring Dayne St. Clair to make a diving punch to clear. Julián Fernández tapped the rebound just to the right of the post and out of play.
In the 84′ it appeared that the clock had struck midnight as New York was given a near guarantee of a goal. The hosts were awarded a penalty after Tapias appeared to foul Fernández in the penalty area, however following a VAR review the call was overturned, Tapias deemed to have not made contact with the other player. The Loons now had only the clock to beat.
Minnesota struck the dagger in what was effectively the final play of the match 90'+5' on a Ménder García goal.
Do that dance, Ménder García!

García scores in extra time for #MNUFC now, 0-2! pic.twitter.com/l7oa4OiONU

— Major League Soccer (@MLS) August 21, 2023
"I did say to the guys [that] apart from the last thirty minutes of Nashville [SC] when we were down to 10 men – when I don't think we did ourselves any favors – I thought it was a success for us and I said we have to build on that," Adrian Heath said. "We have to take some momentum from the Leagues Cup… it was disappointing but we were down to the last eight out of 47 [teams]. I'm sure the other 39 would've liked to have been in Nashville last Friday. But it looks like we've taken a bit of that momentum into the game tonight."
Minnesota United's next match will be this Sunday, August 27th at 3:30pm when they host the Seattle Sounders at Allianz Field in St. Paul. MNUFC is 1-12-1 all time against the Sounders since joining Major League Soccer. The Loons' only win against the Sounders came on July 18, 2021, in Minnesota's second match back at a full capacity Allianz Field following the lifting of COVID-19 restrictions.
---
Northland Soccer Journal thanks our Patrons for supporting our coverage.
If you would like to support independent soccer media, subscribe to NSJ on Patreon.