It Takes Penalties, But Minnesota Moves On In Leagues Cup Knockouts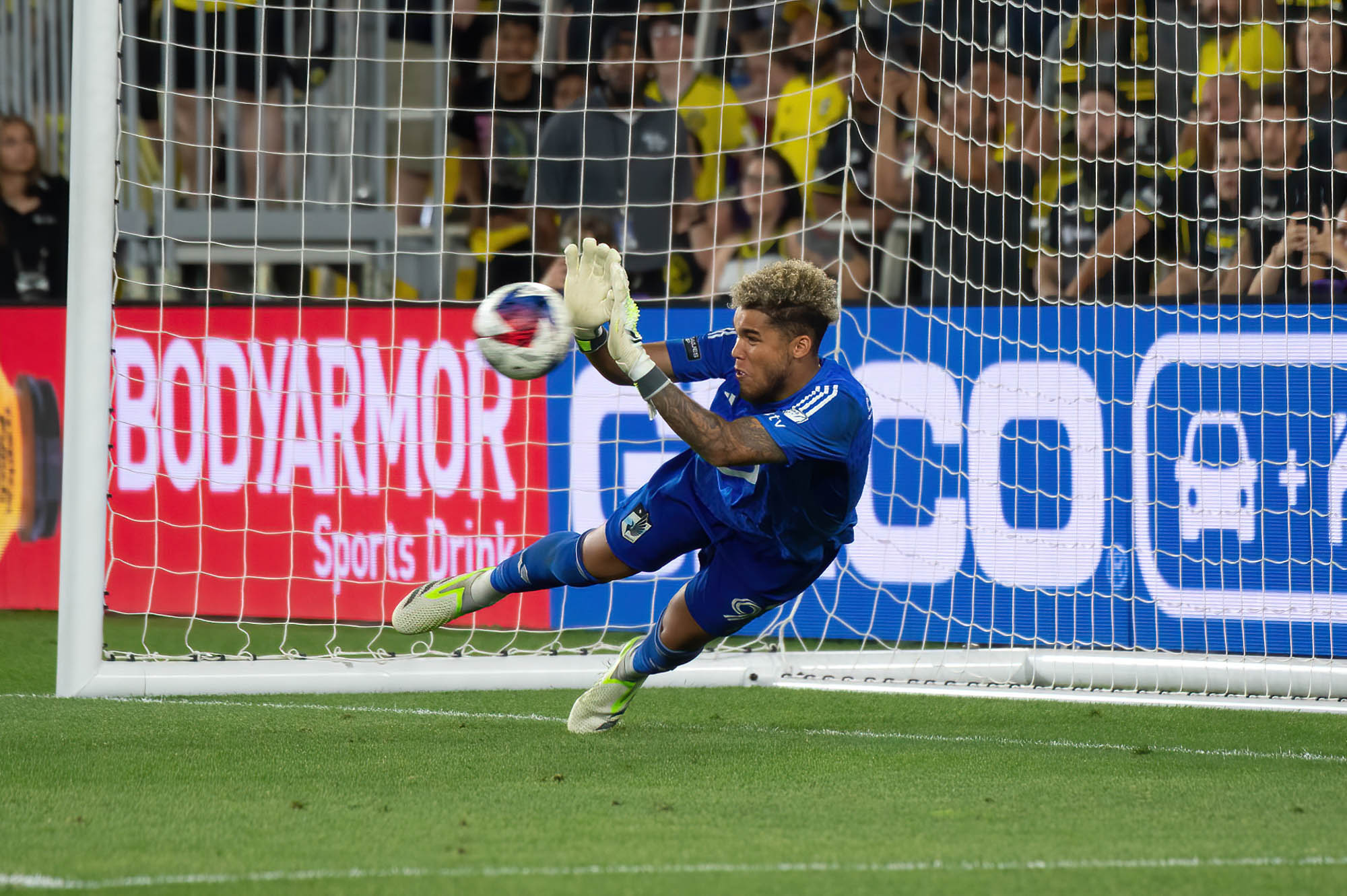 A high scoring, back and forth affair for 90 minutes in the knockout round of a continental competition, culminating in the away side winning on penalties. This is the perfect type of match to introduce new fans to soccer and exactly the type of match seen last night between Minnesota United and Columbus Crew in the Leagues Cup Round of 32. Following two goals in the final 10 minutes of the match putting the clash to a 3-3 draw in regulation, before taking six rounds of kicks from the spot to decide the winner. In the end Minnesota United moved on to the Leagues Cup Round of 16 on the back of Miguel Tapias's sixth round penalty kick.
Following a disappointing one goal loss to Chicago in the second group stage match, Adrian Heath kept his favoured 4-2-3-1 formation, making just three changes to the Starting XI. Those changes seeing Franco Fragapane, Joseph Rosales, and Michael Boxall replacing Kervin Arriaga, DJ Taylor, and Bakaye Dibassy respectively.
In contrast to the opening moments of the previous two group stage matches, Minnesota started on the back foot early on. Columbus took control from the outset and former Loon Christian Ramírez got the night's first, and Columbus' first shot of 24 just six minutes in. Shortly after, Minnesota United was nearly handed a golden opportunity as referee Reon Radix pointed to the spot after an apparent Columbus hand ball inside the box. Following a VAR review, the penalty call was overturned as the ball was determined to hit the sliding Steven Moreira's back.
Nonetheless an undeterred MNUFC team got there goal not long after, in the 17th minute Bongokuhle Hlongwane scored his first of two on the night.
17'

Bongi does the thing. 1-0, Loons.#CLBvMIN | @LeaguesCup pic.twitter.com/6ulifaKMOf

— Minnesota United FC (@MNUFC) August 5, 2023
Following the goal, Columbus dominated possession, something they would continue to do for the remainder of the evening. The Crew constantly peppered Minnesota's defence with shots, albeit ones that would miss the target or be blocked in the end. The Loons managed two shots on the counter attack, although they were both blocked in the end. "I thought we were excellent in the first half for about 30 minutes, 35 minutes. Thought we were the better team," said Adrian Heath post match. "We looked dangerous every time they [Columbus Crew] turned the ball over in our half. We looked really dangerous on the counterattack. Then I thought they came into it. We started to give the ball away cheaply. Played into their hands a little bit by playing long instead of playing out from the back."
Giving the ball away cheaply, as put by Adrian Heath, directly led to Columbus' opening goal in the late stages of the opening half. Malte Amundsen intercepted intended for Emanuel Reynoso, immediately chipping the ball up to Cucho. Amundsen sprinted down unmarked, creating space to allow Cucho to sent a low pass that Malte Amundsen one timed at goal, deflecting off Dayne St. Clair's glove into goal to even the score line at 1-1 heading into the half.
Less than five minutes into the second half, the hosts struck again, putting themselves up 2-1 on a goal from Alexandru Matan.
Take a bow Matan 🙌#Crew96 | #LeaguesCup2023 pic.twitter.com/L273SKKIEk

— The Crew (@ColumbusCrew) August 5, 2023
Just three minutes later Hlongwane scored again to tie the match, give himself another brace, and put himself on top of the Leagues Cup Golden Boot race with a 6th goal in three games. Goalkeeper Dayne St. Clair would say to the media "Tonight, he [Bongokuhle Hlongwane] stepped up. Even this season, he's taken a great leap and pushed himself and turned some of those chances into goals."
🕺 Bongi brace 🕺 pic.twitter.com/iUW8AgQfP1

— Major League Soccer (@MLS) August 5, 2023
For the next quarter-hour the contest turned into a chippy one, seeing Minnesota and Columbus trading fouls and the Crew forcing the Loons into their defensive third constantly. "The second half, they obviously pinned us in," Adrian Heath stated. "As I said to the players, at some stage, we're going to have to defend and defend for long periods. But we had a good shape." MNUFC gave up 8 corners on the night, including 7 just within the first hour of football. Minnesota United substituted Sang Bin on in the 71st minute for Teemu Pukki and momentum seemed to change at least momentarily as the Loons were finally able to break out on the counter and change the match complexation for a short time.
That all changed in the 83rd minute when Columbus landed what appeared to be a death blow for Minnesota. MNUFC's all time leading scorer Christian Ramírez, with 71 goals between NASL and MLS for the side, struck home for his side.
YEBOAH CROSS TO RAMIREZ FOR THE LEAD#Crew96 | #LeaguesCup2023 pic.twitter.com/U2ajgMBi3c

— The Crew (@ColumbusCrew) August 5, 2023
The Loons would not go down so easily and forced the game into penalties on a 90the minute Hassani Dotson goal. After a pass interception and some fabulous individual work by Reynoso to get into the box, he touched a pass to an uncovered Hassani Dotson at the top of the box. He immediately struck it towards goal and sent a bouncing shot through the Columbus defence and past goalkeeper Evan Bush to level the match at 3-3. "We showed our resiliency tonight. Coming into the game, we knew that we were going to be able to create chances and cause problems for them in transition moments. And I think we did that," Dayne St. Clair said following the match. "When we went down tonight, I don't think we ever beat ourselves up, but we always believed that we could go get another one. Even at 3-3, both sides had huge chances that got very stretched at the end and both sides had chances to win it. Obviously happy that we were able to finish it off in penalties."
Penalty kicks resembled the match, with both sides trading goals until it became 3-3. Following two straight failed attempts for each side, the match moved to sudden death penalty kicks. Malte Amundsen's shot just to the right of centre, was saved by Dayne St. Clair. Tapias then got Bush to go the wrong way and slotted a sixth round shot into the far bottom corner to seal a win for Minnesota.
The Loons will face Club Deportivo Toluca at 7:00 pm from Allianz Field in St. Paul on Tuesday, August 8th for their Round of 16 match. This is a time change from the original 7:30 pm kickoff, due to the match being put on national television in both the United States on FS1 & UniMas and México on TV Azteca. MNUFC will resume MLS league play on Saturday, August 20th when the travel to Citi Field in Queens, NY to face off with New York City FC.
---
Northland Soccer Journal thanks our Patrons for supporting our coverage.
If you would like to support independent soccer media, subscribe to NSJ on Patreon.