Leagues Cup Round of 32 Preview: Columbus Crew v MNUFC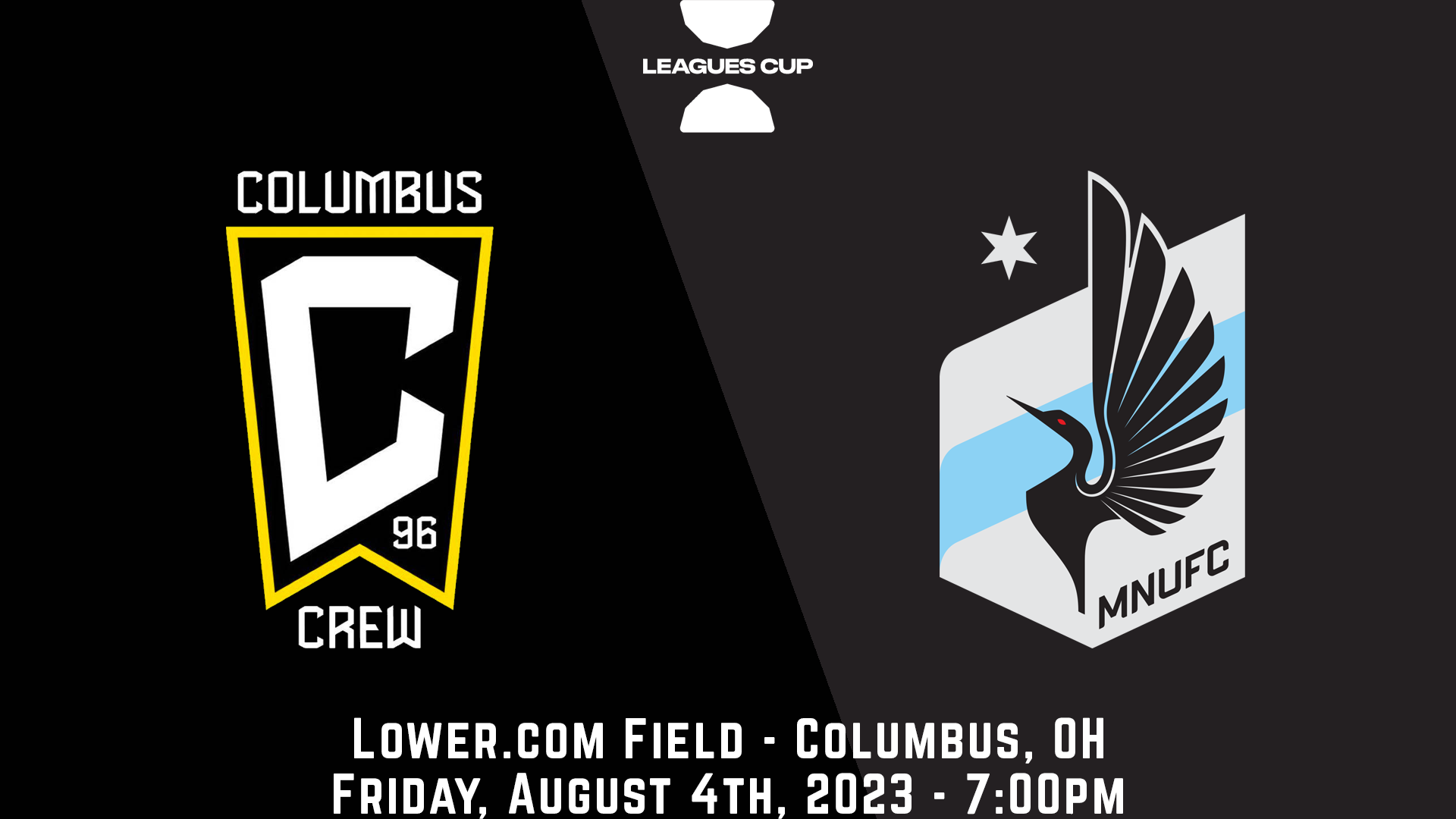 Leagues Cup Knockout Stage – Round of 32
CLB vs. MIN
AppleTV
The Loons travel to Columbus, OH, on Friday for the first time since 2020 and can expect a few more spectators for this Leagues Cup knockout match than the 1,455 they saw for that pandemic match-up. Two former Loons could be lining up across from the travelling squad but we'll circle back to that. Following a decisive 4-0 win over Club Puebla and a dismal 3-2 loss to Chicago Fire – two very different games played in front of the Wonderwall – Minnesota United advanced through to the Round of 32 but could not secure another round of home field advantage, despite some assistance from Club Puebla: The Liga MX side stole a point from Chicago, following a 1-1 draw in regulation with a 10-9 win in penalties, but the Fire won the group by one point, bumping the Loons out of home field contention in the next round.
While an away meeting with Columbus Crew is a feat in itself, the match comes one day after Minnesota United quickly announced three quick roster changes. First, the bad news: Midfielder Kervin Arriaga suffered a torn meniscus that will require season-ending surgery. Then the club offered a quick salve, announcing that the acquisition of Nashville SC midfielder Jan Gregus, whom the Loons sent off to San Jose in 2021. While Gregus has not been added to the Leagues Cup travel roster, knowing there will be another midfield piece waiting when the Loons return home should take some pressure off of the travel bench.
A third press release announced that the club and defender Kemar Lawrence had mutually parted ways – not a big surprise considering the various strains on the Lawrence this season, but another blow nonetheless to a team struggling to balance minute management with tournament and league play. However, MNUFC also tweeted Thursday evening that leftback Ethan Bristow was added to the Leagues Cup roster, having secured all the required transfer paperwork, and was making the trip to Columbus. So…
The Loons travel to a soaring Columbus Crew with more challenges ahead but a fairly balanced depth chart and a couple demons to exorcise.
Form
MIN: 10th in the West, 28 pts (of 66 available) / 7-8-7 / 26 GF, 30 GA
Leagues Cup: 2nd in Group E, 3 pts / 1-0-1 / 6 GF, 3 GA
CLB: 6th in the East, 36 pts (of 69 available) / 10-6-7 / 45 GF, 33 GA
Leagues Cup: 1st in Group D, 6 pts / 2-0-0 / 6 GF, 2 GA
Last meeting: 9/24/20 CLB 2-1 MIN (Zelarayan 31′, Santos 70′) (Lod 88′)
What to watch
Adrian Heath will be forced again to balance a rotating midfield, with Wil Trapp and Hassani Dotson likely anchoring. The front line is intact and Sang Bin Jeong is no longer listed on the availability report so there will be more options if opportunities are hard to come by. While goal-scoring opportunities were not lacking against Chicago Fire, but rather the squad's ability to make the most of them, Columbus will make it far more difficult to find the same spaces in their third.
"We've proved on the road that we're capable of getting results and making it difficult. The one thing I do know [is] we're going to have to play well. They've probably got the best home form in all of the teams in Major League [Soccer] at the minute: playing well, good players, well-coach, well-drilled. We're going to have to play well and take our opportunities when and if they come." – Adrian Heath
Most of the Loons' attack had some opportunities they wanted back against Chicago, including Bongokuhle Hlongwane, Emanuel Reynoso, and Teemu Pukki, and these are players who can use those performances to fuel their next. Minnesota is unlikely to win the possession game against Columbus so purposeful shots will be vital.
Columbus is running on a different fuel this week. After selling key-player Lucas Zelarayan to the Saudi side Al Fateh, the Crew knocked out a 4-1 win over Club América with three different goal-scorers and only six shots on target. Said coach Wilfried Nancy, "Now, the idea is to focus on – like I told you in the beginning – the team. The team is the most important … We have to move forward with that. I know that Columbus and all the fans, they will never forget Lucas, but now we have to look forward. The club has a vision, and that's why I'm here, also."
Nancy's 3-4-2-1 plays fast and does not rely on that one key player for results. The two goal scorers from the last meeting between Columbus and Minnesota are gone and the Crew are not looking back. (In fact, they stepped it up, adding Diego Rossi this week.) The Crew have scored nearly two-times as many goals in MLS play as MNUFC this season, while conceding three more. Goals do change games and when Columbus gets a breakaway, watch out.
Who to watch
Heath needs to use this game to prove that he is fully interested in bringing home some hardware and more tournament dates. He has all the pieces to get it done, he just needs to give them the tools. Ohio-native Wil Trapp will need to step up his leadership in midfield to make sure the squad remains in control of the ball and of themselves. With DJ Taylor questionable, Ethan Bristow is likely to get some minutes at leftback in a proving-ground match. Bongokuhle Hlongwane and Emanuel Reynoso will be on a redemption run, hoping to score some goals in a tough environment to buoy the squad (and their fans) but they cannot be left to find the ball on their own. Especially given the goal scoring tendencies of the other side.
Remember this guy?
GRESSEL-MANIA TO SUPERMAN. HEROIC.@Chris_Ramirez17 ✘ @JulianGressel pic.twitter.com/NonZOnAc1Z

— The Crew (@ColumbusCrew) August 1, 2023
Christian Ramirez has found his MLS scoring boots in Columbus, first alongside Zelarayán, now with Cucho Hernandez. Cucho is the Crew's leading scorer in Leagues Cup play, notching 3 of the team's 6 goals. Ramirez has 1 in the tournament to add to his 8 in league play, second to Zelarayán's 10, and Cucho follows with 5. Homegrown midfielder Sean Zawadzki had 5 interceptions in Crew's two group stage matches. The 23-year old has also contributed 3 goals on the season. Aidan Morris and Darlington Nagbe have been keys to the Crew's ball movement and will not be easily shaken by anything Reynoso throws at them.
And another former Loon, Kevin Molino, deserves a shout after returning from Gold Cup duty to put in a late-sub shift against Club América. Prior to those 11 minutes, he had played only 20 across four matches, in MLS play this season.
Availability
MIN
Out: K Arriaga (knee – SEI)
Questionable: DJ Taylor (face) I Tajouri-Shradi (thigh)
CLB
Not available at time of writing
---
Northland Soccer Journal thanks our Patrons for supporting our coverage.
If you would like to support independent soccer media, subscribe to NSJ on Patreon.