US Open Cup Round of 16 Preview: Houston Dynamo vs MNUFC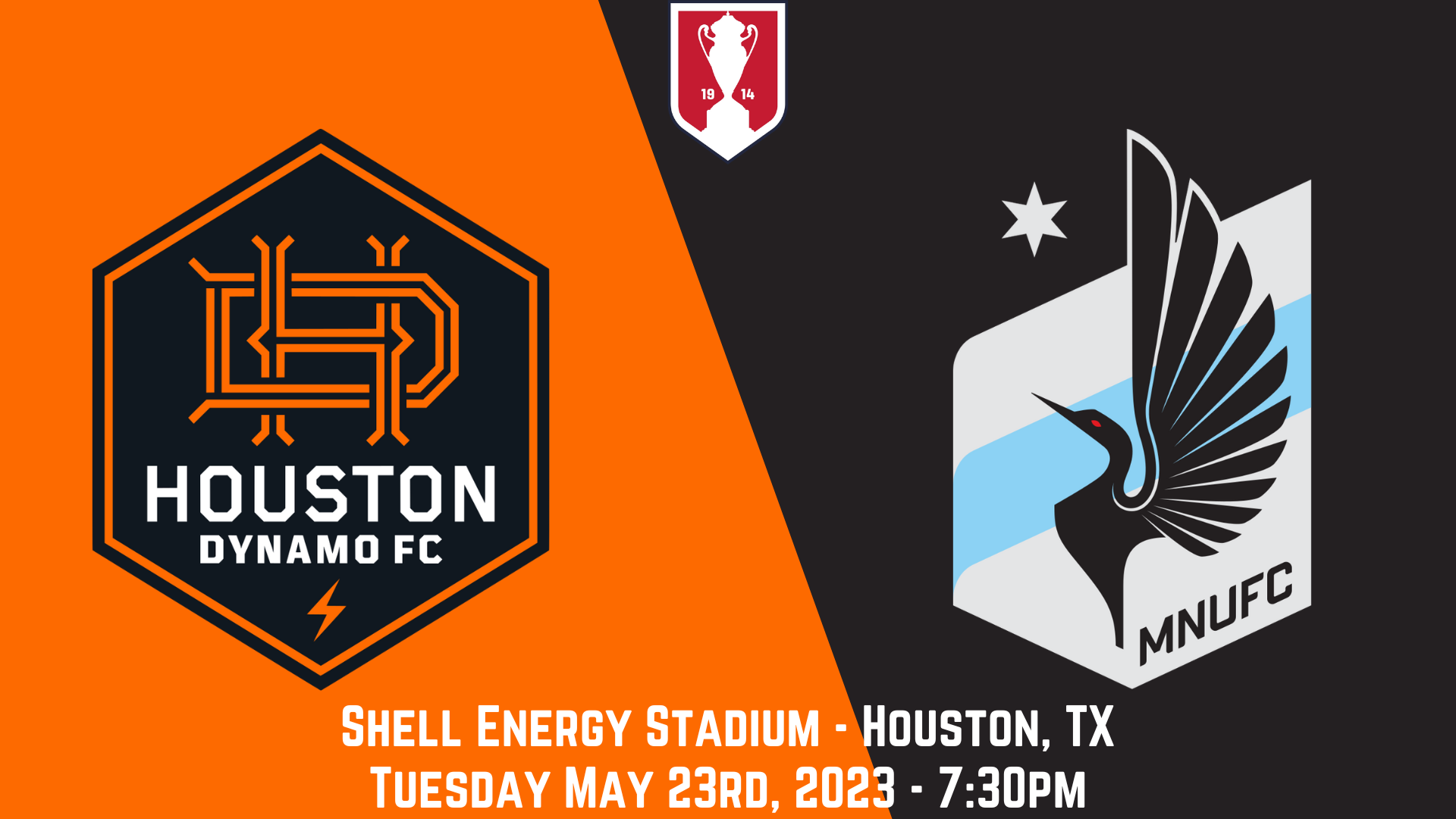 US Open Cup – Round of 16
HOU vs. MIN
B/R Football
After having faced off just six days ago at Allianz Field in St. Paul, Houston and Minnesota will once again square off. This time not in league play, rather in the Lamar Hunt US Open Cup Round of 16 taking place at Shell Energy Stadium in Houston. Minnesota and Houston will equally be looking to rest players, with both teams having played five matches across the last 13 days after tonight. Adrian Heath commented "I would envision there will be some changes for the game on Tuesday night," after Saturday's match in Portland,
This match is the third time the two sides will face off in the US Open Cup, the others coming in 2018 and 2019. In the 2019 US Open Cup the Loons flew down to Houston for a match at then named BBVA Compass Stadium for a clash in the very same round as 2023. Minnesota won that match 3-2 off two Darwin Quintero goals to send the Loons on to the Quarter-Finals in what would turn out to be an improbable run to the finals. The 2018 match also took place in Houston with Dynamo hosting the Loons in the first Round of 16 clash between the sides. A small crowd in Houston watched Dynamo score a 1-0 victory over Minnesota en route to Dynamo's 2018 US Open Cup victory.
Minnesota and Houston got to the Round of 16 after victories in the Third Round and Fourth Round, following the teams entering the tournament for the third round. Minnesota scoring a 3-1 victory away over USL Championship's Detroit City in the third round. Next up Minnesota defeated Philadelphia Union on penalty's after Union's Kai Wagner was able to score at the end of regulation and extra time to push the match further. Houston had a slightly easier time in their first two matches, defeating USL Championship's Tampa Bay Rowdies 1-0 in the third round before defeating Sporting Kansas City 1-0 in the fourth round.
Form
MNUFC: 6th in the MLS West, 18 pts., 5-5-3 (road, 4-4-0). Last five: WWL(W)L
Last game: May 20, POR 0 – 1 MIN
HOU: 10th in the MLS West, 15 pts., 4-5-2 (home, 4-1-1).  Last five: DLL(W)D
Last game: May 20, DAL 1 – 1 HOU
All-time head-to-head: 9-5-4 (2-5-2 away)
Last meeting: May 17, 2023, MIN 1 – 0 HOU (Hlongwane 14′)
Quick Dive: MNUFC
After a series of good results in the last two league matches Adrian Heath may send his team out once again in his preferred 4-2-3-1 formation. As with most Open Cup matches there is a lot of rotation that can be expected as well. Clint Irwin has started both US Open Cup matches this season, one would expect the same to be the case tonight to allow normal starting goalkeeper Dayne St. Clair an off night. After having only played a combined 37 minutes in the past two matches, Sang Bin Jeong is another relatively fresh option Minnesota United will have tonight.
"In terms of the Cup competitions, it's always an opportunity. Opportunity for people to come in and play who are not getting enough minutes, opportunity for us to advance, opportunity for us to maybe get to the [Concacaf] Champions League," said Adrian Heath before Tuesday's match. "We're three or four games away from that. So, as much as ideally you would like longer preparation, it's a big opportunity for us tomorrow evening to go into this stage and a step closer to hopefully getting into where we could play Champions League football. That would be ideal."
Quick Dive: Houston Dynamo
Facing the same rigorous schedule as Minnesota United, Houston will also more than likely be rotating heavily due to fixture congestion. Andrew Tarbell has started both Open Cup matches in goal for Dynamo, though he was not named to the squad when Dynamo played FC Dallas this past weekend. Houston's top scoring player, Amine Bassi also may be missing from the Starting XI due to squad rotation after just playing 74 minutes last weekend. Former MNUFC player Chase Gasper will be unavailable for selection by Houston due to his 35th minute red card against Sporting Kansas City in the Fourth Round.
Availability 
MIN:
Out: Bakaye Dibassy (thigh)
Ryen Jiba (knee)
Mikael Marqués (ankle)
*Robin Lod (knee)
HOU:
No Report Available
---
Northland Soccer Journal thanks our Patrons for supporting our coverage.
If you would like to support independent soccer media, subscribe to NSJ on Patreon.