Returning to Form, MNUFC Snatches Three Points from the Portland Timbers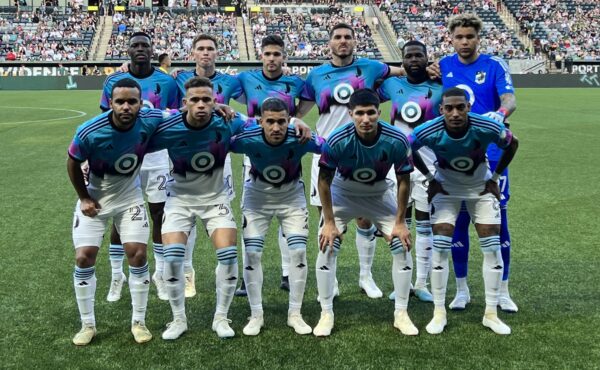 And sometimes in soccer, as in life, you are rewarded for taking your chances.
When a point would have felt enough – on the road, against a mid-table Western Conference opponent, without Robin Lod and still without Emanuel Reynoso, in a game that hadn't really produced anything – the kids decided to try for more, and Minnesota United walked out of Providence Park with all three points.
Even as it was happening, it didn't feel like much. In the 4th minute of added time, Wil Trapp simply cleared the ball toward the corner, lofting it mostly, sort of, a little bit in the direction of Ménder García. Portland had plenty of players back as García collected the ball, ready to head to the corner to kill out the game. But instead, he decided to face up Portland defender Dario Zuparic and see what might happen. With Hassani Dotson making an outside run to draw away Zuparic, García turned in to the top corner of the box, now picked up by Diego Chara. An easy central back pass found Kervin Arriaga at the top of the box who, with Cristhian Paredes slow to close him down, had plenty of time to keep the ball moving across the field out to Bongokhule Hlongwane. A sloppy first touch saw the ball get stuck in his feet, but with Claudio Bravo again slow to close the space, Hlongwane had plenty of time to get it sorted out. Picking his head up, and with one last little stumble, the young Loon slotted it to the far post past an initially blinded Alijaz Ivacic. It was nowhere near a banger, but it was enough. And after his sixth goal of the year, fourth in the last four games across all competitions, Hlongwane added a Robin Hood goal celebration to his repertoire as the stadium went silent in shock and disbelief as no one could quite figure out what had just happened.
The Legend of Hlongwane.#PORvMIN | #MNUFC pic.twitter.com/pmbCzhU0ww

— Minnesota United FC (@MNUFC) May 21, 2023
The game had started out at a surprisingly high tempo, with both teams pushing on what must have been very tired legs. But if it was an entertaining opening, nothing much came of it, as Minnesota and Portland lacked a final bit of quality. A lack of final quality that would be the theme of the night, Minnesota ending with a meager .4xG and Portland doing only slightly better at .6xG. But that first stretch of energetic play came to a close in the 19th minute with a good chance wasted by the Loons. Hlongwane, freed out the back on a simple through ball from DJ Taylor, was able to turn back on Diego Chara, and with his back to goal found Luis Amarilla making the trailing run into the box. But with a second of indecision Amarilla was caught with the ball mid-stride and the moment was lost.
After the game head coach Adrian Heath remained committed to his striker. "I know I keep saying it, and I feel like a bit of a broken record, but he's got to get in the right spots, not overthink it, play free as he can. I'm giving him the confidence by keep picking him. I know he can score goals, I know he can. He's got to keep believing in himself and keep getting in them right spots at the right time." But it is clear that that plan is not working. Amarilla looks like a player broken, his body language wavering between frustration and dejection. He is, it seems, being run out again and again in the same position to fail as loyalty has turned into something else.
After that opportunity the first half slowed into a more manageable tempo. Although they didn't look very threatening to score, Minnesota had the better of the chances in the first half, with Dotson and Joseph Rosales getting off three good shots from distance. Dotson taking his in the 24th minute from a simple build-up from Michael Boxall, well outside the box, with Rosales creating his own space outside the box in the 27th minute and finding space behind a Hlongwane run in the 33rd minute.
Though they didn't get anything from them, the three chances showed a promisingly consistent bit of build-up from Minnesota. Finally figuring out that they don't, at the moment, have a #10 or true central midfielder, the Loons, in the first half, decided to avoid the middle of the field in their build-up, moving immediately down the flanks, often favoring the right side. Their passing map from the first half was quite illustrative.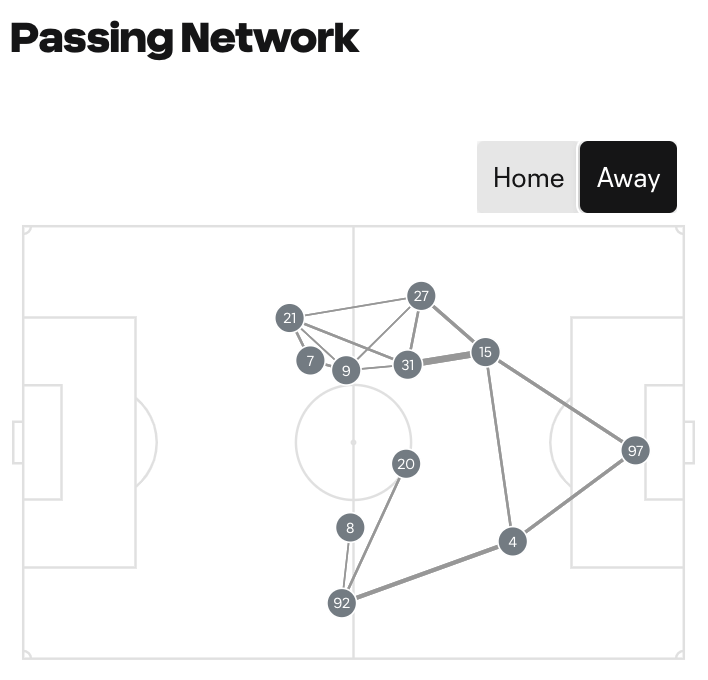 The game was, in many ways, a return of form for Minnesota. As Heath said after the game, "I thought our first half performance was excellent, thought we had a really good defensive shape and that goes for everybody. I thought the front six were magnificent in taking away certain players for them…. [T]he last two or three weeks, we've had a little bit of stick about some of our performances on the road. But tonight, it was like early on in the season again: great mentality, great shape, everybody working for each other, everybody covering for each other. So, I couldn't be more pleased with that."
All love.#PORvMIN | #MNUFC pic.twitter.com/485G0XUeRi

— Minnesota United FC (@MNUFC) May 21, 2023
Portland had the better of the second half but never looked much of a threat. Keeping their shape and absorbing pressure, Minnesota did an especially good job frustrating the Timber's new playmaker, Evander, limiting him to three good chances. A pin-point accurate shot from well outside the box in the 65th minute banged off the cross-bar. A shocking outside of the foot chip was parried away at the last minute by Dayne St. Clair in the 73th minute. And an impossible inside pass to Claudio Bravo in the 89th minute came to nothing. Although he showed flashes of brilliance, the Loons contained Evander all night, sitting back, absorbing pressure, and stretching the field in possession looked like it would be enough, until they got a little bit more from the night.
With three more games to finish out the month the team's fourth road win of the season offers a moment of optimism. Two good results don't erase the previous six without a win, but the return to form is promising, as is Hlongwane's continued development. Although the club won't find out how long they will be without Lod until after his surgery early in the week, it will be a long few weeks as his recovery coincides with Reynoso's return to fitness. But if the team can continue to do what it did last night, they may be able to salvage what was looking to be a very rough season.
---
Northland Soccer Journal thanks our Patrons for supporting our coverage.
If you would like to support independent soccer media, subscribe to NSJ on Patreon.