MNUFC's US Open Cup Saga Ended in Blowout Loss to Houston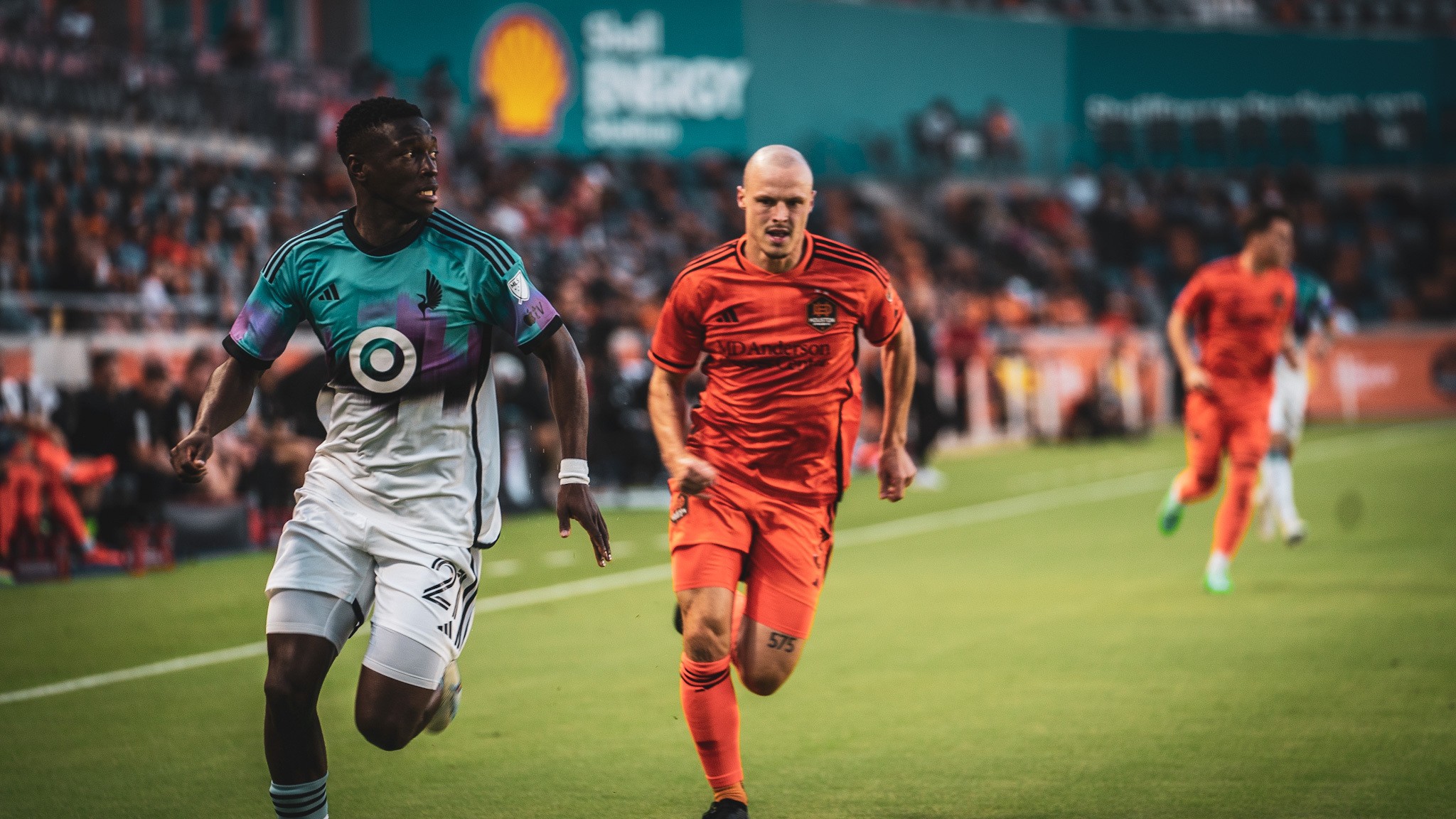 Minnesota United's run in the 2023 US Open Cup came to an end on Tuesday night in brutal fashion with a 4-0 loss to Houston Dynamo down in Texas. Both sides entered the match having played four matches in the previous two weeks and each having gone 2-2-1 in their previous five matches. One of those five was the two teams matchup six days prior in St. Paul that the Loons won one-nil on the back of a goal from Bongokuhle Hlongwane.  Adrian Heath said following to the match about the fixture congestion, "So, it's not a lot of time to mentally and physically clear them up, but nearly everybody else is in the same boat. We'll get on with it, we'll turn up and hopefully, put a performance in like we've done the last two games against Houston and Portland."
As expected Minnesota heavily rotated their side compared to the Starting XI in Portland, swapping out six players from Saturday's lineup against the Timbers. Both sides traded blows in the matches opening half hour, with each club getting at least one dangerous attempt on goal. Houston's first coming after a ball was headed back towards Brooklyn Raines, he sent a hard shot from about 25 yards out towards the goal. The shot required Minnesota keeper, Clint Irwin to make a diving attempt for it, though the attempt would scrape the top of crossbar in the end. Hlongwane would get Minnesota's first attempt when DJ Taylor sent a cross in the box where upon receipt of the pass, Hlongwane was unable to fully corral the bouncing ball before taking a shot that was absorbed by Houston keeper Andrew Tarbell.
Dynamo were awarded a penalty in the 32nd minute after a handball inside the box from Hlongwane. Corey Baird stepped up to take the ensuing spot kick sending a relatively calm kick, slightly off the ground and directly down the middle, while Clint Irwin dived to his left, giving Houston a 1-0 lead in the 33rd minute. Five minutes following the goal Kervin Arriaga was issued a second yellow card, coming just eight minutes after his first, for a foul on Thorleifur Úlfarsson. Arriaga's sending off required Minnesota to play down to 10 men for the remaining 52 minutes plus stoppage of the contest.
"That shows. It doesn't, does it? If you don't think it's worthy of putting proper officials in or the grade-A officials or whatever you want to call it, then it doesn't help. He's made a lot of decisions where… I can understand the difficult decisions if they're maybe goal-scoring opportunities, but little things in the middle of the park, and then we have memos saying 'if anybody stands in front of the ball, it's an automatic yellow card.' They [Houston Dynamo FC] did it all evening even before we had the man sent off. It's no use sending those memos telling us what they're going to do if they then don't carry it out."
Coming into the second half, Minnesota made three changes bringing on Dotson, Dunbar, and Lawrence to replace Trapp, Hlongwane, and Taylor. After holding off Houston from scoring in the final 12 minutes of the second half, Minnesota United did the same for the first 23 minutes of the second half before allowing Houston to score their second goal. After picking up a low pass from Amine Bassi near the top of the 18 yard box, Corey Baird chipped the ball over Clint Irwin to double Houston's lead.
Eleven minutes after Corey Baird's goal, he would set up Aliyu Ibrahim for a 79the minute goal. Baird sent a low pass to a completely unmarked Ibrahim who waltzed through the open space before taking a shot at the stop of the box, sending it low and wide past Clint Irwin for Houston's third of the night, sealing away their trip to the US Open Cup Quarter-Finals. Minnesota United gave up one more in the 89th minute when Corey Baird secured himself a hat trick on a first touch shot from roughly 10 yards out from goal after a pass was sent to him by Aliyu Ibrahim, send MNUFC home with a 4-0 loss.
The loss to Houston sends Minnesota United out of the 2023 US Open Cup, giving them just MLS regular season play to focus on until the mid-summer Leagues Cup. The Loons will round out the month of May with a home match against Real Salt Lake this Saturday night followed by a midweek trip to Austin FC on the 31st of May.
---
Northland Soccer Journal thanks our Patrons for supporting our coverage.
If you would like to support independent soccer media, subscribe to NSJ on Patreon.