Matchday 15 Preview: MNUFC vs. Real Salt Lake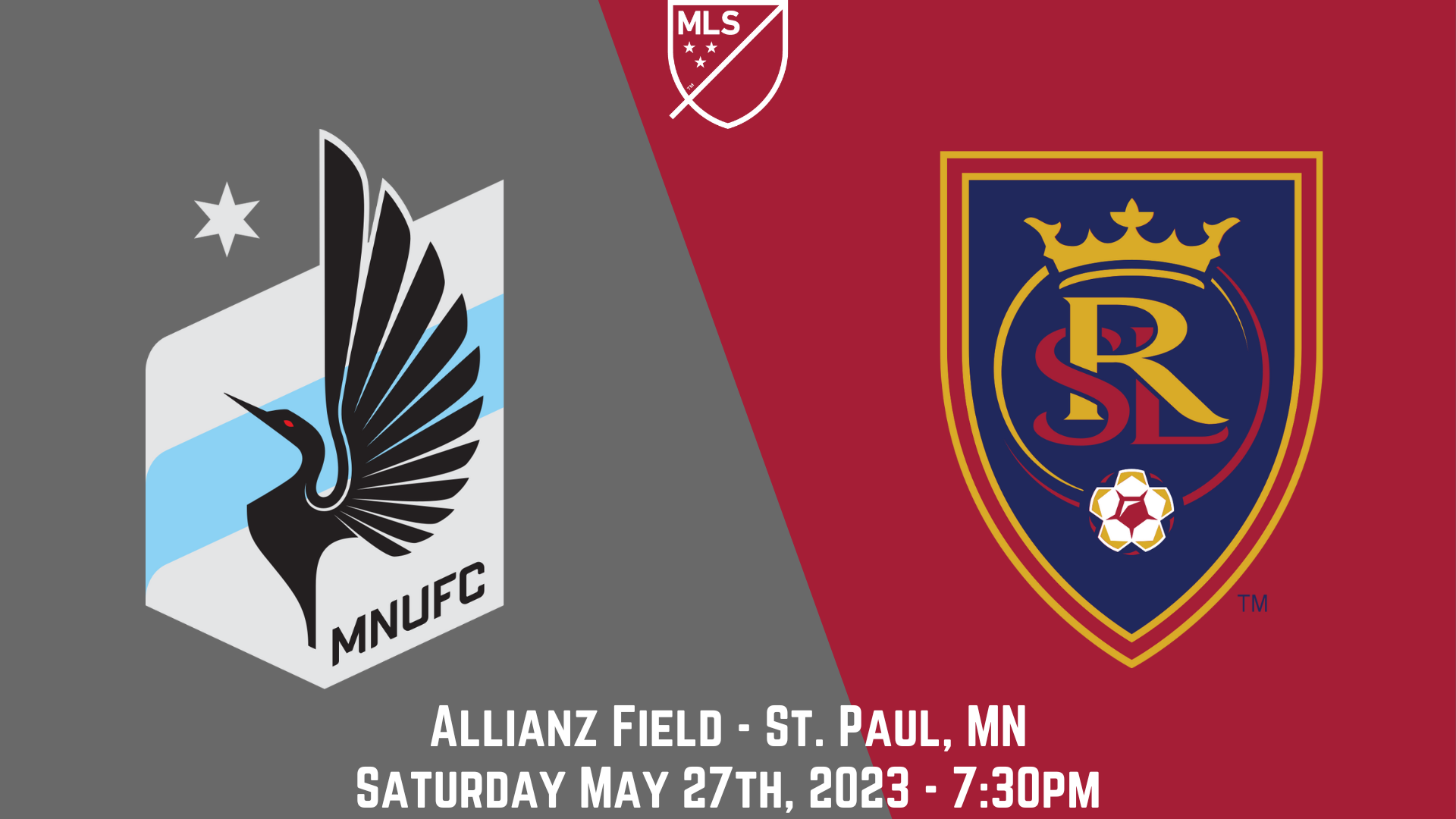 Matchday 15
MIN vs. RSL
AppleTV  | 1500 ESPN
Heading into tonight's match, their first meeting with Real Salt Lake in 2023, Minnesota United are yet to define this very busy month of May. The two most recent regular season games – two quite emotional wins, a first at home against Houston and a last second grab of three points on the road against Portland – balance the opening two – losses against Vancouver and Kansas City, defeats that extended the team's 6 game winless run. Their US Open Cup penalty-kick win against Philadelphia was undone, midweek, with a rather uninspired and comprehensive loss to Houston, ending their 2023 Open Cup campaign.
As exciting as it has been to watch Bongokuhle Hlongwane develop into the young player everyone hoped he could become, netting 4 goals in May across all competitions and being named to the MLS Team of the Matchday twice in the month, the club continues to rethink its identity with the loss of Robin Lod, seemingly out for the season, and the now foreseeable return of Emanuel Reynoso, who is back in Minnesota and, being cleared to play and having his suspension lifted, will soon be training with the team, and Bakaye Dibassy, who is also close to training with the team after his season ending injury in 2022. With two games to go, it is still an open question whether May will be the month the team salvaged the 2023 season or a time when they continued in their inconsistency as the club remained in chaos.
After opening their season with a win in Vancouver, Real Salt Lake lost their next four. But since an early April 3-1 dismantling of Charlotte, a score-line that was generous to the visitors, Real have settled into their Pablo Mastroeni selves, playing with incredible effort and speed, quick cross-field changes of attack, and defensive vulnerability. After taking two from their Rocky Mountain rivals, starting the week with a regular season win in Colorado followed by a 0-1 US Open Cup win midweek, RSL will be looking to keep the momentum going into Allianz, a place they have little success, but a place that is also no longer a comfortable and confident home for the Loons.
Form
MIN: 6th in the West, 18 pts, 5-5-3 (home, 1-1-3), with 12 goals and 14 goals against
Last five games: (L)WWL(W)
Last game: May 23, HOU 4-0 MIN (US Open Cup)
Last regular season game: May 20, POR 0-1 MIN (Hlongwane 90'+4')
RSL: 11th in the West, 15 pts., 4-6-3 (road, 2-3-1), with 13 goals and 22 goals against
Last five games: (W)WDL(W)
Last game: May 24, COL 0 -1 RSL (US Open Cup)
Last regular season game: May 20, COL 2-3 RSL (Wilson 33', Abubakar 73')(Ruiz 12', Musovski 21', Kreilach 44')
All competitions, all-time record: 5-3-5 (home 5-1-1)
Last meeting: August 31, 2022, RSL 3-0 MIN (Córdova 7', Savarino 23', Julio 79')
What to watch
In their first post-Lod/pre-return-of-Reynoso game, Minnesota overcommitted to its flanks, bypassing the middle of the field in attack, as the team also returned to its early season defensive form, sitting back and absorbing pressure. The style got the result in Portland, but tonight, facing a Salt Lake team that likes to open the field, a direct approach down the middle in transition may be more successful, while out of possession Minnesota will need to stay disciplined, keeping their shape as Salt Lake tries to pull them around.
In their third season under head coach Mastreoni, Salt Lake continues to play a high effort, fast game that depends on quick switches of play, trying to drag opposing defenses out of shape. When it works, it is wildly entertaining. But it also leaves them incredibly vulnerable in defensive transition. Their -9 goal differential, 13 goals scored and 22 conceded, is almost bottom of the league but a fair mark of their season so far.
Who to watch
Rarely since the club's promotion to MLS has Minnesota United developed a young player, so it is a joy to watch Bongokuhle Hlongwane. He is, of late, playing with a freedom that comes from confidence, adding a directness from the wings that the team has not often been able to take advantage of, while doing the hard defensive work required in the Loons' system. His ability to get in behind Salt Lake's defense in transition tonight will be especially important, as the team tries to quickly open the game in transition.
To have any success tonight, Minnesota will need to hold its defensive shape. Watch for the back 8 to be in constant communication as they rotate through their assignments, avoiding the temptation to get drawn out and stretched across the back.
Because the center of the attack remains a work-in-progress for the Loons, it is hard to say who to watch down the middle. But against a team that has been vulnerable in the back, whoever gets the start in the middle of the attack, whether that is Luis Amarilla, Ménder García, or Sang Bin Jeong, will have to be at their opportunistic best. Although Adrian Heath has been committed to Amarilla this season, continuing to send him out without the support he needs to be at his best (although, in a rather familiar script for the cub, that commitment seems to have been absolute until it wasn't as rumors are beginning to circulate that he will soon be leaving the team), tonight might be a good night to opt for the directness that García or Sang Bin can provide.
After season-ending back surgery in 2022, Damir Kreilach is back. Regaining the captaincy he was awarded to begin the '22 season, the 34 year old has been playing restricted minutes. But while working his way into form he has 4 goals in all competitions this year and is becoming again the central attacking piece for Real.
New U22 Initiative signing Andrés Gómez has quickly figured out how to play in MLS. The 20-year-old Colombian winger has 2 goals to go with his 5 assists in all-competitions this year, continuing Real's tradition of speedy, dangerous wingers.
Often slotted on the other wing, Jefferson Savarino continues to do Savarino like things. With 3 goals and 3 assists on the season he continues to be another dynamic winger for Salt Lake.
Availability
MIN
Out: Bakaye Dibassy (thigh)
Ryen Jiba (knee)
Robin Lod (knee)
Questionable: Mikael Marqués (ankle)
RSL
Out: Zack Farnsworth (thigh)
Eric Holt (shoulder)
Diego Luna (International duty, USA, U20 World Cup)
The more you know
Minnesota's 8 assists on 12 goals this season has them tied 2nd from the bottom in the league. The LA Galaxy also have 8 assists on 10 goals, while RBNY have 6 assists on 10 goals.
---
Northland Soccer Journal thanks our Patrons for supporting our coverage.
If you would like to support independent soccer media, subscribe to NSJ on Patreon.