Matchday 32 Preview: MNUFC vs Sporting KC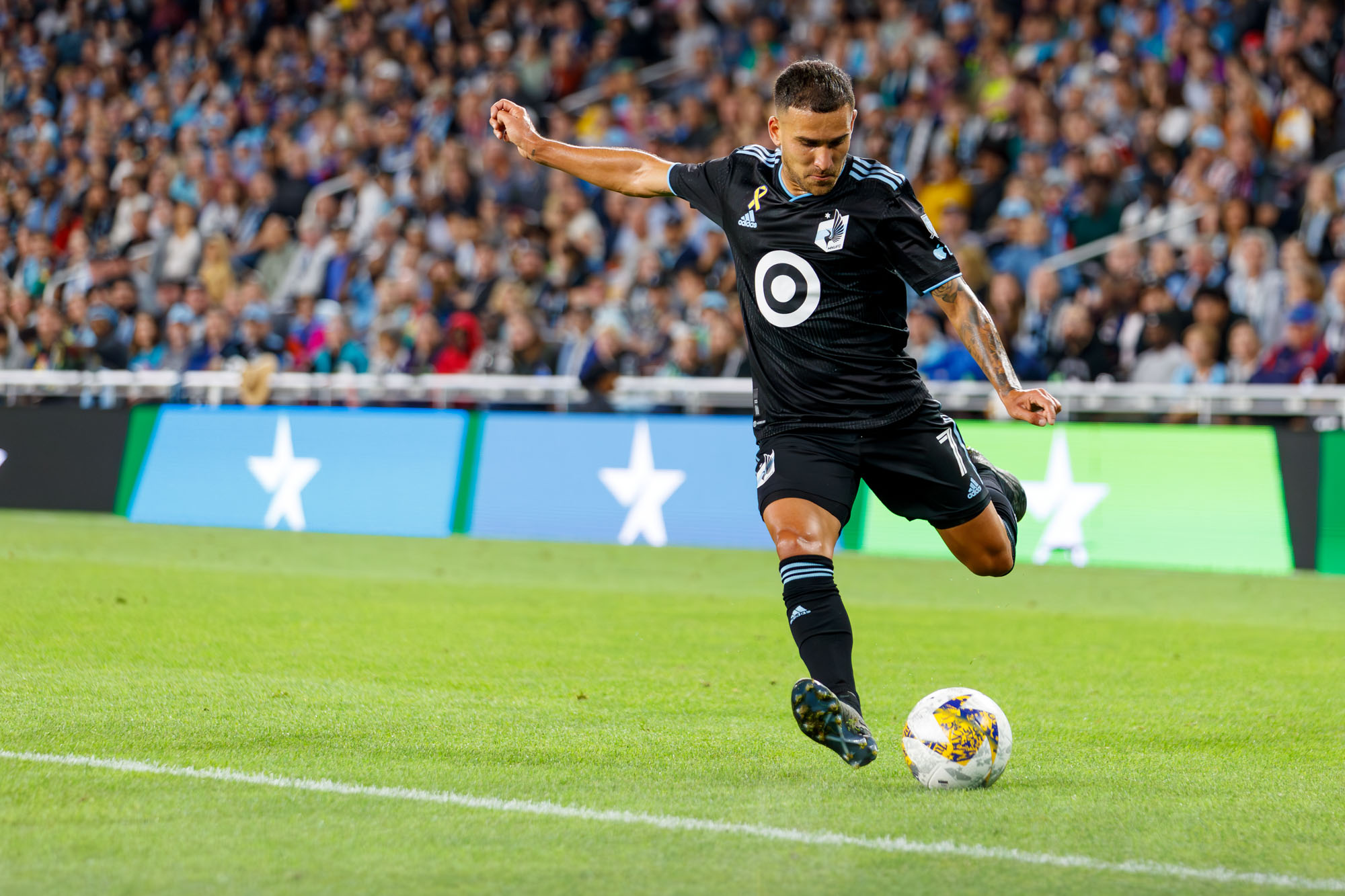 Matchday 32
MIN vs. SKC
AppleTV | 1500 ESPN
Coming off a stoppage time draw with New England last weekend, the Loons host Sporting Kansas City for the only time this season. SKC and Minnesota United have already met once during the 2023 season and will play a third time before the season ends. MNUFC enters the match unbeaten in the last seven league matches, while SKC is 12-6-4 all time against Minnesota and has won the past two meetings.
Form
MIN: 9-8-10 (3-2-8 at home) / 7th in the West, 37 pts / 34 GF, 33 GA
Last five: D-D-W-D-W
Last game: 09/09 MIN 1–1 NE (Fragapane 90+3′) (Gil 38′)
SKC: 8-12-8 (1-7-6 on the road) / 12th in the West, 32 pts / 38 GF, 40 GA
Last five: L-W-W-L-W
Last game: 09/09 MIA 3–2 SKC (Campana 25′, 45′, Farias 60′) (Salloi 9′, Pulido 78′)
---
With the road to MLS Cup Playoffs kicking into high gear, both sides are looking to rebound from last week with three points in Minnesota. Minnesota United has struggled both at home and on the scoreboard this season, with the Loons only averaging just 1.26 goals per match and have managed only three of their wins at home. Teemu Pukki and Emanuel Reynoso have each either scored or assisted a goal in two of the last three matches and MNUFC will look for more from them tonight.
"We do and we've done well against SKC at home, not so much on the road. It's going to be a huge game, I think it's a huge game for them as well. If they have any aspirations of getting above the playoff line, they'll see this as an incredible opportunity. It's like a six-pointer, like we always say, because the three for us would put us that much further ahead."
Kansas City meanwhile sits 12th place in the West with a climb to get into playoff contention. With multiple players being listed as questionable, SKC will lean on Alan Pulido to anchor their attack. Pulido has scored 12 goals in his last 12 appearances, including three in Sporting's past two matches. Since resuming MLS play following the Leagues Cup, Kansas City has gone 2-1 outscoring their opponents 7-4 in that time. The loss coming to a Messi-less Inter Miami side last weekend.
Availability
MIN
Out: K. Arriaga (knee – SEI) | R. Jiba (knee – SEI) | R. Lod (knee – SEI)
Questionable: M. Tapias (thigh)
SKC
Out: K. Ford (Achilles) | K. Pierre (hamstring)
Questionable: G. Zusi (hamstring) | G. Kinda (ankle) | S. Afrifa (hamstring) | J. Russell (ankle)
---
Northland Soccer Journal thanks our Patrons for supporting our coverage.
If you would like to support independent soccer media, subscribe to NSJ on Patreon.