Late SKC Goal Spells Doom for Minnesota United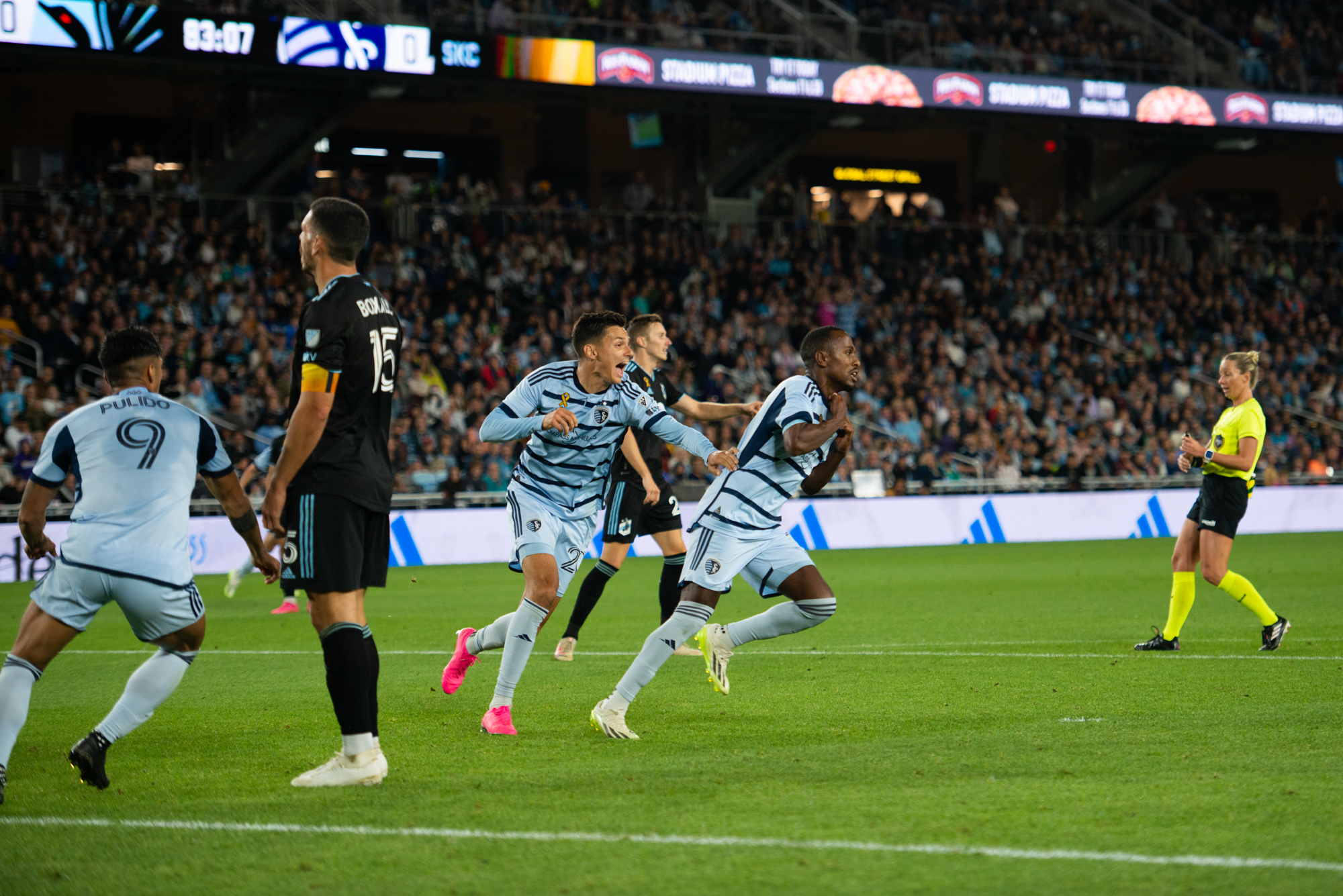 Minnesota United FC and Sporting Kansas City both came into Saturday night's match with unfavourable results the previous week and absolutely needing three points. With the push for the playoffs really starting, MNUFC found themselves in 7th place in the West with 37 points and seven matches to play. The Loons had obtained 9 points in the previous five matches, though three of those came on draws.
Kansas City meanwhile had started the season extremely poor and an atrocious away record resulted in SKC sitting 12th in the West with just 32 points. The Nicest Rivalry in Sports as it is called has always favoured the Kansas City side and Saturday night was no different. Sporting Kansas City controlled play in a mostly unremarkable first half. In the second 45 minutes, the Loons took control of the match but Gadi Kinda scored for KC on a breakaway giving the visitors a late winner.
Following the draw with New England at home the previous weekend, Adrian Heath made a few changes to his eleven. Miguel Tapias was out for the evening due to a thigh injury, Heath stated post match "We're hoping maybe for Wednesday," about a Tapias return. With the centre back out, Bakaye Dibassy stepped into the role. Wil Trapp was moved to the bench after starting the previous week; Heath stated post match that Trapp had only trained for the first time on Friday due to illness.
Hassani Dotson shifted down from left wing to play defensive midfield alongside Ján Greguš. After subbing on against New England and scoring the match tying goal in the dying moments last weekend, Franco Fragapane started at left wing. Teemu Pukki, back from International duty for Finland, replaced Ménder García as striker.
Fraga x Rey x Bongi@AllianzLife | #MINvSKC pic.twitter.com/zhxDlTRQPG

— Minnesota United FC (@MNUFC) September 16, 2023
The first 45 minutes of the match were for the most part controlled by the visiting side. Sporting held 59% of possession slowing the pace down tremendously during a half that saw each team get four shots apiece. Only one of the four shots from SKC made required Dayne St. Clair to make a save. Minnesota on the other hand forced Kansas City goalkeeper Tim Melia to make three saves on four attempts.
After a slow and prodding first half that ended nil-nil, Kansas City came out firing on all cylinders in the opening minutes, forcing play into Minnesota's defensive third and winning three consecutive corners. Sporting's attack was cut short by a 54′ foul from Dany Rosero, allowing Minnesota to take control of the match's momentum.
In the second half Minnesota managed 10 shots compared to just four from the first hal, most of those coming after Tajouri-Shradi and Sang-Bin Jeong entered the match in the 63-64′ replacing Hlongwane and Fragapane respectively. MNUFC nearly snagged the opening goal a few times, with the closest near miss came from Pukki in the 74th minute, forcing a fantastic diving save from Tim Melia. The Loons did put one ball in the back of goal in the 79th minute when Michael Boxall headed a free kick from Reynoso, only for it to be immediately called back for offside.
"Second half we were a bit better: we got a few more bodies forward, played with a little bit more urgency, played with a little bit more quality, and had a little bit better final ball," said Adrian Heath. "It was always going to be tight and the first goal was always going to be massive. We had a couple of great chances to get the first goal, we didn't take them, and then you always leave yourself susceptible when you're pushing as many men forward as we were."
For all the second half dominance Minnesota United showed, it was Sporting Kansas City who scored the night's only goal. Gadi Kinda broke through the Loons back line, before getting into enough space in the centre of the box to send a close range shot in past Dayne St. Clair.
Gadi. Kinda.

Our 10 with the late breakthrough!#MINvSKC live on #MLSSeasonPass now 👉 https://t.co/LFtO62twuF pic.twitter.com/R2HjoObzE1

— Sporting Kansas City (@SportingKC) September 17, 2023
"A counter-attack. They [Sporting Kansas City] had numbers and everyone worked their ass off to sprint back 80-90 yards," defender Michael Boxall said. "In those times, you're diving in when you shouldn't. You've just got to try and keep them wide. Calling back from our game knowledge is not the freshest. But, yeah, could we have done better, I'm not sure. I'll have to check that out."
The last five minutes and stoppage saw Minnesota United try in vain to level the score against pressure of a constantly fouling Sporting KC team. The Loons were only able to muster up two more shots, almost scoring on one, before the whistle sounded. From near the bye line, García connected a pass to Sang-Bin who from inside the six just missed the post wide. Tajouri-Shradi's 90+6′ shot was blocked and cleared by SKC to end the match and send Sporting home with only their second away win on the season.
With the loss Minnesota drops to 8th in the West with six matches to play before the end of the regular season. The Loons will have short rest this week, with a Wednesday night showdown in Carson, CA with the LA Galaxy. LA enters the match at 13th place in the West with 30 points and are coming off a 4-2 loss in El Tráfico against LAFC.
---
Northland Soccer Journal thanks our Patrons for supporting our coverage.
If you would like to support independent soccer media, subscribe to NSJ on Patreon.