Matchday 31 Preview: MNUFC vs New England Revolution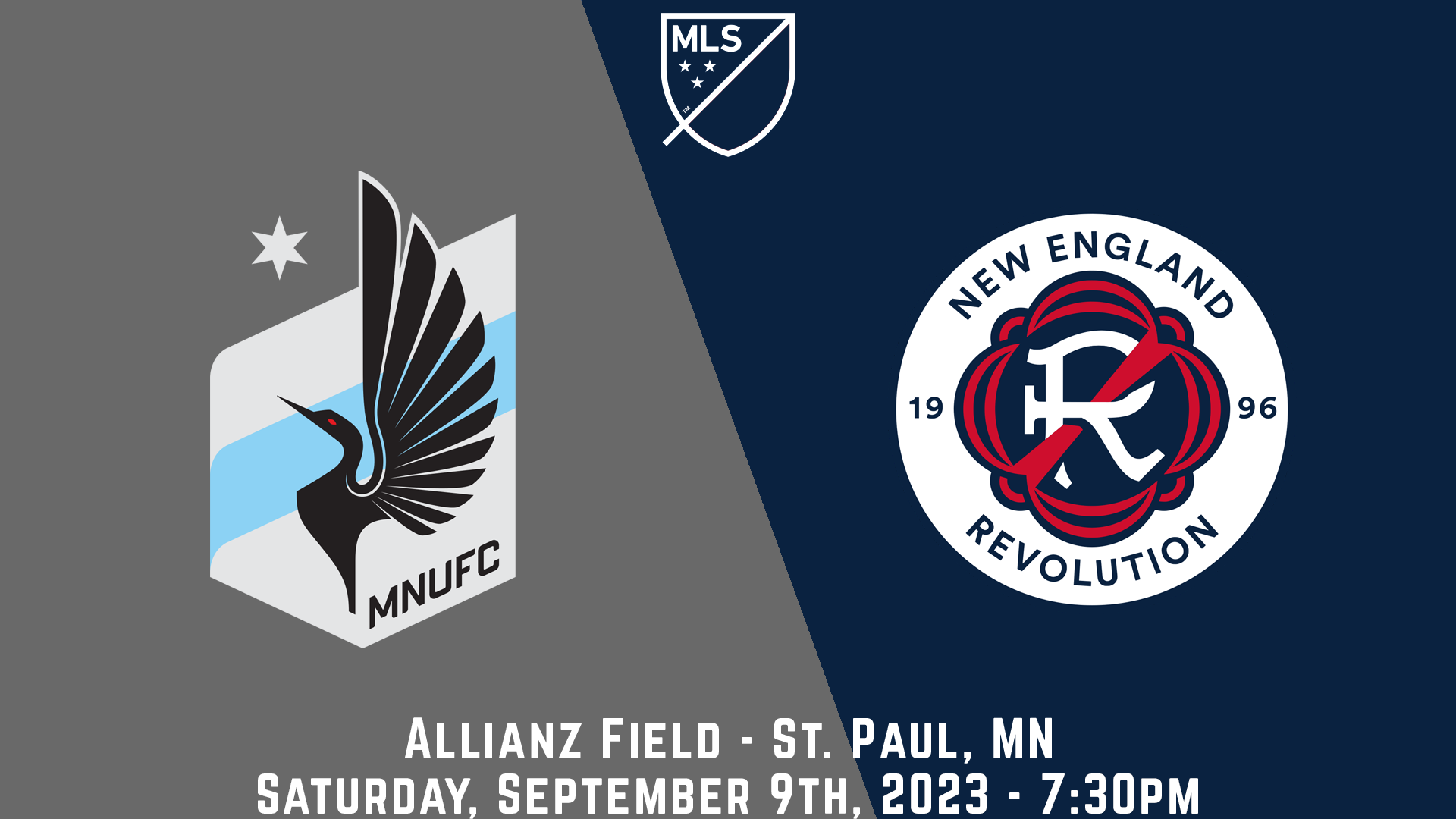 Matchday 31
MIN vs. NE
AppleTV | 1500 ESPN
Availability – MIN (7th – West, 9-8-9, 36 pts.)
Out: Kervin Arriaga (knee), Brent Kallman (knee), Ryan Jiba (knee – SEI), Robin Lod (knee – SEI). Out/International Duty: Sang Bin Jeong (South Korea U23), Teemu Pukki (Finland), Joseph Rosales (Honduras). Questionable: None.
Availability – NER (2nd – East, 13-5-8, 47 pts.)
Out: Brandon Bye (ACL), Dylan Borrero (ACL), Henry Kessler (hamstring), Maciel (Achilles). Out/International Duty: Noel Buck (England U19), Christian Makoun (Venezuela). Questionable: Gustavo Bou (leg).
---
Following an anticlimactic draw on the road to San Jose Earthquakes, Minnesota United FC returns home on Saturday for their last cross-conference match of the season, a meeting with the East's second place New England Revolution. It will be the Revs' first visit to Allianz Field and only second trip to Minnesota, but they hold a 3W-1L advantage over the Loons from four meetings. Both teams will be missing international players and each have had their fair share of adversity this season so the meeting will be a good opportunity for both squads to take a big step forward as they enter the final two months of the season.
As the Loons and the Revolution have a short history to lean on when predicting what will happen in this game, we checked in with our counterparts in New England. Sam Minton, site manager of The Blazing Musket (which can now be found on Substack), shared his thoughts on Bruce Arena, the club's performance, an example of Allianz Field's impact on a club which has yet to play there, and more.
---
Northland Soccer Journal: The Revolution are 2nd in the East (10 points behind 1st) and 3rd in the Supporters Shield race going into the final two months of the season. What's the general feeling among supporters about the club's trajectory this season?
Sam Minton: I would say that fans have been pleased with New England's performance so far this season. Considering that the Revolution lost the best goalkeeper in MLS, have dealt with multiple serious injuries, and the absence of Bruce Arena, they have done well to stay at the top of the Eastern Conference. The loss of [Djordje] Petrovic angered some fans but when Chelsea comes knocking with a top five transfer fee in MLS history, you have to make the deal. Since then [interim head coach] Richie Williams has done a good job stepping in and even making some positive tactical changes. There is still hope that New England can compete for an MLS Cup even though it seems like new obstacles pop up every week.
NSJ: The club has been without head coach Bruce Arena pending a club/league investigation around allegations of insensitive language. Most of the official statements released thus far have been fairly cryptic — What are you hearing about the situation and has it had a noticeable impact on the players and their performance?
SM: I wish I could give you an update but there really is no new information. Everyone has been very tight-lipped and it seems like some sort of announcement has to come soon. The Blazing Musket has reached out to the law firm conducting the investigation (Proskauer Rose) multiple times and have yet to receive a response. The players have handled the absence of Arena well and it's a testament to their tight-knit nature. This is easily something that could have derailed their season but it hasn't so far.
NSJ: Some MN lower-division fans have followed the Revs from afar due to Minnesota ties on the roster (Cody Cropper, now coaching at the University of St. Thomas in St Paul; Teal Bunbury, now with Nashville; and Brandon Bye, a Minneapolis City SC alum who recently suffered a season-ending ACL tear), but haven't had many chances to see NER play MNUFC so there's no rivalry and hardly any history in this matchup. How do you feel about this first appearance at Allianz Field (second all-time MN visit, with the last in 2018 at TCF Bank Stadium) and what is the supporter vibe? Is everyone excited to see someone new? Or is it a distraction from the points race in the Eastern Conference?
SM: There will be some traveling fans but I wouldn't expect too many. Fans are excited to see the battle between the 10's [Carles Gil and Emanuel Reynoso] and personally it is always nice to see a new opponent. Revolution fans are also very envious of the stadium that Minnesota has and I hope to be able to cover a game there in the future. Revolution fans will also remember the fallout from that frigid USMNT match that was held in Minny and the rumors of Matt Turner suffering from frostbite (Bruce Arena said he did while U.S. Soccer denied the claim*) so there are some bad memories lingering in the back of fans heads.
*Minton told Turner's side in a piece published April 2, 2022, on The Bent Musket (the SBNation-era predecessor of The Blazing Musket).
NSJ: New England has plenty of goal scorers (Gil, Wood, Vrioni, and Bou combine for 25 of the club's 45 goals in MLS play, but 10 other players are on the board) but who is taking charge this year and what should Minnesota spectators be watching for?
SM: Especially for this match Giacomo Vrioni is who you should keep an eye on. Gustavo Bou is still recovering from a muscle injury and I would be shocked if he played. Vrioni is great at getting in behind back lines and has some impressive speed but can struggle to play as a lone striker. If he is paired next to Bobby Wood that could be a dangerous duo but Vrioni has improved in recent weeks. Also keep an eye out for Tomas Chancalay who grabbed a brace last week.
NSJ: Predictions: Score? Starting XI and overall tactics?
SM: I would expect a 4-3-3 formation made up of Earl Edwards Jr. in net and a back line of LB DeJuan Jones, CB Dave Romney, CB Omar Gonzalez, RB Andrew Farrell. In the midfield I would expect Mark-Anthony Kaye, Ian Harkes, and Carles Gil to start with the possibility of Matt Polster replacing Kaye. Up front Vrioni will be the striker with Chancalay and Nacho Gil on the wings. Expect the Revs to try and send crosses into the box and depend on wing play to create chances. I'll think positive and predict a 2-1 win for New England.
---
Northland Soccer Journal thanks our Patrons for supporting our coverage.
If you would like to support independent soccer media, subscribe to NSJ on Patreon.