Standout Loons Combine for 3-0 Shutout vs Colorado Rapids
Wednesday was a beautiful evening for soccer in St. Paul, Minn., with MN United FC hosting the Colorado Rapids under clear skies, just a couple miles from the Great Minnesota Get-Together. The Loons had their own 90 minutes of togetherness, securing a 3-0 shutout with standout individual performances contributing to a solid team effort.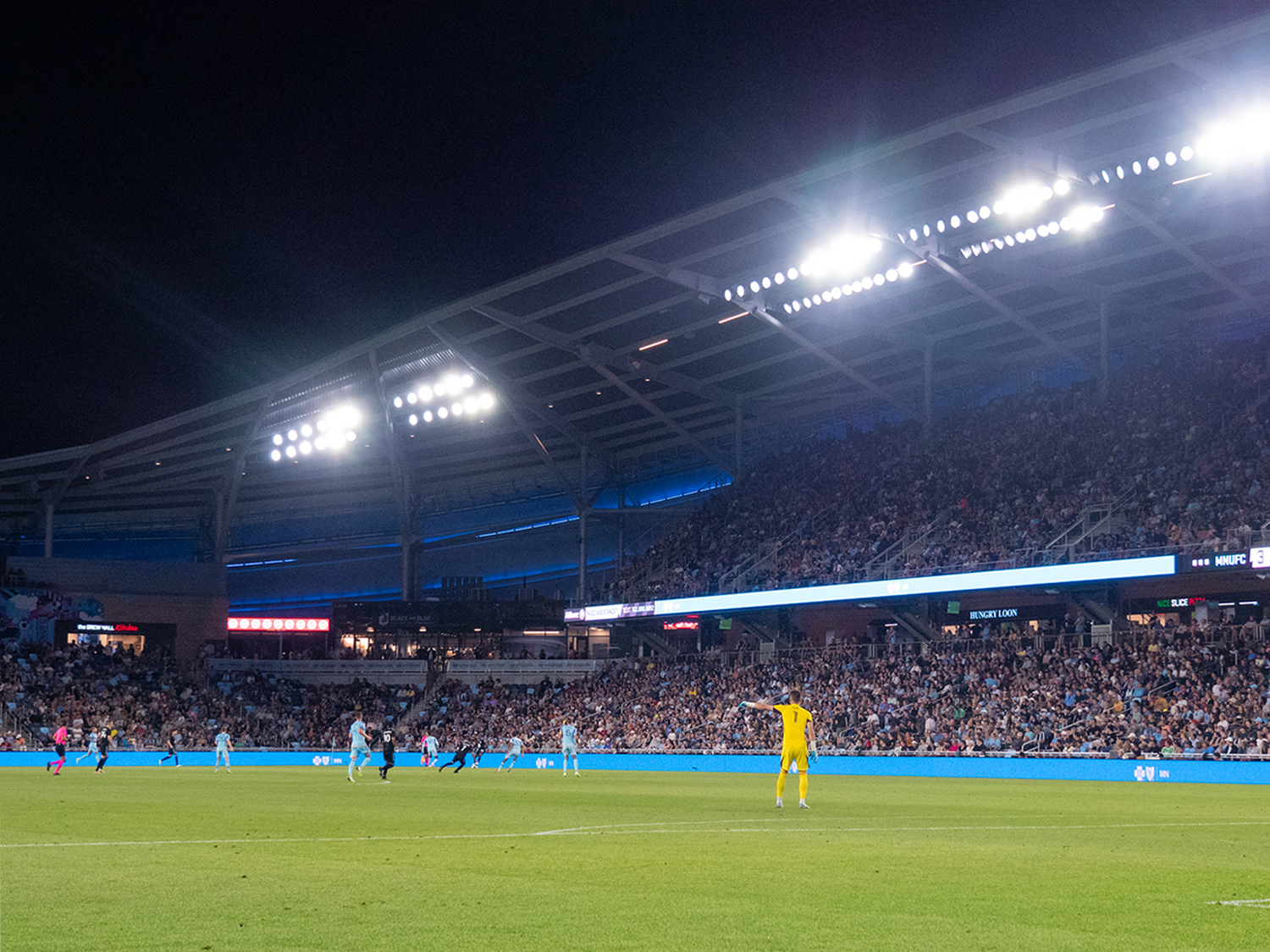 The match had all the makings of a high-scoring redemption for Colorado and/or a tactical collapse nightmare for Minnesota: A home match against a last-in-conference team that has scored only 16 goals on the season, with opportunities galore for the visitors in the opening five minutes. Going into the match, the Rapids squad had a four-way tie for leading scorer (two goals each). Of those four, three were on the bench on Sunday and the fourth was now wearing a LA Galaxy shirt. With a couple of first-starts in Colorado's XI and nothing to lose, the Rapids could have been another in a long line of unexpected opponents punching well above their weight on St. Paul soil.
New DP Rafael Navarro set the tone early for the Rapids, sending in a shot just twenty seconds after the starting whistle, but it was an easy save for Loons' goalkeeper Dayne St. Clair — his first of five on the night. The squads traded freekicks until Teemu Pukki's first chance of the night (an easy save for Marko Ilic in the 4′) and then Colorado earned four freekicks and one cornerkick in a span of seven minutes. If the Rapids weren't so poor in their execution of setpieces, this could have been a runaway win for the visitors. But, midway through the first half, luck broke the Loons' way. 
In the 16′, Emanuel Reynoso dribbled toe to toe with Ralph Priso at the edge of the Rapids' box. The Loons' DP was able to draw in and force a foul from the homegrown as he entered the area. Both went to ground but Reynoso did so most convincingly (it was not an act) earning a penalty kick. After review, he buried the chance in the 18′, putting MNUFC up 1-0.
Colorado continued to press, earning three corners within minutes of the penalty but the Loons pressed on as well. Ismael Tajouri-Shradi, in his first MLS start for the Loons, sent in a probing shot in the 28′, but Ilic batted it away – directly to Reynoso's left foot. Reynoso's rebound made it 2-0 for the Loons and put the Argentine 10 level with Darwin Quintero for all-time leading scorer in the MLS era. Tajouri-Shradi got credit for the assist.
If these were real rapids they'd be a Class I on the International Scale of River Difficulty: Easy rapids with small waves and few obstructions. #MINvCOL | #MNUFC pic.twitter.com/LKzMDpYm19

— Minnesota United FC (@MNUFC) August 31, 2023
With the Rapids' flow reduced to chop, the Loons charged on. Following another easy save by DSC in the 38′ (a shot by longtime leftback Andrew Gutman) and a miss by former Loon Sam Nicholson, Tajouri-Shradi struck again, sending a dime of a through ball to Pukki who – finally – got a solid finish on the chance and scored his long awaited second goal for the club. Party time.
P U K K I
A
R
T
Y pic.twitter.com/RvW8aQJxRg

— Minnesota United FC (@MNUFC) August 31, 2023
For only the second time, Loons fans got to see vintage Pukki: A patient run and heads-up placement. And the assist showed why Tajouri-Shradi has been a mainstay for each club he's played with in MLS. Pukki's starting role is safe and Tajouri-Shradi's may well be too.
Reynoso had an opportunity to cap off a record-breaking hat trick before halftime but the Loons went into the break 3-0 up and riding a high.
Wanted that Reynoso hat trick so bad, darn

— JOHN BURG (@getbentjohnboy) August 31, 2023
Colorado came out on the front foot but the second half was a stalemate. Thankfully, the Loons had already padded the scoreline in the first 45 minutes. The Rapids' struggle to convert and their affinity for cheap fouls was also a huge help to the Loons. Four of Colorado's five yellow cards (all earned in the second half) occurred between the 64′ and 79′: Sidnei Tavares 64′ (on loan from FC Porto B), Danny Wilson 71′, Connor Ronan 76′, and Moise Bombito 79′.
We good again? Or are the rapids BAD?

— Andrew Johnson (@AndJohnson97) August 31, 2023
Reynoso left the pitch in the 82′, replaced by Ménder García, with two goals and a half share of the club's leading scorer throne. The Loons' defense wasn't too shabby either. Dayne St. Clair's clean sheet, five save evening brought him up to 223 career saves in 70 matches, passing Bobby Shuttleworth's 219 in 58 matches.
The win was a true team effort which head coach Adrian Heath highlighted in postgame:
"Our movement, combination play, timing of getting into little pockets. I thought especially down the right-hand side in the first half. I thought Hassani [Dotson] was outstanding again. I thought Ish [Ismael Tajouri-Shradi] – he's had a couple of weeks of not doing much – was terrific. His understanding of the way that I want him to play is outstanding at times. He makes defenders and fullbacks make difficult decisions."
Pukki and Reynoso both lauded Tajouri-Shradi's assists and the building chemistry up top.
"It was a perfect ball from Izzy [Ismael Tajouri-Shradi]. There need to be more goals like that and I believe I will score more goals," Pukki said of his goal, assisted by 'Izzy'. "Obviously, I haven't been here too long yet, so we're still learning from each other. Big games are coming up, so it was good to get that goal and three points as well."
"Yeah. Ismael [Tajouri-Shradi] came on and had to start the game and did a good job. He gave me a good pass for [Teemu] Pukki, which is also important that Pukki converts because we need him to score goals to keep giving us joy. As I said before, in general, I think it was an incredible game for everyone, I'd say. We have to keep getting better and continue working to play in California which will be difficult as well."
I think we should win more at home

— Sam Solberg (she/her) (@Samdamda) August 31, 2023
As Reynoso teased, MNUFC heads west this weekend to face San Jose. The Loons go into the weekend in 7th place with 35 points and the Quakes are right on their heels in 8th, tied on points but with one more loss from one more game played. With Bongokuhle Hlongwane still day-to-day, it's safe to expect that the lineup won't change much – at least not on top. DJ Taylor's yellow sees him suspended for accumulation so the back four will have to be shuffled once again. But things are on the upswing for MNUFC, even if only temporarily.
---
Northland Soccer Journal thanks our Patrons for supporting our coverage.
If you would like to support independent soccer media, subscribe to NSJ on Patreon.