Leagues Cup Preview: MNUFC vs Club Puebla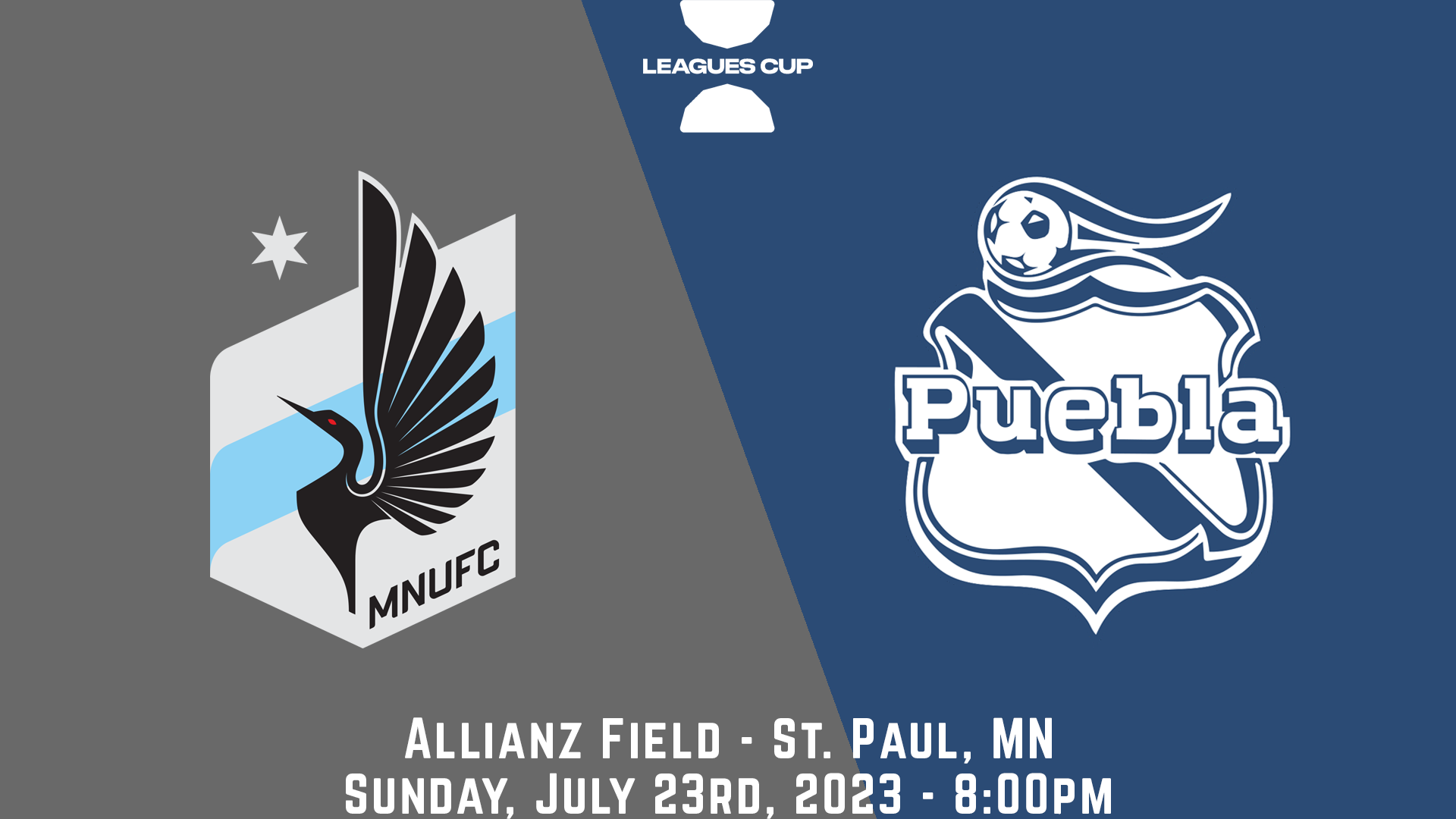 Matchday 26
MIN vs. PUE
AppleTV | FS1 | UniMás
Minnesota United FC will open Leagues Cup play tonight at Allianz Field against Group Central 2 opponent Club Puebla. While the Loons are somewhat familiar with their third group member, Chicago Fire, the Liga MX matchup will be a new experience for this season's Best XI. Minnesota enters the tournament two-thirds of the way through the MLS season, a campaign which began with a strong road presence before sputtering at home. Puebla is only three matches into the 17-match apertura portion of the 2023/24 season and sits at the bottom of their table with only one point. These are two teams with a similar history, a similar struggle to find their form year-after-year, and a similar workman mentality, gutting out results and hoping to improve with each week.
Form
MIN: 10th in the West, 28 pts (of 66 available), 1.27 ppg, 7-8-7 / 26 G, 30 GA
Last game: 7/15 MIN 1-1 LAFC (Reynoso 24′) (Vela 21′)
PUE: 17th, 1 pt. (of 9 available in Apertura)), 0.33 ppg, 0-1-2 / 3 G, 7 GA
Last game: 7/15 América 3-0 Puebla (Alvarez 35′, Suarez 45+2′, Quinones 87′)
What to watch
Puebla is just three matches into the fall portion (apertura) of their 23/24 season after finishing 22/23 in 11th place. After opening the season on July 1 with a 1-1 draw against Tigres UANL, Puebla enters Leagues Cup on a two game skid, having lost 3-2 to Santos Laguna on July 7 and 3-0 to Club América on July 15. Their opening goal against Santos, scored by Federico Mancuello in the 2nd minute, shows an ability to disrupt early, a frequent issue for MNUFC.
As always, defensive chemistry could define the match for the Loons. With Michael Boxall, Mickey Tapias, and Bakaye Dibassy, all available (pending medical clearance for the latter two's recent knocks), in addition to* Zarek Valentin, DJ Taylor, and Kemar Lawrence, the backline should be in reasonably good shape and will have at least two matches in which to build on what has worked in MLS play. The same can be said for the rest of the squad.
And with Adrian Heath adamant that he will field his Best XI come matchday, it is not likely that Minnesota will look much different from what we've seen in MLS play recently. "The best team will be available and will play at the weekend. There's an awful lot at stake in this tournament," Heath explained. "As the tournament progresses, I think you'll see this to get a little bit spikey and a little bit competitive because [there's] an awful lot at stake for everybody: Champion's League spot, a lot of money for the club. I'm looking forward to it, actually."
The tricky part of tournament play could be the no-draw format. Any game ending in a draw will award each side 1 point before going to a penalty shootout, the winner of which will be awarded 1 additional point (a regulation win is still awarded 3 points). As mentioned often in these previews and recaps, the mental component of any match is incredibly important. Regardless of which goalkeeper gets the start for MNUFC, the potential for a draw and penalties will be there.
"It's just understanding them [Club Puebla]. Probably a lot of us are not as familiar as we are with other MLS teams so it's about getting the scouting right and understanding what we're going up against," said Dayne St. Clair. "But at the same time, we're at home and we expect to get the results that we need to progress in this tournament." However the match ends, the format could attract more neutrals. St. Clair:
"When people talk about soccer, a lot of people who complain about ties are not familiar with the game. It could be good to bring some new fans in but it's also going to be a different dynamic now having something at the end of the game if the game is tied. It could be interesting for new fans and weird for people that have enjoyed the game for a long time."
*Newcomer Ethan Bristow could be added to the Loons' Cup roster if his international paperwork is secured in time.
Who to watch
Again, Club Puebla is similar to MNUFC in the sense of on-pitch action as well. While Eduardo Arce has used both a 4-4-2 (v. Tigres and Santos) and 4-1-3-2 (v. América) in these matches, he has made few changes to the XI in that time. Goalkeeper Jesús Rodríguez has made 14 saves while conceding 7 goals on the season. Two of Puebla's three goals in Liga MX play this month were knocked in by leftback Brayan Angulo (47′ v Tigres, 38′ v Santos Laguna). Angulo is available for selection on Sunday.
It shouldn't make a difference whether it is St. Clair or Clint Irwin starting in goal — DSC is bouncing back from a shootout loss in Gold Cup play with Canada while Irwin has veteran composure to balance his lack of shootout experience (though the US Open Cup win against Philadelphia Union surely buoyed his confidence). The tournament will give Dibassy and Hassani Dotson time to build confidence as they come back from injury and will serve as a great proving ground for the building partnerships between Emanuel Reynoso, Bongi Hlongwane, and Teemu Pukki. I would expect all five of those players to start against Puebla, in part to serve as a barometer for this XI's prospects against the style of play brought by Liga MX clubs.
Availability
MIN:
Out: Ryen Jiba (knee)
Robin Lod (knee)
Questionable: Franco Fragapane (thigh)
Miguel Tapias (ankle)
PUE: 
No Report Available
Leagues Cup Rosters
MIN: 1 Clint Irwin, 2 Devin Padelford, 3 Zarek Valentin, 4 Miguel Tapias, 5 Mikael Marques, 6 Franco Fragapane, 7 Joseph Rosales, 8 Emanuel Reynoso, 9 Sang Bin Jeong, 10 Bakaye Dibassy, 11 Eric Dick, 12 Brent Kallman, 13 Michael Boxall, 14 Ismael Tajouri-Shradi, 15 Wil Trapp, 16 Bongokuhle Hlongwane, 17 Teemu Pukki, 18 Cameron Dunbar, 19 DJ Taylor, 20 Mender García, 21 Hassani Dotson, 22 Molik Khan, 23 Kervin Arriaga, 24 Zayden Bello, 25 Britton Fischer, 26 Emmanuel Iwe, 27 Rory O'Driscoll, 28 Kemar Lawrence, 29 Dayne St. Clair
PUE: 1 Gustavo Henrique Ferrareis, 2 Sebastián Olmedo Pereira, 3 Efraín Orona Zavala, 4 Diego Eduardo de Buen Juárez, 5 Pablo González Diaz, 6 Daniel Álvarez López, 7 Fernando David Arce Juárez, 8 Federico Andrés Mancuello, 9 Facundo Federico Waller Martiarena, 10 Guillermo Martínez Ayala, 11 Alberto Herrera Rodriguez, 12 Luis Arcadio García Banuelos, 13 Ángel Manuel Robles, 14 Kevin Velasco, 15 Gastón Silva, 16 Carlos Alberto Baltazar Agraz, 17 Daniel Aguilar Munoz, 18 Diego Zago Gavito, 19 Miguel Ángel Fraga Licona, 20 Brayan Alexis Angulo León, 21 Martín Barragán, 22 Emiliano García Escudero, 23 Jesús Rodríguez, 24 Juan Pablo Ramón Gómez Castillo, 25 Ronaldo Francisco Salazar Álvarez, 26 Dylan Rafael Torres Muratalla, 27 Samuel Andani González, Naranjo, 28 José Rodrigo Pachuca Martínez, 29 Patrick Villa Urban
---
Northland Soccer Journal thanks our Patrons for supporting our coverage.
If you would like to support independent soccer media, subscribe to NSJ on Patreon.