MNUFC Secures A Draw Feels Like So Much More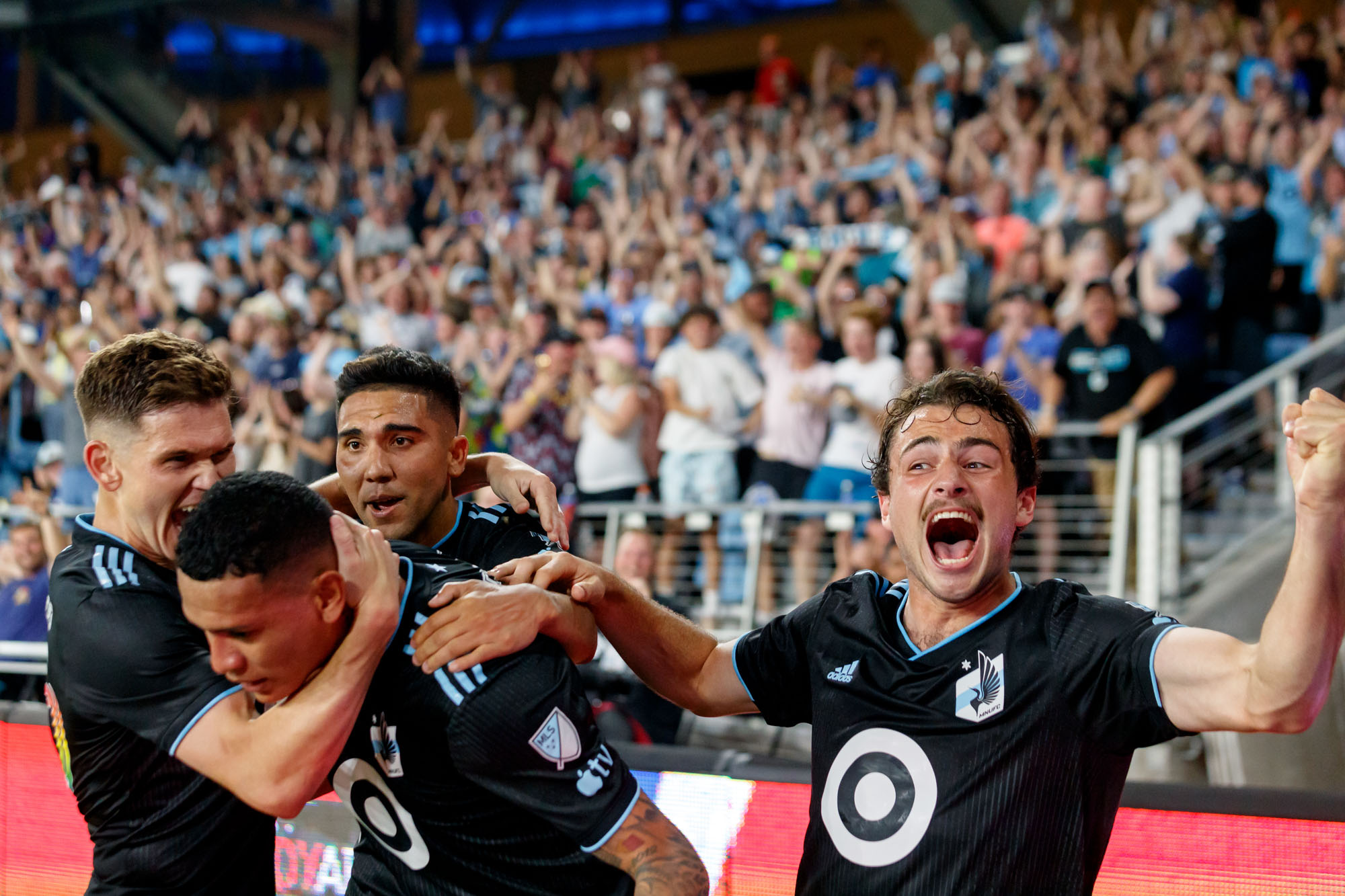 In the end it wasn't enough. After falling behind in the 58th minute, following a lack-luster hour of soccer, Minnesota United were only able to muster an equalizer against a struggling Toronto FC. With results not coming at home, Minnesota falling to 1-1-5 in regular season play at Allianz Field, even a dazzling return of Emanuel Reynoso couldn't get the win.
Playing their 12th game in 43 days, head coach Adrian Heath made two changes to start the night, with Zarek Valentin coming into the back-line, Kemar Lawrence a precautionary scratch still dealing with a tight hamstring, and Sang Bin Jeong starting up top in place of Ménder García, who had had a wonderful mid-week performance. For the first 60 minutes Minnesota was unable to generate much energy. "Maybe tightness," Heath suggested after the game as the reason for the team's slow start. "I think they set up well. They use the ball out the back really well, they had the extra body in there as well in midfield and we at times had a decent defensive shape… But we always looked dangerous on the counter, which we do at times, but we had a couple of really good breakaways this evening and maybe the final ball wasn't what it should've been."
For that first hour the two teams looked mirror images of each other: Toronto with a clear organization and structure, controlling the midfield, building out of the back, trying to play from possession but being let down by individual errors in key moments; Minnesota showing flashes of decisive quickness in attack but lacking initiative or commitment to any kind of style or organization. In many ways, Toronto looked like vintage 2019 Minnesota, simply daring their opposition to score, sure that they wouldn't be able to.
Both teams had chances in the first half, Toronto coming closest off a Federico Bernardeschi shot from distance. In the 10th minute Hassani Dotson was the first to get a head on CJ Sapong's speculative cross, only able to glance it out to the top of the box to an uncovered Bernardeschi drifting at the top corner. With plenty of time to settle and set up his left foot, Bernardeschi sent a wickedly curling shot to the far post, pulling a great diving save out Dayne St. Clair.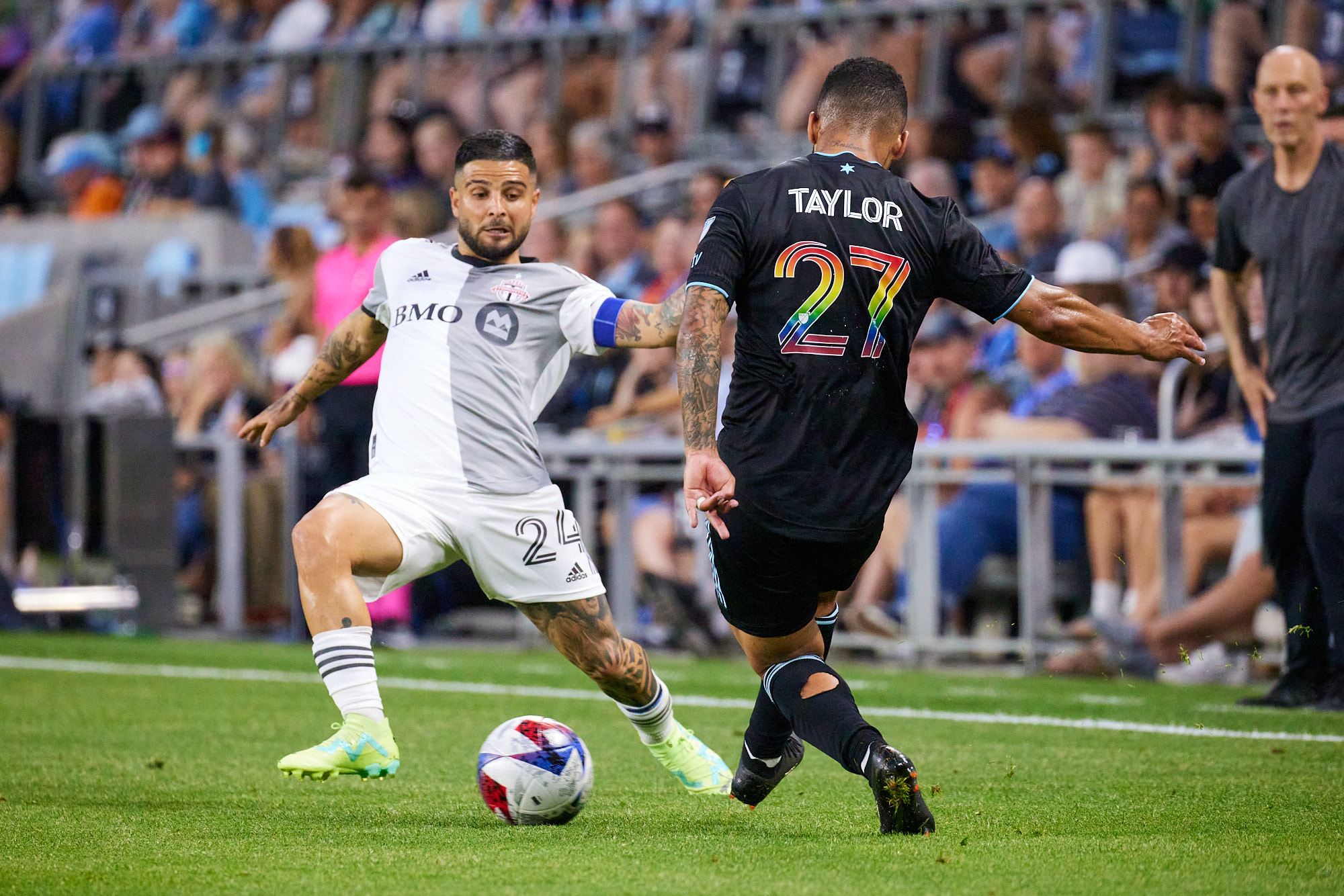 Minnesota's chance in the 28th minute is hard to understand, even after all the replays. Previously reliable, best in the league goal-keeper Sean Johnson flubbed two attempts to build out of the back, either making a series of very bad decisions or simply being let down by skill. Either way, Dotson found himself with the ball at his feet well outside the box, but with the goal wide open and unattended. Settling the ball for the banger Dotson, in search of his first goal of the season, was also let down by his skill or decision making, sending a long, low shot right at Mark-Anthony Kaye. Kaye, though, also flubbed the clearance redirecting the shot to Franco Fragapane, lurking in the channel. With Johnson still working to get his feet set in front of goal, Fragapane sent his attempt well wide of the goal, Aimé Mabika making sure with a clearance from the far post.
If Minnesota was unable to capitalize on that series of errors, the first part of their night was better summed up in a two-minute stretch of play in the 37th and 38th minutes. With Toronto trying to possess their way into a chance through the middle of the field, Minnesota pressured Bernardeschi into an easy give away. Hlongwane picked up the errant ball in his own half, turned and started the break, quickly releasing Sang Bin on the right. Fragapane already going on the left and Hlongwane outrunning Toronto's midfield down the middle, Minnesota created a 3v3 with the ball at Sang Bin's feet and Toronto's defense running the wrong way. With options available, Sang Bin beat his defender but sent his shot from distance well over the far corner. The final decision and product lacking, Minnesota did look dangerous on the counter.
A minute later Lorenzo Insigne was pressured into an easy turnover deep in Toronto's attacking half. Wil Trapp collected the errant ball, feeding Hlongwane with the break seemingly on, Sang Bin on the right, Fragapane down the middle, and Joseph Rosales on the left, all in positions to go. But no one did, and Hlongwane turned, played the ball back to Dotson. In a collective moment the team didn't or couldn't go, Minnesota passing the ball around for a bit before giving up possession as they entered their attacking third.
Toronto head coach Bob Bradley made two changes at half-time, bringing on Deandre Kerr for Jahkeele Marshall-Rutty and Brandon Servania for Kosi Thompson, shifting Bernardeschi into the middle of the attack. Not changing the flow of the game dramatically, the half-time adjustment simply played into Toronto's strength.
Heath, meanwhile, made one switch at half-time, moving Valentin to the left and bringing DJ Taylor to the right. After the game, Heath explained the move saying, "we thought we could get out more of [Taylor] down that right hand side, our right-hand side. We felt DJ, obviously in with Bongi, have done really well down that side and we all know that Insigne is a top-top player, but he doesn't want to be played in his own half. He wants to be played in the attacking half and I felt we'd get more out of DJ being on his natural side." Unfortunately, although the reasoning was sound, the switch led to Toronto's goal in the 58th minute.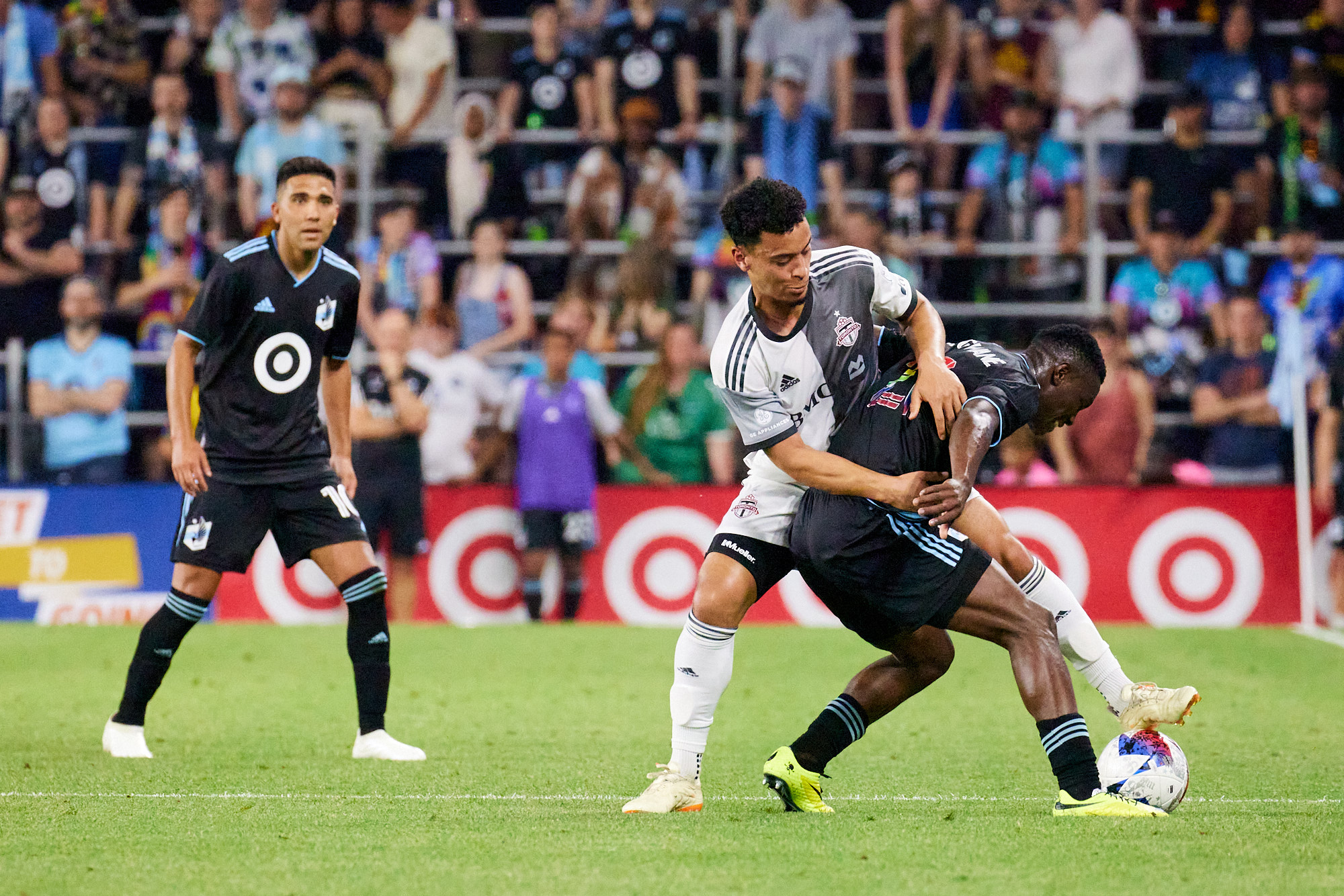 As Minnesota pushed high, Dotson on the ball, Taylor and Trapp both up, and Michael Boxall lurking forward, Bernardeschi dispossessed Dotson and quickly turned up field. With Dotson unable to catch him, and Boxall and Micky Tapias unable to commit, distracted by the central run of Sapong into the area, Bernardeschi carried to the top of the box, tried a quick give and go with Sapong before laying the ball off right to Richie Laryea who had a wide lane across the box, in front of Minnesota's retreating defense, to set-up Insigne for the opening goal. And Insigne was open on the far side because Taylor could not keep up with him, Insigne simply beating the faster Taylor in a foot race from midfield to the spot. Taylor, after a desperate slide to try to disrupt the play, simply stayed on the ground after the goal. He was done, although his substitution didn't come for another 10 minutes, being replaced by Devin Padelford, coming on for his MLS debut. Minnesota has conceded more disappointing and more frustrating goals this year, but that was probably the hardest to watch because it felt so unfair. After an injury hindered pre-season Taylor has done nothing but put in good, hard, shifts all season. He just needed a break and the club couldn't give him one. It was a hard goal to concede and a harder one to watch.
Anatomy of a goal:@fbernardeschi starts it.@RichieLaryea_ squares it.@Lor_Insigne buries it. pic.twitter.com/2fZ77oYnMh

— Toronto FC (@TorontoFC) June 4, 2023
It was also, though, apparently, the incentive Minnesota needed. After conceding, the team started to play with some urgency, almost producing an immediate answer, Sang Bin putting a shot from distance inches wide after being freed in behind through a spectacular Valentin outside-the-boot pass, Hlongwane missing a sitter at the back post off a Sang Bin cross in the 70th minute. As Toronto slowly began to sit deeper, looking to hold the 3 points on the road, but seemingly content with the draw, it felt like Minnesota would get the equalizer in the last 30 minutes.
And into all of that, in the 65th minute, Emanuel Reynoso made his season debut. Still without explanation for his absence, the tone of the recorded statement the club released not matching the league's actions or the club's comments when he was away, his presence was immediately felt as the team returned to its Reynoso-centric form. It is, of course, a dangerous tactic and style of play, even as the DP-structure of the league incentivizes reliance on singular players, but Reynoso showed again that he really is that good. As Heath said afterward,
"You need a special player to come up with something and pick a pass and beat somebody and that's what he did. The game turned on its head really when he came on because before that we were doing a lot of huffing and puffing and didn't really think that we were going to find that pass. And the minute he comes on he immediately starts to create things. Puts better quality in the box. And I think also his teammates think that when he gets it they put things on. You know they make runs thinking that we've got a player here that can actually pick me out if I make the right run at the right time."
After taking over the game, being denied by a fingertip in the 73rd minute off a bit of singular brilliance, it was maybe the simplest of plays from Reynoso that set up the equalizer. On the ball out wide, Reynoso created for himself a bit of space, got his head up, and dropped a cross all the way to the far post, a perfectly placed ball on Hlongwane's head. Hlongwane's effort required an excellent reaction from Johnson to stay out of the net, but the rebound only got as far as Kervin Arriaga, floating at the top of the box. Chesting the ball to his left foot, his clean strike took a deflection and Johnson had no chance.
Kervin said

BANGERS ONLY™️ pic.twitter.com/qien8tbvnw

— Minnesota United FC (@MNUFC) June 4, 2023
As Allianz erupted and the team celebrated, it was easy to forget that the goal was just an equalizer, the celebration being about so much more. Although a better explanation is still needed from the club, the team, the players, for his absence and the league's and club's actions, one that is both honest and respect's the player's privacy, this is Reynoso's team. There may be other problems with that, with the team that Manny Lagos and Heath have built, but there is also a joy and a beauty when Reynoso is on the field that has been lacking. It is good to have it back.
Now, the team gets a break. A whole week off to heal and rest and recover. A week to get Reynoso more fully back into the team. A week to prepare before heading east to face CF Montréal, another struggling Canadian Eastern Conference team.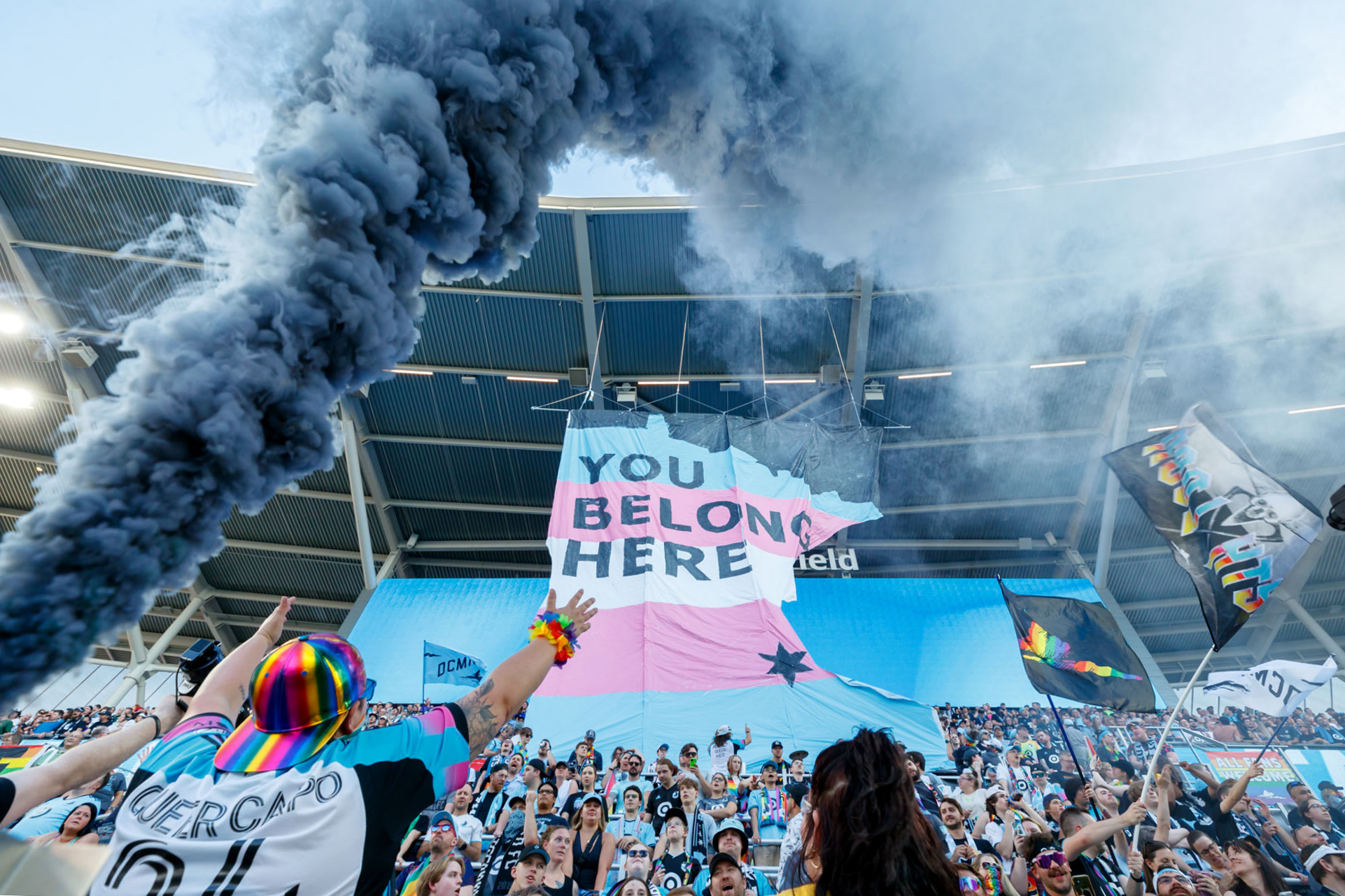 ---
Northland Soccer Journal thanks our Patrons for supporting our coverage.
If you would like to support independent soccer media, subscribe to NSJ on Patreon.