Matchday 17 preview: MNUFC vs. Toronto FC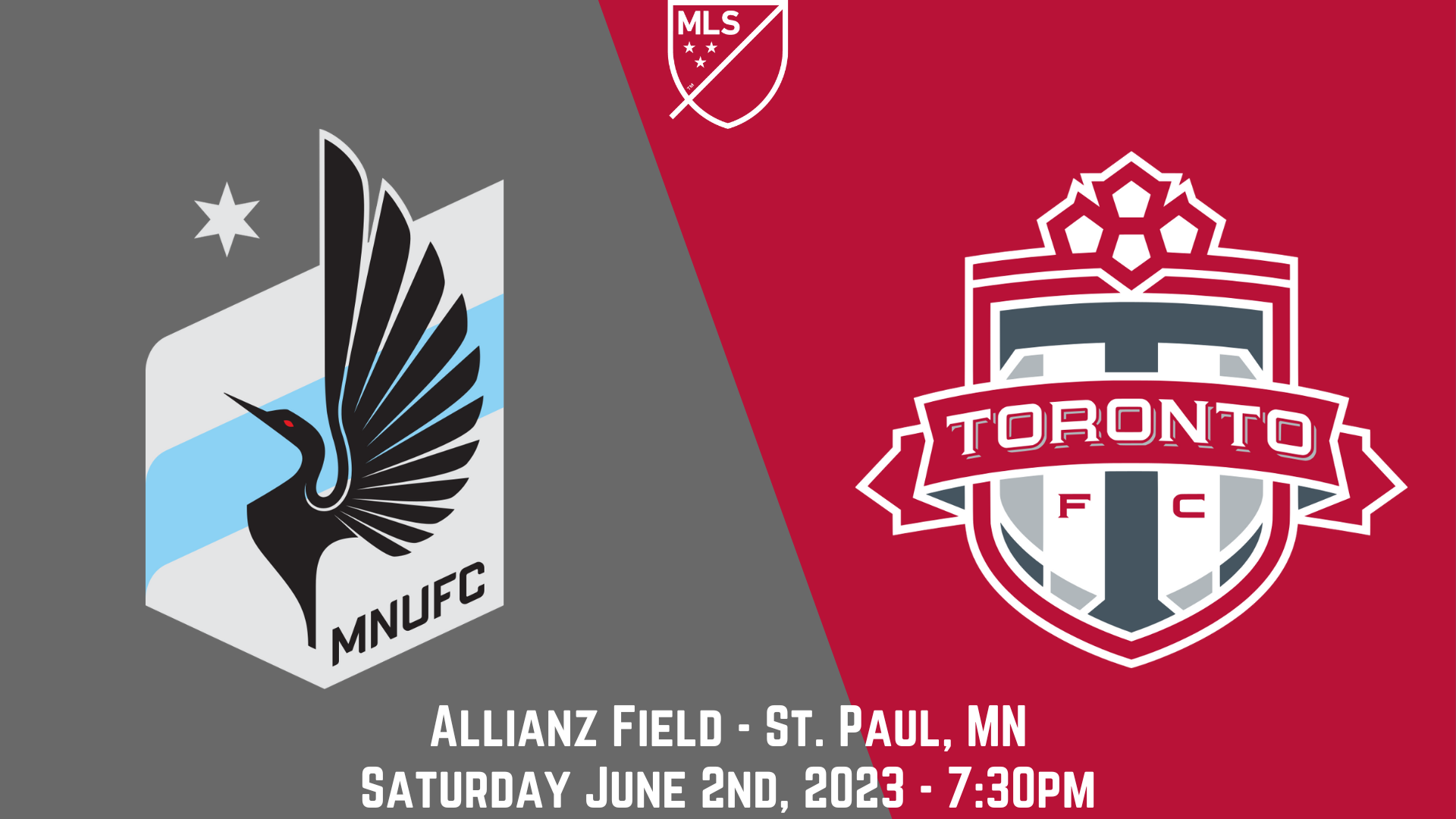 Matchday 17
MIN vs. TOR
AppleTV  | 1500 ESPN
After an exceptionally good start to the season – 11 points from their first five games, three road wins with two draws at home – Minnesota United comes into tonight's match against Toronto FC with only two wins in their last 10 regular season games. But playing their 12th in 43 days, the team remains above the playoff line, which, even in a year when almost everyone will make the playoffs, is a feat made all the more remarkable given the prolonged absence of Emanuel Reynoso, the play-making DP around whom the club has built their team, the need to develop a new center-back pairing with the continued recovery of Bakaye Dibassy after last year's season ending thigh injury, and the more recent loss of Robin Lod, the team's second best offensive threat, to a torn meniscus suffered on May 17. Although it hasn't always been pretty or exciting, with Reynoso returning to the matchday roster tonight, even if his presence won't solve all the team's offensive problems, the Loons may have held on long enough. In a small-sample-size series, Minnesota trails Toronto 1-2-0 all-time, with the Loons' one win at home, beating the Reds in their only trip to Minnesota back in 2018. Allianz Field is not, this year, the fortress it has been in the past, but Minnesota has a great opportunity tonight to pick up a much needed 3 points against an Eastern Conference opponent while earning their second home win of the season.
Although LA Galaxy has been getting most of the "storied club in disarray" headlines this season, Toronto is catching up. After staking a claim to being one of the best teams in MLS history in a four year run from 2016-2019, appearing in three MLS Cup finals, winning once, while winning the Canadian Championship in 2016, 2017, and 2018, and achieving a domestic treble (MLS Cup, Supporters' Shield, Canadian Championship) in 2017, while also making it to the 2018 Concacaf Champions League final, losing to Guadalajara on penalties, the recent exposé in The Athletic offers up a story of hubris, ego, and systematic failure that has Toronto in near collapse. Maybe Toronto has turned a corner with the airing of grievances and head coach Bob Bradley's Matchday 15 decision to keep Frederico Bernardeschi out of the line-up, but after missing the playoffs in the last two seasons and currently siting 13th in the East, it is a long corner to turn.
Form
MIN: 7th in the West, 19 pts, 5-6-4 (home 1-1-4), 14 g, 17 ga (21.0xg, 16.7xGA)
Last five games: LD(L)WW
Last game: 5/31 ATX 2-1 MIN (Gallagher 19', Driussi 82')(Rosales 26')
TOR: 13th in the East, 17 pts, 3-5-8 (road 0-4-3), 15g, 19ga (16.3xG, 19.2xGA)
Last five games: DWLDL
Last game: 5/31 TOR 0-0 CHI
All-time head-to-head: 1-2-0 (home 1-0-0) (9g, 10ga)
Last meeting: April 19, 2019, TOR 4-3 MIN (Pozuelo 28', 35', Hamilton 77', 79')(Quintero 17', 70', Rodriguez 57')
What to watch
Minnesota seems to have found its preferred post-Lod pre-Reynoso XI, and for much of the mid-week game against Austin FC the team was able to return to its early season form, denying Austin any easy possession with a well-timed press while absorbing pressure when necessary as Ménder García and Bongokuhle Hlongwane provided quick countering danger in the attack. It looked good enough for at least the road draw, if not all 3 points, before it wasn't. Tonight, at home, expect the team to try to be a bit more expansive and proactive in possession, relatively speaking for a team that is averaging 45% possession on the year, third lowest in the league, while asking a possibly rotated defensive wide-back pairing to contain Toronto's dangerous right side.
As Zarek Valentin said after training this week, Toronto "have a very good team on paper: it's a group that has a lot of MLS experience, a lot of international experience as well…. Their results do not completely correlate exactly with the talent they have and how well their coached and how they go out there and perform. Everyone knows that." It is assumed that a Bradley coached team will try to play with possession, and averaging 50% on the season, Toronto is trying. On paper, they should have the midfield to be good in possession, with the attacking pieces up front and wide to be an incredibly dangerous team. But it just isn't working right now. Maybe it will click tonight, and Toronto will exert the control they should able to. Or maybe it will all be a mess.
Who to watch
With Kemar Lawrence pulling up short early in the second half of the mid-week game, DJ Taylor and Zarek Valentin will more than likely need to have solid performances on the night. Taylor, if rotated to the left, will have an especially difficult night trying to control Toronto's DP attacking winger and team-leading goal scorer Federico Bernardeschi and offensive minded right-back Richie Laryea. Even as Toronto's attack has struggled, with DP Lorenzo Insigne struggling to find his form on the left side of the attack, the pairing on the right has remained exceptionally fun and dangerous.
With Luis Amarilla apparently on his way out, Ménder García had one of his best games in his mid-week start. With the transfer window not opening until July 5, García should have a month to prove himself as leading this team up front. If he continues to play as he did in Austin, getting in behind with a variety of well-timed runs, using his body and positioning to get to the through balls he was offered, and generally making good decisions with the ball, and adding a few goals of his own he could lock down the starting spot.
In 2022 Toronto conceded 66 goals, 3rd worst in the league, with a -17 goal differential, second worst behind DC United's shocking -35. Much of their off-season roster moves were an attempt to shore up that defense, most notably with the signing of center-back Matt Hedges and goal-keeper Sean Johnson. The two veteran internationals have not quite made a lockdown defense in Toronto, but with only 19 goals conceded on the season they are squarely in the better half of the league. In a series that has tended to be a goal-fest, 19 goals combined in 3 games, tonight might be something different in back for Toronto.
Availability
MIN
Out: Bakaye Dibassy (thigh)
Ryen Jiba (knee)
Robin Lod (knee)
Mikael Marques (shoulder)
Questionable: Kemar Lawrence (thigh)
TOR
Out: Michael Bradley (lower body)
Alonso Coello (lower body)
Adama Diomande (lower body)
Shane O'Neill (lower body)
Jonathan Osorio (lower body)
Victor Vázquez (lower body)
---
Northland Soccer Journal thanks our Patrons for supporting our coverage.
If you would like to support independent soccer media, subscribe to NSJ on Patreon.