Matchday 21 Preview: Real Salt Lake vs. MNUFC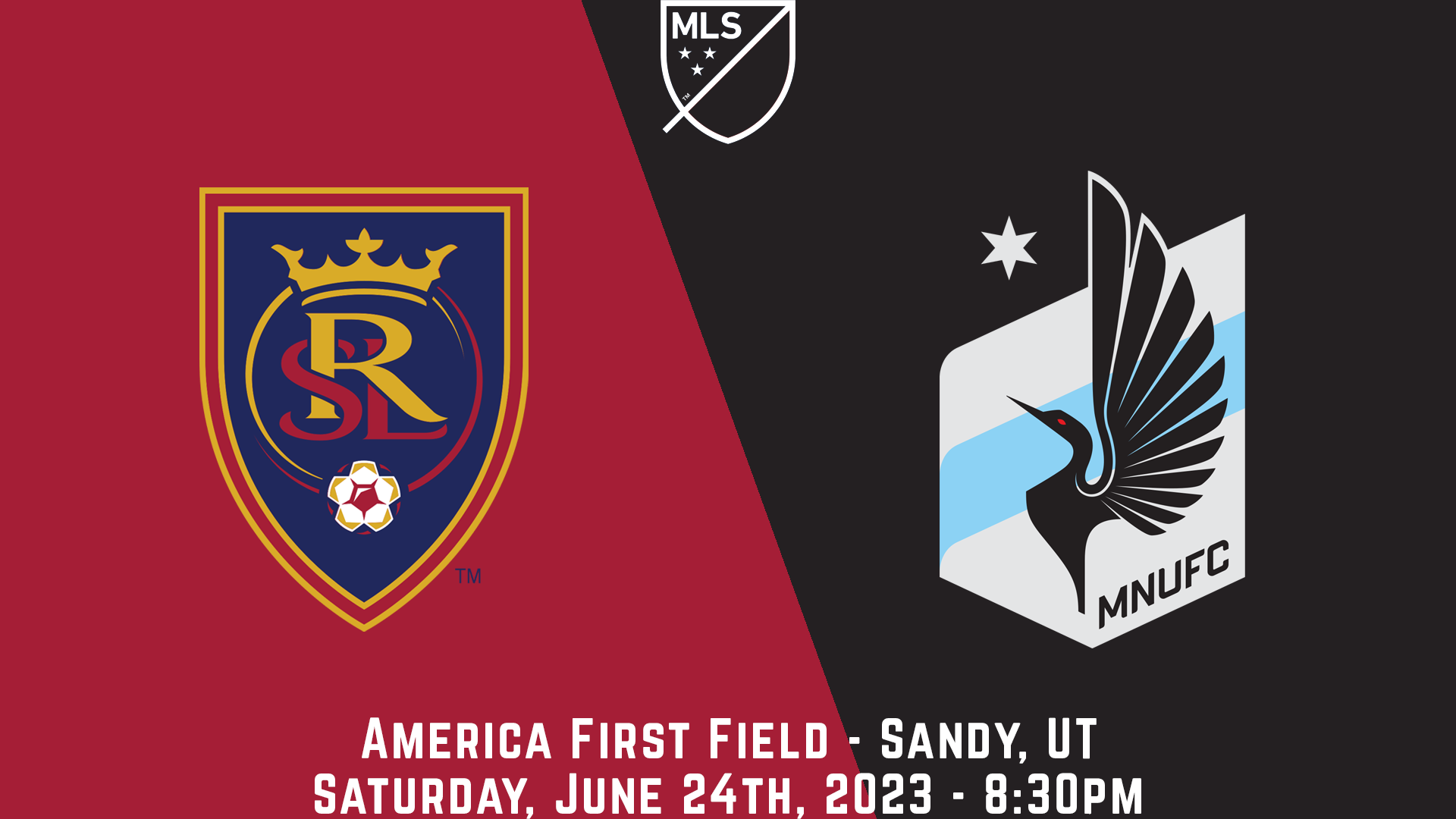 Matchday 21
RSL vs. MIN
AppleTV  | 1500 ESPN
It has been a busy two weeks since Minnesota United last took the field. In that time we learned that money wins trophies and mid-table consistency is cheaper, while being reminded that the beautiful game is only as beautiful as we are. We were also reminded that we live in a culture of fame and celebrity and that the best team in town wears teal. And we were, finally, offered the beginnings of an explanation.
Early in pre-season Minnesota head coach Adrian Heath offered consistency as a goal for the club in 2023: "Last year, we had a poor start and then we had that real purple patch of 13 games where we only lost one game. I think we took the most points in the league, that was in L.A. at that time, and then we had a bad finish. It was too streaky for me. I want us to be at a level where we're never as high as we were at some stage during that 13-game unbeaten run, but not as bad as we were in the two in the beginning and at the end of the season." After opening the season with 11 points from their first 5 games the Loons have gone 4-8-3 in all competitions, earning 9 points from their last 12 regular season matches (.75 ppg). Although they have, with that early run of results, been able to remain close to the playoff line in a season when almost everyone makes the playoffs, the 4-0 loss to Montréal heading into the break was a fair showing of their form.
Tonight in Sandy against Real Salt Lake Minnesota begins a run of what might be a rather strange 5 games before another regular season break for the Leagues Cup. Carrying a depleted roster from Concacaf Gold Cup international call-ups while still bringing Emanuel Reynoso into the team, holding an open DP slot as the secondary transfer window opens, and awaiting the close-to-happening return of Bakaye Dibassy, who is officially available tonight, it is hard to know what or who we will see from this team, but certainly something better than their last run of games should be expected.
Real Salt Lake, meanwhile, is a team on the rise. After going 1-4-0 in their own first 5, Salt Lake has found its form, running off a 10-3-5 record in all competitions since then, 6-3-5 in regular season games. With 2 players and their coach making the Matchday 20 Team of the Matchday, Damir Kreilach named the Player of the Matchday as well, and 3 different players making the Matchday 19 Team of the Matchday, they may be finding another level. Although Sandy has been an historically hard place for Minnesota to play, winless in 5 tries, Salt Lake has been strangely unable to translate its good form into results at home, 2-4-3 at America First Field this season.
Form
MIN: 12th in the West, 20 pts, 5-7-5 (road 4-6-0), 15g, 22ga (24.1xG, 18.7xGA)
Last 5 games: LDLD(L)
Last game: June 10, MTL 4-0 MIN (Toye 7', 57', Brault-Guillard 13', Camacho 76')
RSL: 7th in the West, 26 pts., 7-7-5 (home 2-4-3), 23g, 29ga (24.1xG, 27.4xGA)
Last 5 games: WWD(W)W
Last game: June 21, STL 1-3 RSL (Gioacchini 21')(Luna 15', Kreilach 48', 66')
Head-to-head: 5-3-6 (MIN road 0-2-3)
Last meeting: May 27, 2023, MIN 1-1 RSL (Glad 31' (OG))(Savarino 28')
What to watch
It is a hard ask to turn a season around on the road against a team coming into its own. But closing out the first half of 2023 with 2 wins in 12 games requires nothing less from the Loons in tonight's match. And coming off two week's rest this weekend's travel should not matter. Whether the team comes out in an away defensive posture or asserting a higher press that has served them well at times this year, more important will be their ability to match Salt Lake's energy.
The danger of Salt Lake at the moment is that they have been doing a number of different structural things well. They can attack quickly and efficiently out of a well-organized press, they can reset and rotate the play, stretching opposing teams across the field, and they are finding a fluidity and freedom in their attack to create space in tight situations. They are doing all of that while also now figuring out that other transition, out of possession transition, and finding a defensive structure that is certainly not airtight but getting better, conceding a stingy 3 goals in their last 4 games.
Who to watch
Coming back into fitness and form, Minnesota will hope that Emmanuel Reynoso is able to develop a partnership with Bongokuhle Hlongwane like the one he developed in half a season with Kevin Molino, a pairing that Minnesota rode to the Western Conference finals in 2020. Aside from a wonderful mid-May when he scored 4 goals in 4 games, Hlongwane has struggled with his final touch, second worst in the league with -3.3 G-xG. If the club has been unable to help Hlongwane make that next step from promise to consistent production, maybe Reynoso can.
As the first half of the season closed out, Minnesota's back line began to show both its age and its thinness. Help may be on the way as Dibbasy returns to fitness, but tonight the concern is with Kemar Lawrence, working with a tender hamstring and otherwise unavailable, DJ Taylor, who simply looked gassed by the end of May, and Michael Boxall and Zarek Valentin, both playing through their international breaks, with New Zealand and Puerto Rico, respectively.
Diego Luna had a break-out performance for the USMNT at the recent U20 World Cup. And now the playmaking #10 is causing problems for Mastroeni who has tended away from a #10 at Salt Lake. Mid-week Luna started out lined up wide on the left and dominated, netting his first MLS goal. Whether he has forced his way into the starting XI, and where he will be played, remains to be seen, but he is a fun and dangerous young player.
After returning from back surgery Damir Kreilach is having a comeback season. The veteran captain is finding all the right places, leading the team with 4 goals, but more importantly, centering Real's attack.
It is hard to know what to say except that Jefferson Savarino continues to do Savarino like things. With 4 goals and 4 assists on the season he is the consistent dynamic winger through which Salt Lake's brutally quick attack often runs.
Availability
MIN:
Out: Ryen Jiba (knee)
Robin Lod (knee)
Mikael Marqués (shoulder)
Questionable: Franco Fragapane (thigh)
International: Joseph Rosales (Honduras)
Dayne St. Clair (Canada)
RSL:
Out: Zack Farnsworth (thigh)
Erik Holt (shoulder)
Questionable: Jefferson Savarino (foot)
Andrés Gómez (ankle)
Probable: Marcelo Silva (groin)
International: Rubio Rubin (Guatemala)
---
Northland Soccer Journal thanks our Patrons for supporting our coverage.
If you would like to support independent soccer media, subscribe to NSJ on Patreon.