US Open Cup Fourth Round Preview: MNUFC vs. Philadelphia Union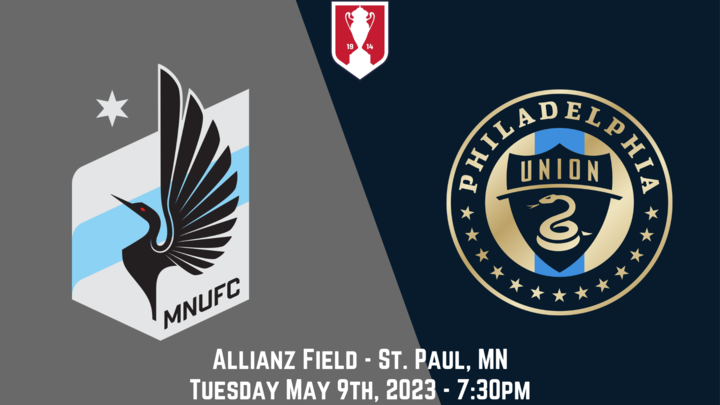 US Open Cup – Round of 32
B/R App | B/R Football on YouTube
After a frenetic 3-2 loss in Vancouver over the weekend, Minnesota United return on short notice to Allianz Field on Tuesday to resume their 2023 Lamar Hunt US Open Cup campaign, facing the Philadelphia Union. While the Loons, having entered the tournament in the previous (third) round already have a first US Open Cup win to their credit, beating USL Championship side Detroit City FC by a score of 3-1, Philadelphia opens its 2023 US Open Cup tonight, entering the tournament in the fourth round, officially the Round of 32, after finishing in the top eight in MLS last season.
The US Open Cup, the premier tournament of men's domestic soccer in the US, has been in the news of late for non-sporting reasons after a series of rather ill-timed and ill-conceived comments from MLS Commissioner Don Garber. In a USSF board meeting, during a public conversation with US Soccer chief commercial officer David Wright, Garber said that, "from our perspective, [the tournament] is a very poor reflection on what it is that we're trying to do with soccer at the highest level. The games are hard to find…The quality of the games – some of the games that we've been playing in are on sub-par fields. I would say that they're not games that we would want our product to be shown to a large audience. So frankly, I'm not all that disappointed that the audience is small."
Factually, of course, it is an uninteresting pull-quote. If you aren't paying attention to the tournament, and even if you are, the games are hard to find on TV, and the production quality isn't always the best. But until this year, that has been a problem for men's and women's domestic games in the US in general. And the fields, too, can be rustic. But that, at least in part, is the charm if not beauty of a domestic cup; everybody is invited, and if that means last year's top-division champion has to play in a DIII college stadium, everbody still has to show up and play. The problem with Garber's comments, then, are not that they are wrong, but that they come from a myopic and condescending experience of the tournament. For Garber, it seems, and maybe for MLS in general, the US Open Cup is an opportunity for lower-division men's soccer teams to play MLS teams. But that's not what the tournament is. The US Open Cup is the premier men's domestic soccer tournament in the US. Everyone's invited and everyone plays. If it offers a poor reflection that is because it offers an accurate reflection of the state of men's domestic soccer in the US, of the infighting, the parasitic nature of its leagues and tiers, and the general chaos that runs down the men's pyramid from the USSF to local clubs.
The US Open Cup is also, though, one of the few competitions in which Minnesota has found success as an MLS club. Since its promotion, the club has had two moments of sporting glory: that magical run to the Western Conference Final in 2020, when the team made it to within 20 minutes of the MLS Cup final, and the 2019 US Open Cup, the club's only finals appearance to date, when, buoyed by a veteran defensive core, the team made it to the final game of the tournament before losing to Atlanta United, 2-1. As the 2023 regular season begins to spiral out of control, the team falling to 8th in the West, in danger of dropping below the playoff line in a season when almost everyone will make the playoffs, winless in their last 5, and still winless at home, the US Open Cup is a trophy that can be won, and a tournament that can guide the club back to results in the regular season.
After his team's loss on the weekend, head coach Adrian Heath was a bit noncommittal on his plans for tonight's game. "We get back tomorrow [Sunday] pretty late," he said. "Monday we'll have a little look at what we think and we'll go from there. But there's enough bodies. We've got a big squad, enough players. We'll have to decide what we'll do. One thing I do know, we'll have to play a lot better than we did tonight." After some delays in their travel it was even later than expected, with the team getting back into Minnesota after midnight on Sunday. And with a very busy May, a few players accumulating a lot of minutes early in the season, and two or three fitness concerns, expect the Loons to line up with a heavily rotated starting XI tonight.
Michael Boxall, Micky Tapias, and Dayne St. Claire have all put in a lot minutes so far this season, as have Bongokuhle Hlongwane and Robin Lod in the games they have been available for. Sang Bin Jeong is still getting up to full fitness and was cramping at the end of Saturday's game, while Luis Amarilla was pulled in the 29' of last weekend's game with a groin injury, and Kervin Arriaga was not available in Vancouver because of a hamstring injury. It is always a question, of course, of how and how much Heath will rotate his team, but tonight will most likely be a good test of the club's depth.
Philadelphia comes into tonight's match looking for a bit of a restart to their year as they also work to balance their roster in a busy run of games. After finishing 2022 a first tie-breaker away from a Supporter's Shield and a Gareth Bale man-bunned header away from an MLS Cup, the Union have had a mixed start to 2023. Much like the 2022 Seattle Sounders, the 2023 Philadelphia Union seem to be stumbling under the weight of consistency and the difficulty of continually building a deep roster within the rules and constraints of MLS.
Since Jim Curtin was appointed head coach in 2014, the Union have been runner's up in the US Open Cup three times, have won one Supporter's Shield and been runner's up a second time, have been runner's up twice in MLS Cup, and have made it to the semi-final round of the Concacaf Champions League twice. A grueling and impressive run of results. They come to Allianz, though, sitting 7th in the East at 4-4-2, still stinging from a 4-1 aggregate loss to LAFC in the semi-final round of CCL, having already played 16 games in the year. And it doesn't get any easier for the Union after tonight.
"This is the schedule we have to play," Curtin said after his team's gritty win against New York on the weekend. "We'll have a plan in place. I touched on it, and I mean it: We're going to have to rotate, we're going to change a lot in the Open Cup, we're going to recover as quick as we can…. It's a busy, busy stretch now of four really tough and important games. … As much as the Champions League hurt, it's behind us, and it has to be a mentality that we move onto the next game and that's the most important game. So we'll chase league points now like crazy."
Tonight, then, finds two teams looking for a chance to regain some form, while being competitive in a tournament that matters more than it often does, all while managing roster minutes during a busy and congested season. The US Open Cup may be showing its age, not quite as well supported as it should be, not quite as fancy or flashy as other cups. And for all of that it is beautiful, a reminder that we play and watch and enjoy it all because it is simply good, sometimes, to play.
---
Northland Soccer Journal thanks our Patrons for supporting our coverage.
If you would like to support independent soccer media, subscribe to NSJ on Patreon.