MNUFC Secures Another USOC Match, Sings Wonderwall At Last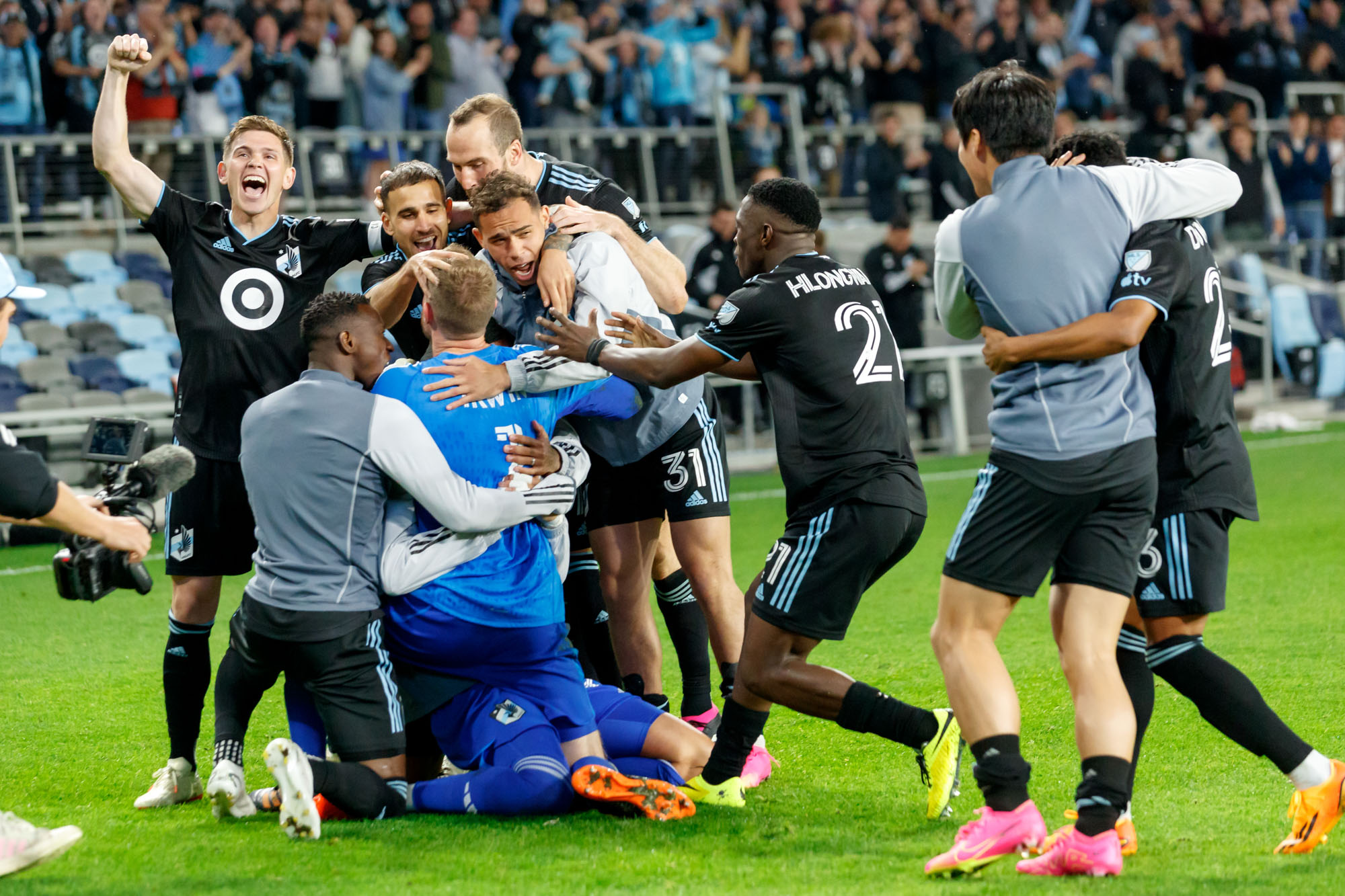 After conceding two late goals, the Loons win their Round of 32 game against Philadelphia Union in penalty kicks.
And finally, with their fifth try, and in a nearly empty stadium, Minnesota United got its first win at home this year, outlasting the Philadelphia Union in eight rounds of penalty kicks, 3(7)-3(6). With the win the Loons move on to the Round of 16 in the US Open Cup and maybe bring a little life to a team and club that desperately need it.
At 68 minutes, though, "Wonderwall" seemed very far away as the game began to feel all too familiar.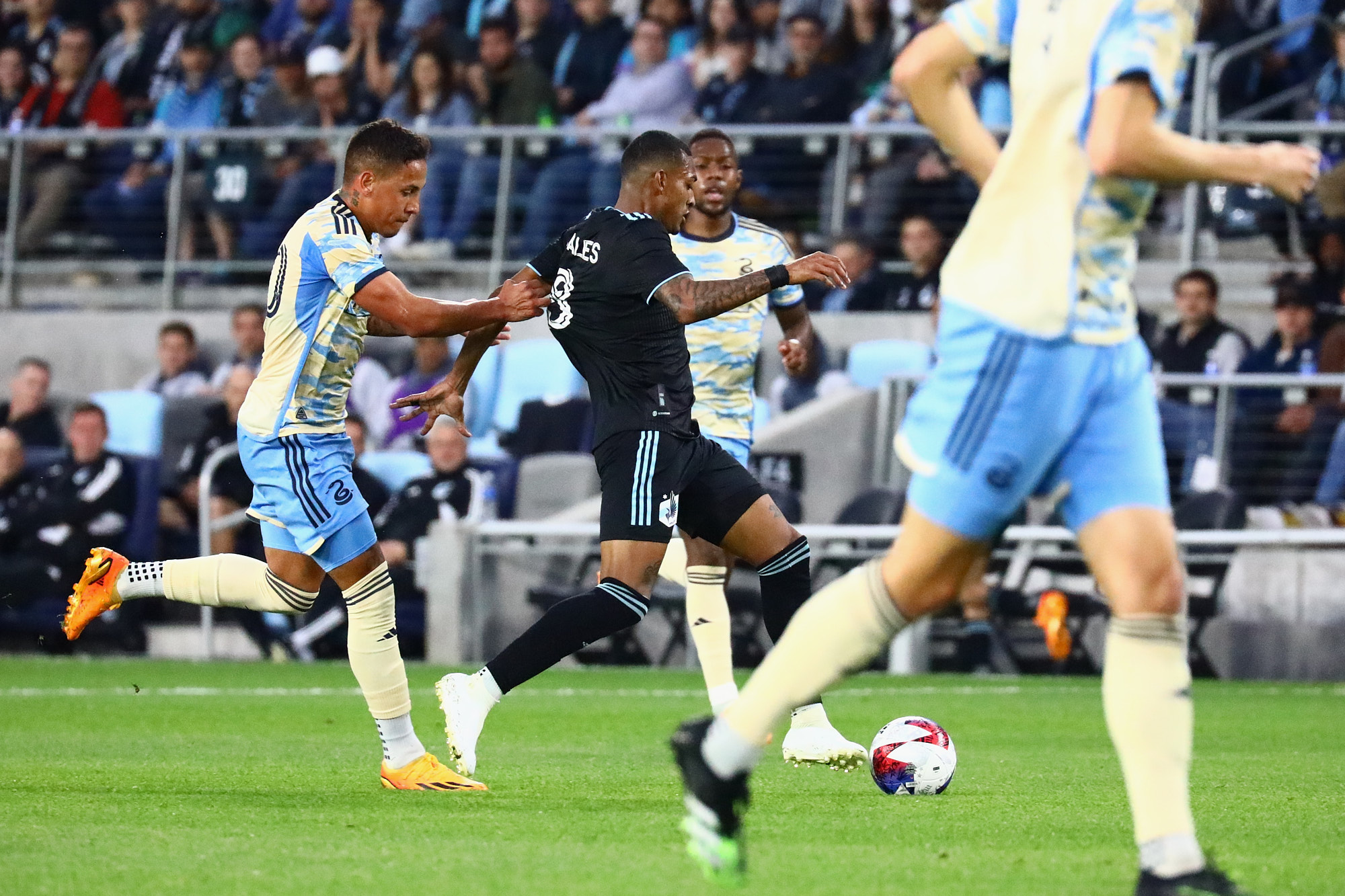 The midweek, off-league match started as expected, with two heavily rotated teams offering up an uninteresting and disinterested first 45' of soccer. Lining up in a 3-5-2 that kept the field uncharacteristically open – "It was an opportunity for us to see how it goes again," head coach Adrian Heath said of the formation after the game. "I thought, when we changed to that system in Vancouver, it caused Vancouver some problems. I'd like to be able to say we've had so much time to work on it, that's why we know what we do. We haven't worked on it" – Minnesota was, in the first half, able to find a bit of freedom on the wings through Kemar Lawrence and DJ Taylor while generating a few promising chances by going over the top to Ménder García. But Sang Bin Jeong never looked comfortable playing alongside García and Robin Lod seemed wasted as a defensive midfielder, being replaced by Wil Trapp at halftime, as the two teams simply went through the motions of playing a game.
Things got much more interesting in the 63' when Franco Fragapane and Bongokuhle Hlongwane came on for García and Sang Bin. After the two like-for-like substitutions Hlongwane simply took over the game. Freed from the defensive duties and tactical runs that are required of him playing out on the wing, Hlongwane was, as a pure forward, able to combine his typical attacking bravado with a directness to goal that produced his best game of the season. And within 5 minutes of play he had his first goal of the night. Making the front post run, he got just enough of a glancing header off of another good service in from Taylor to get the game going.
Then, in the 74', Hlongwane went on what is now a typically adventurous wander with the ball to the end line, this time finding Joseph Rosales – getting the rotated start at one of the forward midfield positions – alone in the middle of the box for the easy put away. It was a wonderful run, a wonderful cut-back, a wonderful goal, and a glimpse of what many are hopeful can be a future for Minnesota.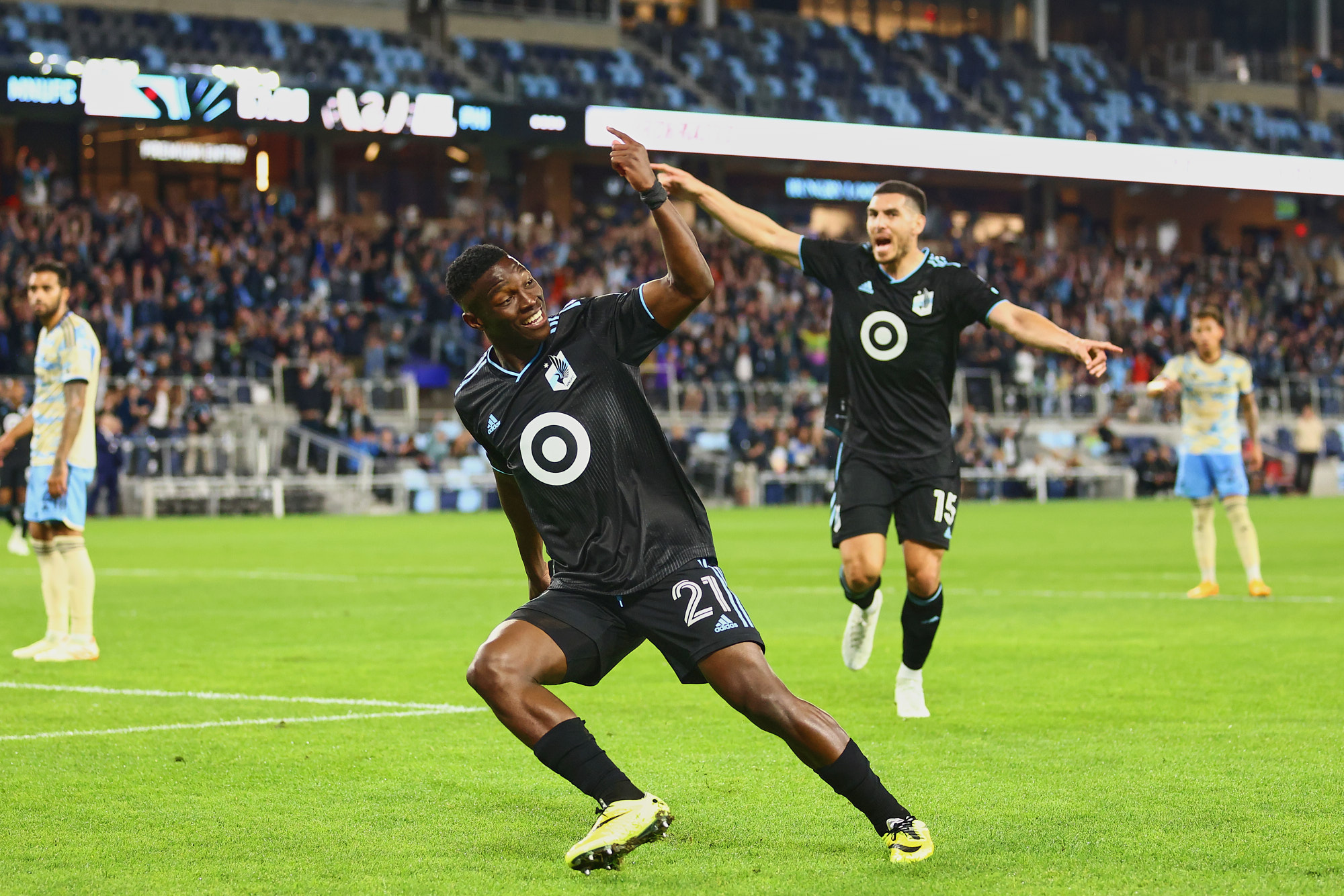 With that, after an uninspiring start, the game almost became a repeat of Minnesota's earlier US Open Cup win against Detroit City FC, when 6 minutes of madness turned a 1-0 deficit into a 1-3 win. Instead, the game quickly began to feel like a repeat of the team's mid-April loss to Orlando.
In the 77' Kervin Arriaga and Zarek Valentin were brought on for Lawrence and Taylor, with Rosales rotating out to the left wing back. A minute later, as the players were figuring out their new positions, Philadelphia forward Christopher Donavon got one back for the visitors. With that, the momentum changed. Against Orlando, of course, Minnesota had controlled the first 60' of the game before a series of substitutions and formation changes undid their early success. Last night, the substitutions only counter-acted themselves, the second set undoing the good from the first set. But in both games, Minnesota gave away a game in hand after a series of ill-timed substitutions. Orlando found their winning goal in the 88'. Last night, Philadelphia found their equalizer in 90'+4' as a miscommunication in the back left Kai Wagner alone at the back post for an easy late goal. It was, from the Loons, a heartbreaking inability to close out the game.
For much of the first 15' of extra-time it seemed that neither team wanted to lose more than either wanted to win, until Hlongwane flashed another moment of brilliance, getting a glancing touch to a low, hard searching cross put in by Rosales. The Loons were up again in the 103', needing only to see out the last 17'.
"You've got to close games out," Heath would lament afterwards. "We've done it [with] Vancouver, we've done it twice this evening. Orlando, that was late as well, wasn't it? Red Bulls. It's something that we'll obviously have to speak about. It becomes an art in itself, seeing games out. Actually playing the game of what comes and defending the goal with your life, so we'll have to speak about that."
With the final kick of extra-time Wagner again found the equalizer. Or rather, got the equalizer with a beautifully taken free kick from just outside the box, an opportunity that came off of a poor foul by Trapp, who was, at 119', chasing the game and clambered into Nathan Harriel. It was, of course, late on a school night and everyone was gassed, but once again the Loons were done in by a momentary lapse.
And so it went to penalties. Andre Blake has consistently been one of the best keepers in the league, but he looked lost in the penalty kicks. And although it went to eight rounds, deep into defenders-scoring-goals, it really did feel like Minnesota would get the win in the end. Even the center backs were taking with confidence for Minnesota, and it was clear Clint Irwin had one moment of glory in him. After Micky Tapias put his cleanly into the back corner, Irwin denied Wagner a third chance to equalize and that was it. Philadelphia's US Open Cup campaign was over after one game, and Minnesota's continues on.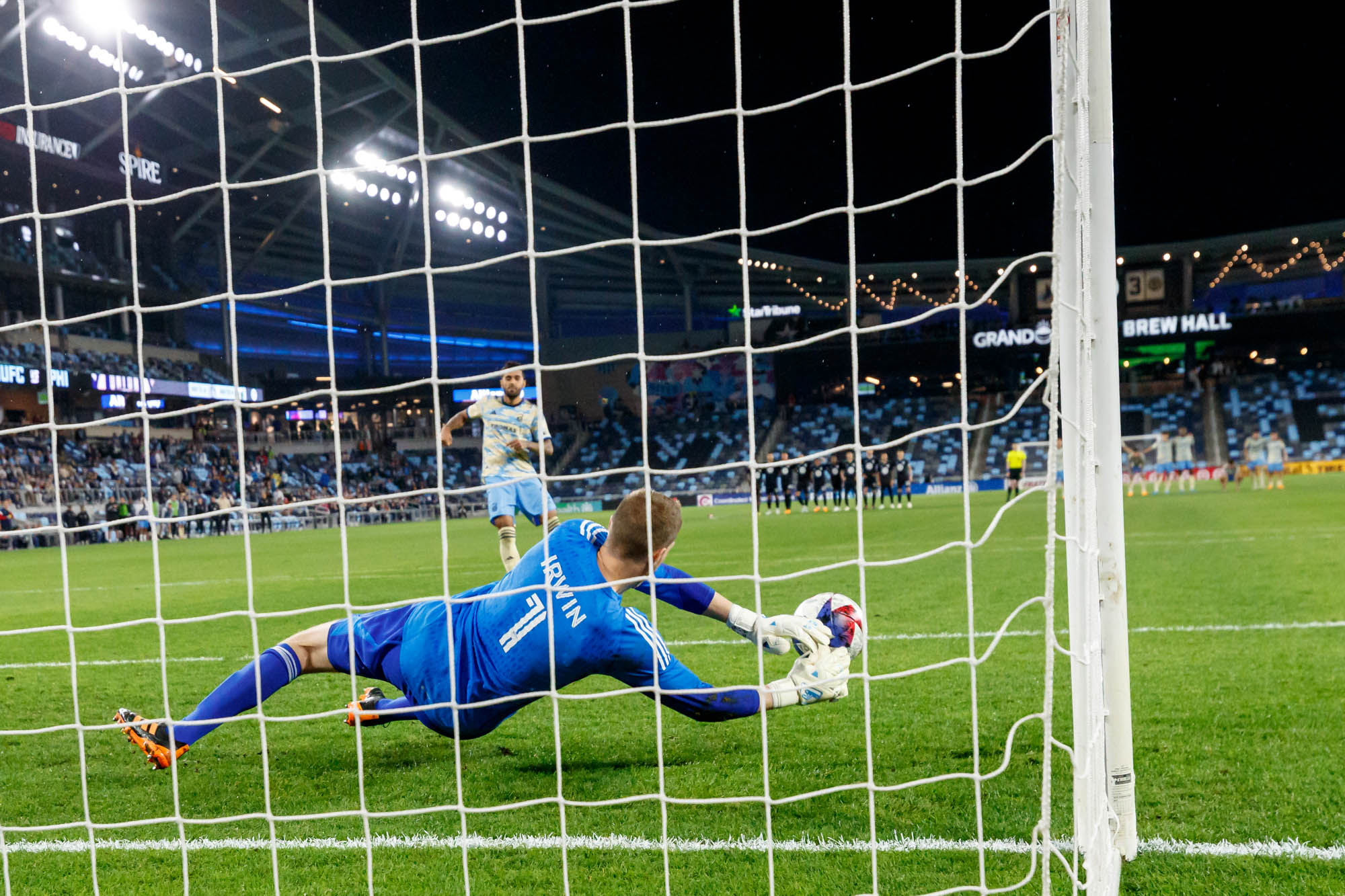 The Loons will learn their next US Open Cup opponent on Thursday, with the Round of 16 games taking place at the end of May, adding a bit more congestion to an already busy month. Although the play was not great on the night, a win is a win especially at home and maybe that intimate performance of "Wonderwall" will be enough to get the team back to results in MLS.
---
Northland Soccer Journal thanks our Patrons for supporting our coverage.
If you would like to support independent soccer media, subscribe to NSJ on Patreon.