US Open Cup Third Round Preview: Detroit City FC vs MNUFC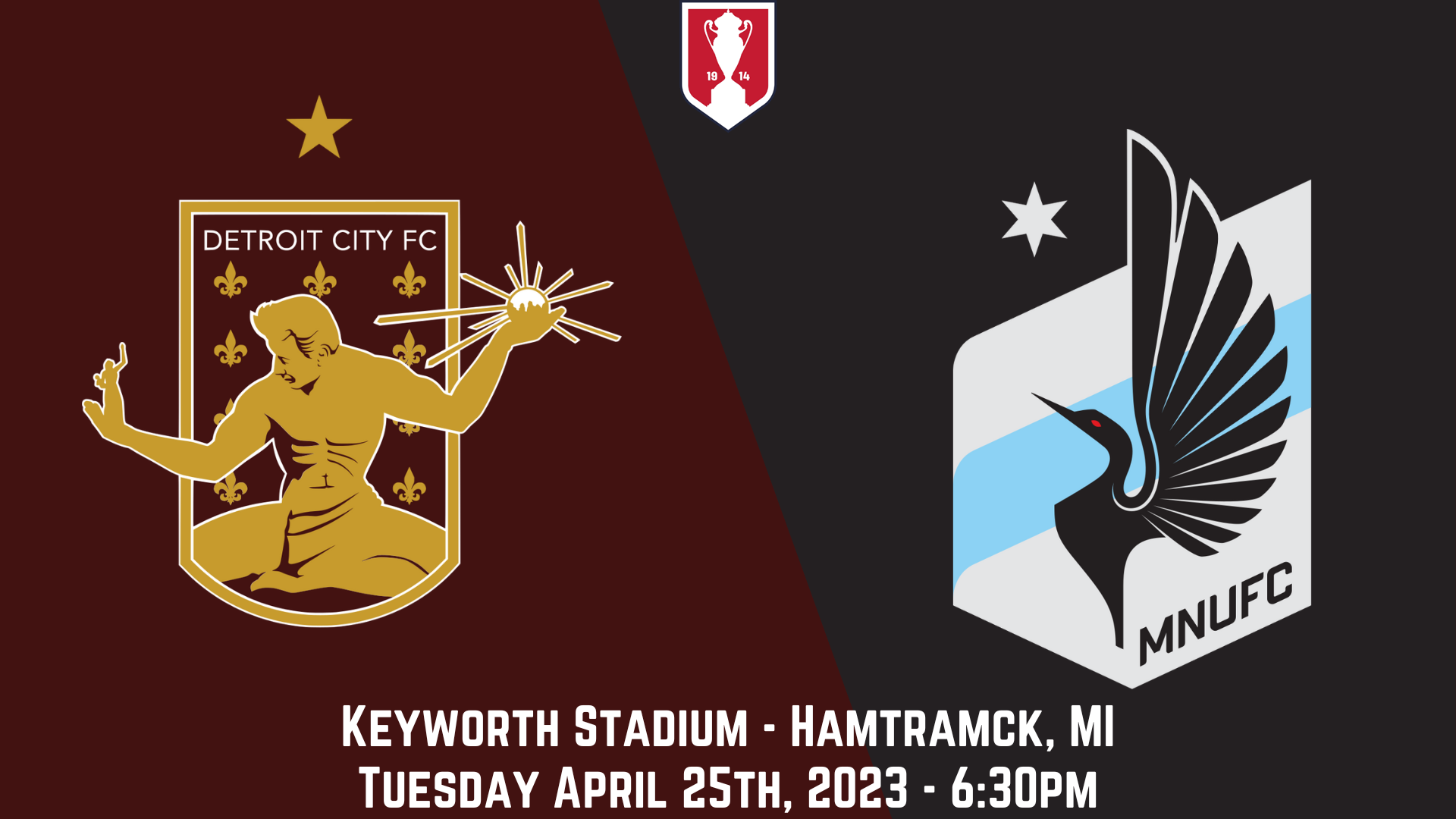 US Open Cup – Third Round
DET vs. MIN
B/R Football
After another tough loss in Seattle on Saturday night, Minnesota United kicks back into gear on just two days rest to face USL Championship side Detroit City FC in the third round of the 2023 Lamar Hunt U.S. Open Cup. While MNUFC is on a slide in league play, having suffered three straight losses, the Loons has a history of doing quite well in the tournament since entering Major League Soccer. Prior to moving up to MLS, MNUFC struggled like most division sides, resulting in an overall USOC record of 11-10 since the club's founding as NSC Minnesota Stars in 2010, MNUFC has a much better 8-3 record in the Cup since joining MLS in 2017. That record includes an improbable run to the Open Cup Final in 2019 when Minnesota fell to Atlanta United 2-1 in what would be the last US Open Cup Final until 2022 due to COVID-19. Minnesota will look to prevent another cupset from happening while in Detroit. The Loons have fallen to lower division sides on three occasions (2013, 2015, and 2022) including last years loss to Union Omaha in the Round of 16.
Detroit City has a much shorter and more intermittent history with the US Open Cup than Minnesota United does. After it's 2012 founding as an amateur side in the National Premier Soccer League, Le Rouge qualified for the USOC for the first time 2014. That season was the first  of three consecutive Open Cup qualifications for Detroit, coming based on their performance in the NPSL as only a handful of spots are awarded to that league. Detroit gained their first cup win in 2016 defeating the Michigan Bucks (now Flint City Bucks) of the Premier Development League (now USL League Two) before falling to Louisville City the following round. After missing the Cup in 2017, City returned to the tournament in 2018 defeating Michigan Bucks again before falling to then USL side FC Cincinnati. A move to the third division National Independent Soccer Association in the fall of 2019 coincided with the US Open Cup being cancelled the following two seasons, with Detroit returning to the tournament in 2022 as a USL Championship side. Le Rouge defeated the Michigan Stars (NISA) and Columbus Crew (MLS) before exiting the Cup on a loss to Louisville City. This year Detroit City defeated NISA side Gold Star FC Detroit in round two in order to get into the third round of the 2023 US Open Cup.
Form
MNUFC, 7th in MLS West, 3-3-2, Last five: LLLWD
Last game: April 22, SEA 1 – 0 MIN
DCFC, 12th in USLC West, 1-5-1, Last five: LLLDL
Last game: April 22, SAC 1 – 0 DET
Quick Dive: MNUFC
Minnesota United comes off a short span of just two days rest heading into this evening's match with Detroit City FC. As reported by Jacob Schneider, MNUFC will have similar Starting XI as Saturday with Clint Irwin and "2 to 3 more changes" compared to Saturday in Seattle.
#LosLoons will likely role out a similar starting XI to Saturday in Seattle, to start tomorrow evening in Detroit.

As mentioned, Clint Irwin will start & Heath added that "2 to 3" more changes will be made.

Expect those to be Kallman, Fraga & Amarilla.

— Jacob Schneider (@_jacobschneider) April 24, 2023
Minnesota United will enter the tonight's contest on a three match skid with their last win and points in league play coming on April 1st away to St. Louis City. Those three losses for Minnesota have come to Chicago (away), Orlando (home), and most recently to the Sounders away in Seattle. The Loons will look to rebound with their first win of the month of April tonight.
"I say this all the time – and I'm not being disrespectful to my group, and I'm sure everyone else will be saying it – there's not many teams in MLS who can actually play professional players of a USL nature, and if they [MLS players] play at 50, 60 percent of their capabilities, go and win the game. It's just not that way," stated Adrian Heath prior to Tuesday's match.
Quick Dive: Detroit City FC
After finishing in the playoff places last season, Detroit City has slid down the table and currently sit at 12th place in the Eastern Conference of the USL Championship. Le Rouge's 1-5-1 record has earned them just four points through seven matches played. DCFC kept last season's top scorer Maximiliano Rodríguez, though he has only one goal to this point in the season, coming in the only match Detroit has scored in. DCFC lost their number two and three scorers, Pato Botello and Antoine Hoppenot, over the offseason. to Las Vegas Lights and Hartford Athletic respectively. While Detroit City's offence has struggled to get off the ground, their defence has been relatively solid. Le Rouge have not allowed more than one goal in any match this season, having only allowed six total in seven matches. That defensive effort is led by midfielder Michael Bryant along with defenders Stephen Carroll and Matthew Lewis anchoring the back line. Former Loon, Oniel Fisher is also signed to Detroit City FC and has appeared in three matches so far in 2023
Availability 
MIN:
Suspended: Emanuel Reynoso
Out: Bakaye Dibassy (thigh)
Ryen Jiba (knee)
Mikael Marques (ankle)
Wil Trapp (thigh)
DET:
No Report Available
---
Northland Soccer Journal thanks our Patrons for supporting our coverage.
If you would like to support independent soccer media, subscribe to NSJ on Patreon.