Three Goals in Six Minutes Lead Loons to Win at Detroit City FC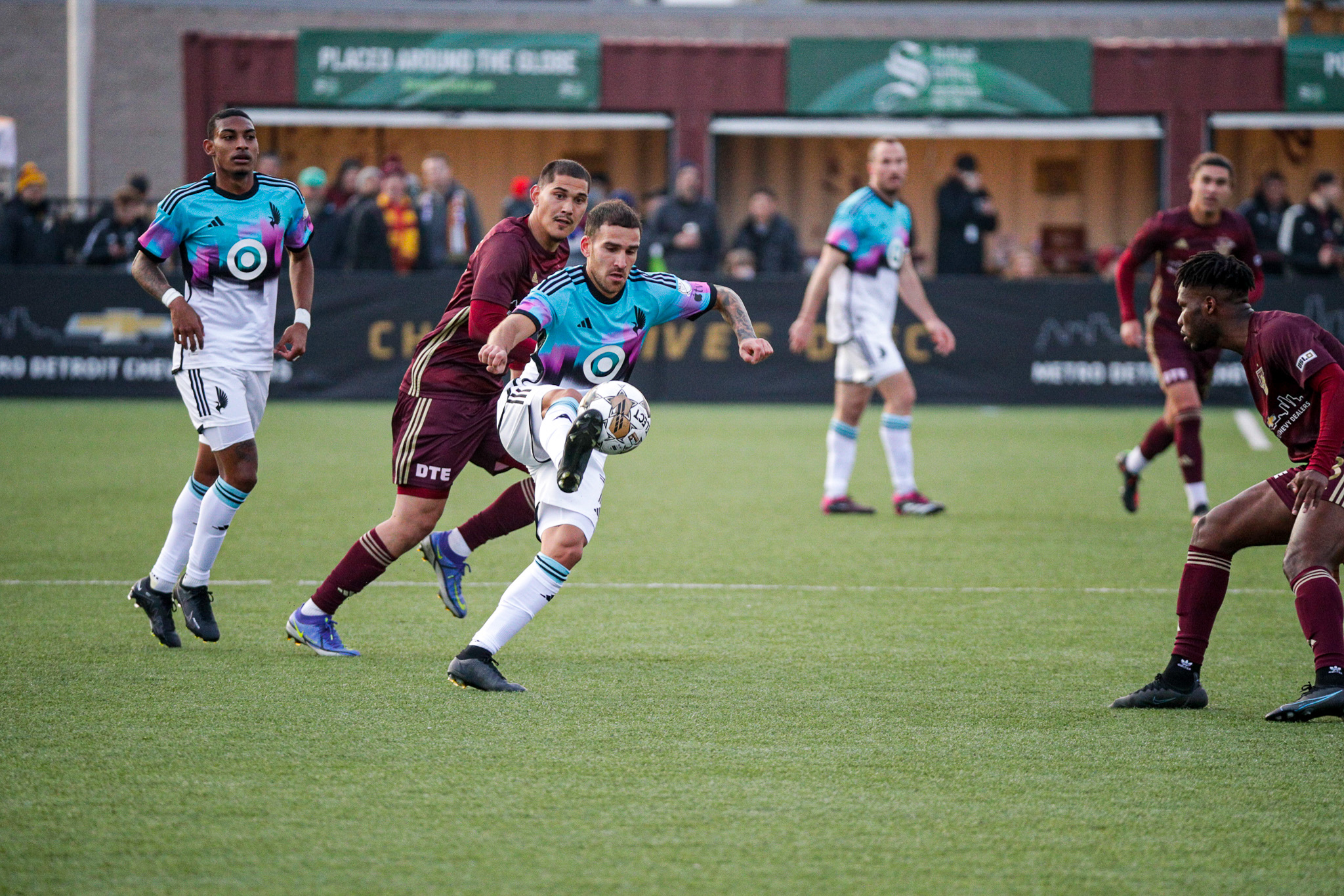 After three straight losses in MLS play the Loons went into Detroit to face woe-ridden USL Championship side Detroit City FC in the 3rd Round of the 2023 US Open Cup.
With only one win in their last five matches, the win was necessary for Minnesota's confidence. For Detroit City, who won just two matches in all competitions heading into the Tuesday night match, they also were looking for a good performance and a win over a first division side.
Detroit City scored an early first half goal to put themselves up 1-0 inside 10 minutes, setting Minnesota United on the back foot for much of the night. Fifteen minutes into the second half, MNUFC went on a tear scoring three unanswered goals in just six minutes to push themselves over the line and to an away win at Keyworth Stadium.
Following the match, Adrian Heath said,
"This was a difficult game, and we knew it was going to be. For the lads to go in 1-0 down, I thought that after the first 10 minutes, we got a grip of the way they were going to play. Then, we started to get a bit of pressure on them. I thought it was only a matter of time – I said to them at halftime, if we keep the pressure on, keep moving the ball and have an extra pass in their half – I think things will open up for us."
Starting XI for both #MNUFC and #DCTID. 8 changes in the XI for #LosLoons from Saturday in Seattle.

Former Loon Oneil Fisher will start for the hosts tonight in Detroit. pic.twitter.com/L24zITWtt7

— Northland Soccer Journal (@NorthlandSoccer) April 25, 2023
Heath's side made a total of eight changes from Saturday night's Starting XI in Seattle. Only Kervin Arriaga, DJ Taylor, and Miguel Tapias returned to the XI. After making his MNUFC debut earlier in the season, current MNUFC2 player Emmanuel Iwe made his first ever start on the first team. Two of his MNUFC2 teammates in Cameron Dunbar and Devin Padelford joined him in the Starting XI, with all three making their first ever senior team start, in addition to Dunbar making first team debut.
Minnesota United found themselves on the back foot relatively early on in the match as Detroit scored the opener just four minutes in. After corralling a pass from Devon Amoo-Mensah, Yazeed Matthews sent a shot from outside the box low and to Clint Irwin's right beating the Minnesota keeper and breaking the match open early.
"We're halfway in the other half and got a lot of bodies on that," Heath said of the goal. "Obviously, we turned it over twice: when we had the throw-in, we gave it away, then the ball comes to Luis [Amarilla] and we give it away and then at that time it was still where everybody from the opposition was playing, and it was a good strike on the inside of the post. It was a good strike and well-placed."
Detroit City controlled a large majority of play in the first half, allowing Minnesota to get only a few shots with no shots going on target. Additionally at 16′ of the first half, Heath was issued a yellow card.
"It's that he [the referee] ended up giving a foul to the opposition and I thought it was a foul to us. It was one of them things. I was just appealing to it. We've had him before and he gets a little be pedantic at times"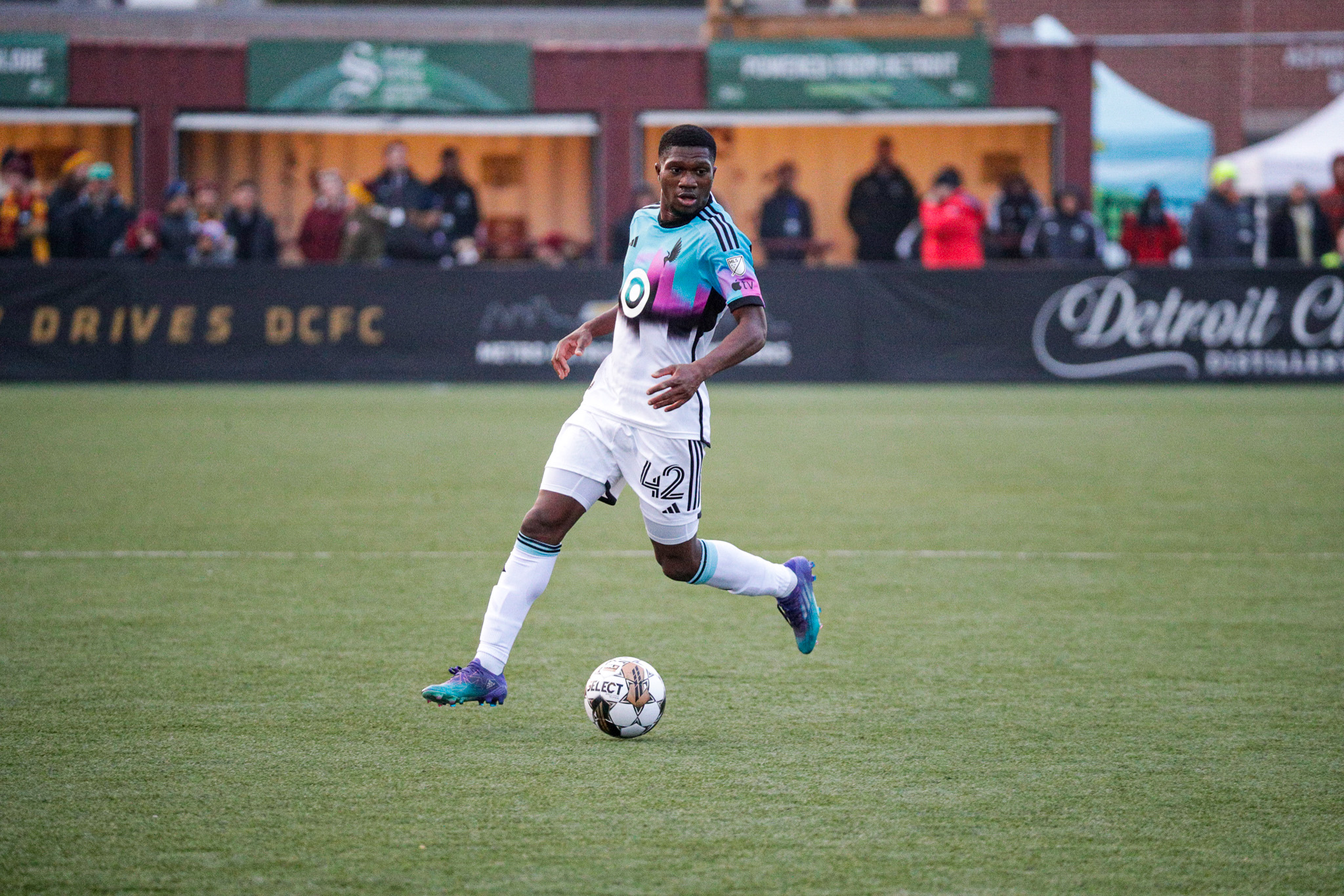 After a rough first half for Minnesota United, the Loons entered the second half with renewed vigour and attack, deluging Detroit with shots in the first fifteen minutes of the half. Including a series of back to back shots that required keeper Nate Steinwascher to make two incredible saves to keep Le Rouge up 1-0. The barrage of shots immediately led into the six minutes that entirely turned the match on its head.
Franco Fragapane chipped a shot over Steinwascher's shoulders to score the match tying goal in the 60th minute. Three minutes later Emmanuel Iwe snagged his first ever goal on the first team when a deflected shot went in after hitting the crossbar putting MNUFC up 2-1.
"He had a really frustrating year last year with his injury. But, the kid has some tools to work with. He's really, really quick, has a really nice left foot, he's a good deliverer of the ball and he can score a goal. He might have gotten a little fortune with the deflection, but he's in the right spot and he's had the courage to take the opportunity," Adrian Heath said about Iwe's goal. "So, he'll be pleased with that. He's buzzing in the changing room; he's got his first professional goal with the first team. That will be good."
Two minutes after bringing on Hlongwane and Sang-Bin Jeong in the 64′ to replace Dunbar and Iwe, Minnesota scored a third goal. After a corner kick, Amarilla corralled an attempted clearance by Detroit and took a shot that was deflected in to the goal by Detroit City to put MNUFC up 3-1 with less than 25 minutes to play. Hlongwane was issued a yellow card in the 69th minute and Tani Oluwaseyi was brought on to replace Luis Amarilla in the 78th minute. The Loons would survive a late match burst of shots unscathed to leave Keyworth Stadium with a 3-1 away win, and a spot in the fourth round of the US Open Cup.
"Let's see where we are, what team we play. As I always say, contrary to popular belief, the opposition want to win. We'll treat it with the same respect that we did tonight." said Heath regarding the fourth round of the Open Cup. "Although we made a few changes, I still thought these players were capable of winning the game, which is what we got."
With the win, Minnesota United has advanced to the Round of 32 in the US Open Cup. The 24 winners from the third round will be joined by eight MLS clubs who earned byes into the fourth round. The round is scheduled to be played May 9-10, with the draw date yet to be announced.
The Loons next return to MLS play hosting FC Dallas on Sunday at 8pm at Allianz Field in St. Paul, where Minnesota will look to break its winless streak in league play.
---
Northland Soccer Journal thanks our Patrons for supporting our coverage.
If you would like to support independent soccer media, subscribe to NSJ on Patreon.