Matchday 8 Preview: MNUFC vs. Orlando City SC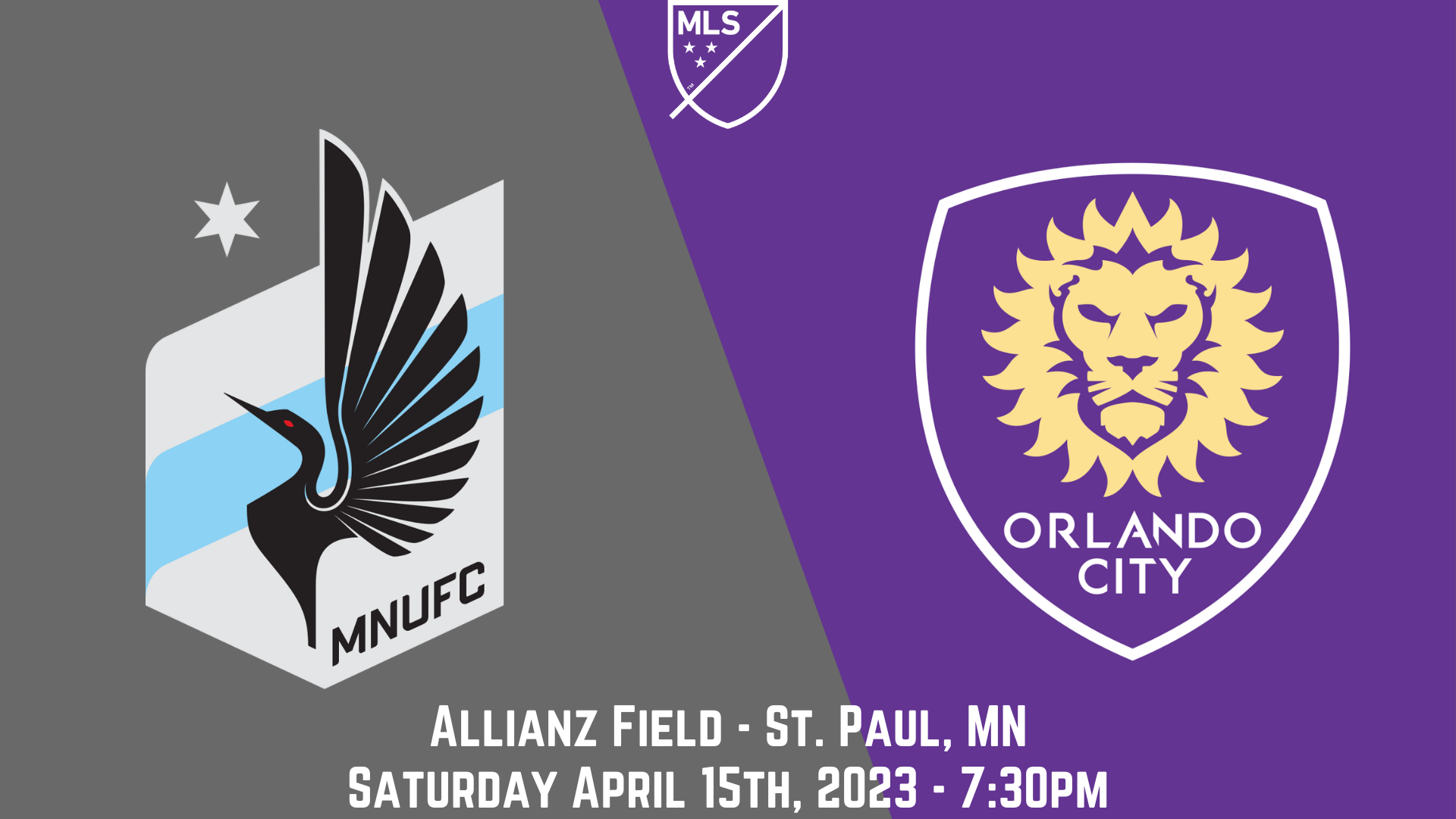 Matchday 8
MNUFC vs. OCSC
AppleTV  | 1500 ESPN
Heading into Matchday 8 it is hard to focus on the game. Racism is, again, at the forefront of soccer, globally and in the US. We, the 82% of US sports journalists who are white, tend to talk about racism in the moment, in the occasions of its undeniable appearance, whether that it is in Italy or New Jersey, even as it is the background and context of our culture. Which is in part why Jeremy Ebobisse's post-game press conference from last weekend is so important. (It is also important for Minnesota fans to remember that Ebobisse played with the Portland Timbers in early 2021.) On Thursday, the league announced that New York Red Bull designated player Dante Vanzeir is suspended for 6 games for "the use of racist language." The league also fined Vanzeir an undisclosed amount and is requiring him to participate in league-mandated training and education sessions.
MN United, of course, has a history with investigations and player suspensions. In 2019 Brent Kallman was suspended 10 games and fined 20% of his salary for using PED's, a punishment mandated by the league's Collective Bargaining Agreement; in 2021 Franco Fragapane was investigated by the league for the use of "racially abusive and offensive language" in a game against Portland, an investigation that concluded without conclusion, the league saying only that they "could not corroborate or refute the allegation." And in that inconclusion and indecision the conversation will always continue.
It is also important to note that the club is celebrating Native American Heritage during Saturday's game. Pregame, the Indigenous Peoples Task Force will be present on the lawn with games, giveaways and a special sage ceremony to bless the land. Additionally, there will be a dance and drum performance from the Mille Lacs Band of Ojibwe. Inside the stadium, the Minnesota Indian Women's Resource Center (MIWRC), a local non-profit social and mental health services organization committed to traditional ways of being and support of Native women and their families, will have a table set-up to meet some of their staff and learn about the amazing work they are doing. While all of that seems more important, the games also continue.
And so Minnesota United FC returns home to face another Eastern Conference opponent, Orlando City SC. After last weekend's dismal loss to the Chicago Fire – with a generous limitation Adrian Heath said in his post-game comments that "the first half performance was the worst we played all season. I thought we were second best in every department. Individually [Chicago Fire FC] bossed us all over the field and collectively they looked like they wanted it more than we did," a sentiment echoed mid-week by Robin Lod in an interview with Kyndra de St. Aubin, saying that "the first 60 minutes was probably the worst in a really long time, for sure it was the worst 60 minutes in this season by far" – the team will be looking to bounce back at Allianz Field, in search of their first home win of the season.
Orlando City, meanwhile, comes to town well-rested after a bye-week, undefeated on the road, and desperately in search of the form that won them the US Open Cup last year. In his first year in charge of Orlando in 2020, head coach Oscar Pareja led the team to the finals of the MLS Is Back tournament and got them into the playoffs for the first time in their five-year history. It was a trajectory of improvement that eventually got the club its first trophy, the 2022 US Open Cup. But with an underperforming DP, a host of early season injuries, and a Concacaf Champions League-congested schedule, the Lions have struggled to continue that track into 2023. Will a bye-week be enough for them to regroup and restart their season?
Form
MIN: 5th in the West, 3-1-2, Last five: LWDWD
Last game: April 8, CHI 2 – 1 MIN
ORL: 8th in the East, 2-2-2, Last five: LWLWD
Last game: April 1, ORL 0- 2 NSH
Regular season head-to-head record: 2-0-1
Last Meeting: August 6, 2020 (semifinal, MLS Is Back tournament), ORL 3-1 MIN
What to watch
In the first five games of the season, Minnesota seemed to settle into a Reynoso-less identity playing in a 4-4-2 formation. In that formation they were able to sit deep and absorb pressure, keep the field wide through the outside backs, and remain opportunistic in front of goal and with their set-piece chances. The 6 goals in 5 games was not convincing, but the 11 points were. Then they went to Chicago, reverted to a 4-2-3-1 formation and looked, regardless of how much energy they may or may not have had, lost and unorganized. In training this week Heath noted a desire for more possession and control in attack, saying that the team needed to get "a lot more controlled possession in the other team's half and we have got to get to the stage where we are having combinations in wide areas, getting the full-backs high and wide, start to deliver the ball into the box, start to play in the other team's half a little bit more than we have been." With Orlando's difficulties this year building out of the back this may, of course, be a good opportunity to play higher up the field, but at the moment, this is beginning to feel like a team in the midst of an identity crisis.
Orlando comes into tonight's game with less of an identity crisis and more of a crisis of quality and cohesion. There are, of course and as always, a number of reasons for this. But Orlando as a team has lost its confidence building out of the back and so also lacks decisiveness in the final third. They are not afraid to shoot, with 72 shots on the season, but only 23 of those have been on target, feeling more like a desperate search for ideas than a determined plan.
Who to watch
It is too early to know for sure, but there is quite a bit of excitement in the club around newest Loon Sang Bin Jeong. His short shift in Chicago was full of excitement and energy, with brief glimpses of the quality the team hopes for, especially in his set-piece deliveries. Although it seems he will not get the start this week, expect a longer run-out, especially if Minnesota continues to struggle to find goals.
Since moving to the right side of the attack, Robin Lod has been one of Minnesota's most consistent players. This year, playing centrally, he has drifted, unable to find his way into games. If Minnesota is to have any success this year, especially with an absent Reynoso, the team will need to find a way to get Lod involved in the game, allowing him to be the best version of himself as a player, cutting in from out wide for quick combinations, or turning off his defender's shoulder on his way to finding a pocket of space off the backside of the goal.
Since taking over the starting spot, Dayne St. Clair's game has slowly evolved as he has become more controlled in his distribution and more comfortable off his line. So far this year, he has not been tested, but with Orlando's growing desperation for goals, he may be tonight.
It is rarely fair to blame a team's struggles on one player, but Orlando DP Facundo Torres has had a very difficult start to the year. After contributing 9 goals and 10 assists in 2022, his first year with Orlando, he has only been able to muster 1 goal this season. It is still early, but Orlando will need much more from Torres if they are ever going to find their finishing form.
As Minnesota is well aware, the 4-2-3-1 that Orlando most often plays requires a visionary #10 to work. For Orlando, that creative heart of the team is Mauricio Pereyra. In 2022 Pereyra led Orlando in assists, completed passes, and progressive passes, a pattern that is continuing this season.
Young DP Martín Ojeda has served up 26 of Orlando's 72 shots on goal this season, leading the league in shots per 90 minutes, but only netting twice. Much more is expected of him by the team, but 26 shots is in itself something to wonder at.
Availability
MIN:
Suspended: Emanuel Reynoso
Out: Bakaye Dibassy (thigh)
Ryen Jiba (knee)
ORL:
Questionable: Michael Halliday (right thigh)
---
Northland Soccer Journal thanks our Patrons for supporting our coverage.
If you would like to support independent soccer media, subscribe to NSJ on Patreon.