Matchday 6 Preview: St. Louis City SC vs. MNUFC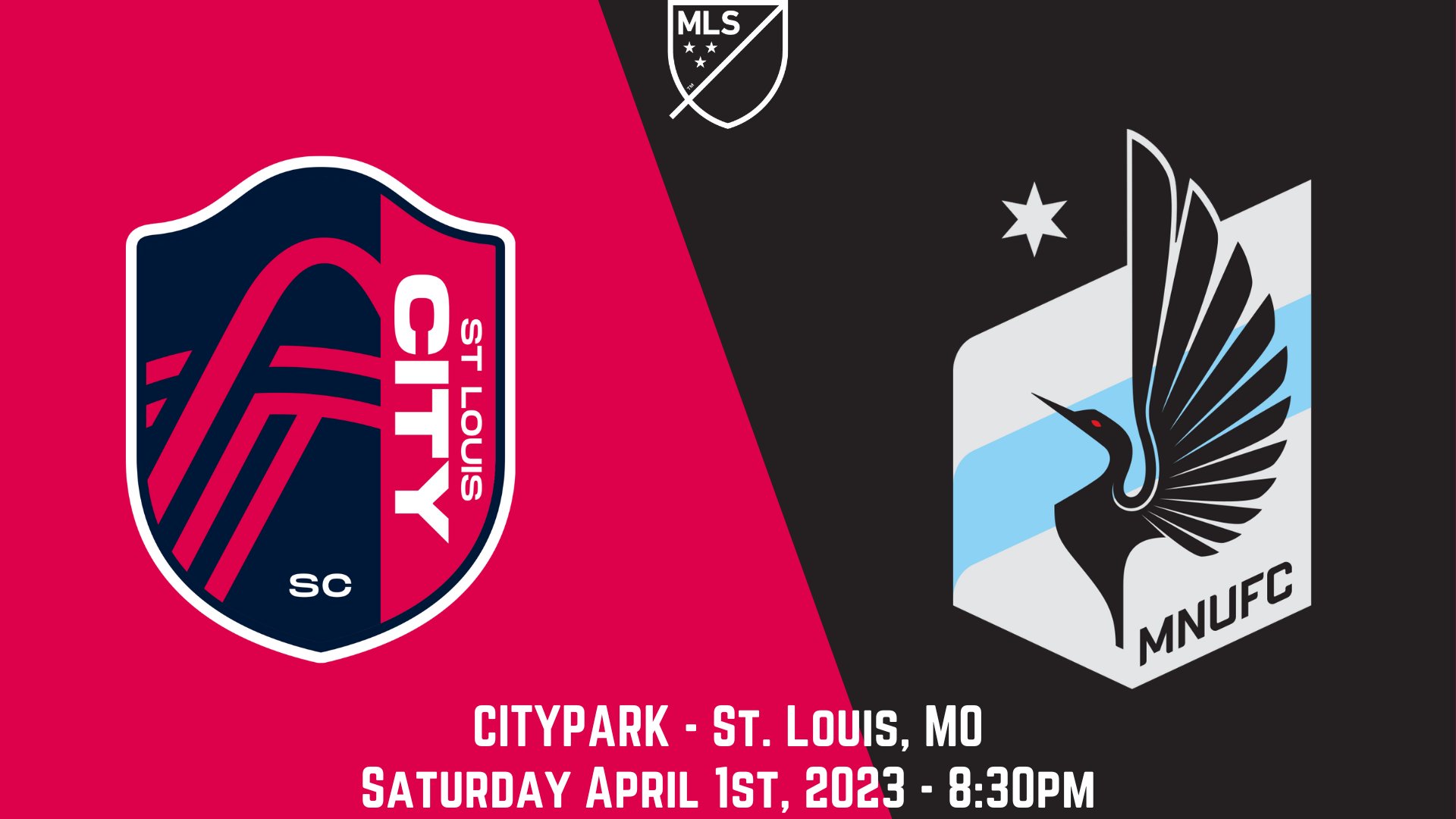 Matchday 6
MNUFC vs. STL
AppleTV  | 1500 ESPN
Throughout pre-season it seemed that consistency was the word of the year for Minnesota United. Players spoke of consistency as the meaning of improvement, for themselves and the team. The front office and staff spoke of the need for consistency within the club, from the first team down through the academy. And Adrian Heath offered this:
"Last year we had a poor start and then we had that real purple patch of 13 games where we only lost one game. I think we took the most points in the league, that was in L.A. at that time, and then we had a bad finish. It was too streaky for me. I want us to be at a level where we're never as high as we were at some stage during that 13-game unbeaten run, but not as bad as we were in the two in the beginning and at the end of the season."
Then this weird season began, where very little has been consistent. An absent DP. A roster being built on the fly around that absence. A new defensive line. Players coming back from and still recovering from season-ending injuries. A second-week bye. A(nother) snow opener. An international break. Four games in and consistency could have easily turned to crisis. But amidst all of that, Minnesota remains one of four undefeated teams in MLS, comfortably sitting 4th in the West with 8 points from 2 wins and 2 draws. It has not always been pretty or convincing, but it has been consistently effective.
Tonight, Minnesota travels to a team and place that has been something much more than consistent. In their first season, St. Louis City SC is on an historical run: at 5-0-0 they have begun with the best start by an expansion team in league history, approaching one of the best starts for any team in league history. And the wins have been convincing: 15 goals scored and only 4 conceded. Claiming the SC as a soccer club and a soccer city, the energy around City SC is palpable, felt in the stadium, the community, and the team. As Heath noted on Friday, "We're playing a team that's full of confidence, obviously, so it's going to be difficult."
It will also be something a bit new for the Loons: 3 of the 4 teams they have faced so far this season are struggling. In many ways it seems this will be the first real test for the Loons: they will have a (mostly) full roster, on the road, in a very wild stadium, against a team that is full of joy and optimism. The MLS season is notoriously long and difficult, and this will be a first chance to see if Minnesota's efficient consistency is built to last, if it can overcome the excitement of the fresh and new.
Form
MIN: 4th in the West, 2-0-2, Last 5: D-WDW
STL: 1st in the West, 5-0-0, Last 5: WWWWW
What to watch for
Soccer Twitter is all aflutter trying to explain St. Louis City's success, offering up a series of 140-character disclosures of the real truth of the truth of their 5-0-0 start. For Heath, their success is rather simple, and two-fold. On the one hand, "they play very narrow, they try to get it into the big guy… then they got runner's off of that…" And second, "They put a lot of men forward… When they go, they commit to what they're doing." It is that commitment, more than anything else, that seems to define the early style of St. Louis: they play with a chaos creating commitment. A creation of chaos that has resulted in a league-leading 75 shots on goal, with 35 of those shots being on target, also league-leading, producing their league-leading 15 goals.
Minnesota, meanwhile, has been much more willing to sit back and absorb pressure this year, waiting for a mistake, a set-piece, a quick-counter chance. They are, as a result, bottom of the league with 38 total shots, only 3 more than St. Louis has on target, with 10 of their own on target. But that has mostly been enough.
Yet with these two very different styles Minnesota and St. Louis are vying for the bottom of the league in possession, with the Loons averaging 41% on the season and City SC only slightly better at 43%. In the end it may be a game between two teams that do not want the ball, and so either wildly open or wildly uninteresting, or something wildly out of character.
Who to watch
The difficulty with depth is that it requires decisions. And after a week when a decision was not required in midfield, one will be tonight. So which two will get the start: Kervin Arriaga, Hassani Dotson, or Wil Trapp? Dotson is not yet 100%, and as Heath noted after training on Friday, "you don't just get back on the horse after 9 months and everything is perfect, he's still got to be, I think, a couple of months away from getting back to where he was, but there's no other easy way of doing it… there's nothing like playing in a game to get you that extra sharpness." Arriaga and Dotson certainly seem to be the pairing of the future, and so tonight may be some indication of if that future is now.
Another decision will be required up front. Ménder García has had his struggles this season, being subbed off at halftime against Colorado. He also, though, leads the team with 2 goals after 4 games. Luis Amarilla has struggled to find his rhythm this season but has also added a goal of his own off a penalty kick against Colorado. And both will soon be competing for time against the newest Loon, Sang Bin Jeong. If all goes according to plan, Sang Bin will be available off the bench tonight, and so maybe the first big chance for either Amarilla or García to claim the attacking position as theirs outright.
Against the Vancouver Whitecaps the Loons found some measure of no-Reynoso offensive continuity by freeing Zarek Valentin down the right. Against the New York Red Bulls Kemar Lawrence took a similar freedom down the left side late in the game to relieve some of New York's pressure. Heath-led teams have often relied on the outside backs for attacking width; if this team is going find success it seems it will come through Lawrence and Valentin learning to balance the team's desire to absorb pressure with its need for attacking width. Against a counter-attacking and pressing City SC, that balance will be especially hard to find and even more necessary.
In many ways, João Klauss is the early story of St. Louis' success. With 5 goals, second best in the league, from 19 shots he is both incredibly opportunistic and, as Heath noted, the big man at the center of St. Louis' attacking plan.
Yet if Klauss is the story of City SC, midfielder Eduard Löwen is the reason for their attacking success. In addition to his 4 assists, tied with four others at the top of the leagues' charts, he also leads the team in passes attempted and completed, as well as shot- and goal-creating actions. If St. Louis' offense relies on the creation of chaos, that chaos passes through Löwen on its way to becoming organized.
Although neither will get much time tonight, an interesting match-up, or more proper comparison, will be between current Loon Cameron Dunbar and ex-Loon Aziel Jackson. When Minnesota traded Jackson to St. Louis and acquired Dunbar from the LA Galaxy last November it was a near like-for-like exchange. Both are young, smart, creative attacking players with unknown potential. Although it is early, this could be a first chance to see if, as Heath noted, Minnesota made the right choice.
Availability
MNUFC:
Suspended: Emanuel Reynoso
Out: Bakaye Dibassy (thigh)
Ryen Jiba (knee)
*Although not officially listed as questionable, both Michael Boxall and Robin Lod were suffering from illness on Friday.
*According to the most recent update on Friday, Sang Bin Jeong was scheduled to pick up his passport on Friday at noon and meet the team in St. Louis. If that happens, he will be available for tonight's game.
STL:
Out: Joakim Nilsson (knee)
Questionable: Rasmus Alm (knee)
---
Northland Soccer Journal thanks our Patrons for supporting our coverage.
If you would like to support independent soccer media, subscribe to NSJ on Patreon.