Matchday 5 Preview: MNUFC vs. Vancouver Whitecaps FC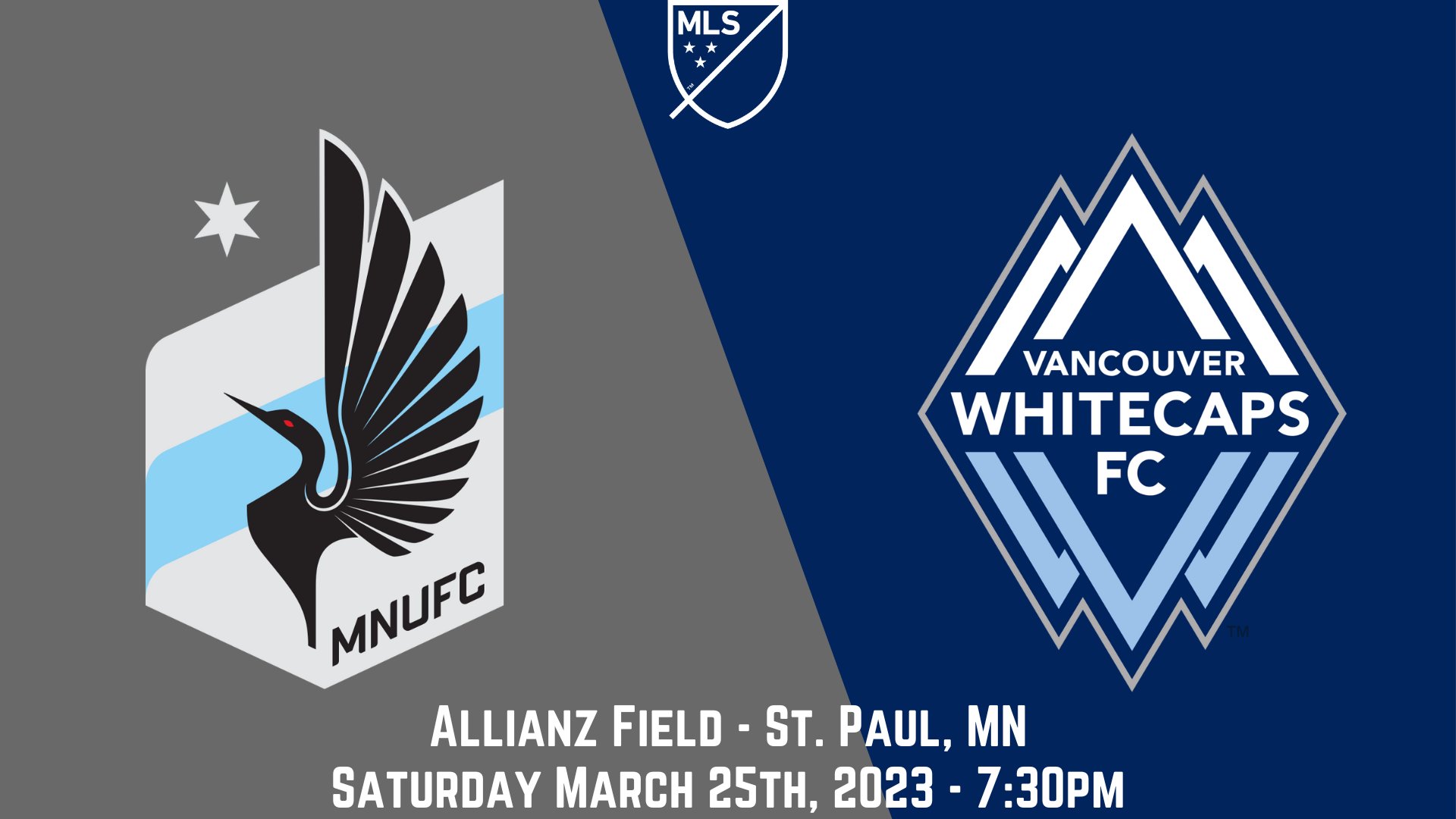 Matchday 5
MNUFC vs. VWFC
AppleTV  | 1500 ESPN
Heading into Saturday's game against the Vancouver Whitecaps, the conversation around Minnesota United has been dominated by two things. Not, as might be expected, the continued absence of designated player Emanuel Reynoso or the team's great start, their best as an MLS franchise, earning 7 points from their first 3 games. No, the conversation has been about the signing of Sang Bin Jeong and the international break. The signing of Sang Bin is certainly exciting – a young forward/winger with enough potential to attract the attention of an English Premier League club and get consistent youth international call-ups – but, given the paperwork of international signings, we are still at least a few games away from seeing what he can do on this team. The international break, though, is a bit more immediate.
Or rather, the league's decision to play through the international break is a bit more immediate. The decision is especially challenging for Minnesota, who will take the field tonight without 7 regulars, 6 of whom are weekly starters, from the 8 players called up to international duty – Kervin Arriaga (Honduras), Michael Boxall (New Zealand), Bongokuhle Hlongwane (South Africa), Molik Jesse Khan (Trinidad and Tobago), Kemar Lawrence (Jamaica), Robin Lod (Finland), Joseph Rosales (Honduras), and Dayne St. Clair (Canada). Minnesota will not be the only club to play Matchday 5 with a depleted roster, but it is difficult to think of a club that has been harder hit. We can spin in circles around whether this is another sign of the league's irrationality or if it is a sign of the club's ability to sign good, young, international players (and yes, it is both). Either way, the team that takes the field tonight will be very different from the team that has had such a great start.
Vancouver, meanwhile, has a whole other set of concerns. Though not as hard hit by international call-ups, they will be without two (very important) players on the night. But more importantly they are one of the many teams in MLS struggling and stumbling at the start of the new season. On paper, it seems, they should be better than their 0-2-2 record: they have low-key built what looks to be a good team, adding a few nice attacking pieces while also doing enough to shore up what was, last season, one of the most porous defenses in the league. And their 5-0 win in the first leg of the first round of the Concacaf Champions League would seem to hint at what this team can do. But for whatever reason, it is just not working right now for Vancouver in regular season play. Will tonight be the night when it clicks for the Whitecaps? Will they take advantage of a Minnesota team that will be learning to play together for the first time? Or will these Loons, who just continue to get points, continue their hot start?
Form
MIN: 5th in the West, 2-0-1. Last five: W-D-W
VAN: 11th in the West, 0-2-2. Last five: D-(L)-D-(W)-L (CCL)
In head-to-head regular season match-ups Minnesota is 5-3-3 against Vancouver, and 3-0-2 at home.
The teams met twice last season, with Minnesota winning both games, 3-1 in Vancouver off of goals by Lawrence (71'), Luis Amarilla (84'), and Franco Fragapane (88'), and 2-0 on Decision Day at Allianz Field, with goals from Fragapane (17') and Jonathan González (77').
What to watch for
Tonight is a night of unknowns. First, of course, is the question of how head coach Adrian Heath will line up the team. Heath has suggested that center-backs Doneil Henry and Mikael Marqués will both be available, opening the possibility of a 5-3-2. Although this might solve a few problems, especially at right wing, it seems a bit unlikely and against precedent. Whatever formation Heath decides on, though, some very serious decisions will need to be made:
At left back – a slightly out of position Zarek Valentin or the very young Devin Padelford;
At right wing –

Lod

,

Bongi

, Ménder García or Tani Oluwaseyi?;
And at center forward – the seemingly out of form Luis Amarilla or the also out of form García?
The bigger question, though, will be how quickly this team, whoever it is and however they line up, learns to play together at game speed and intensity. It is one thing to train together and quite another to play together, and there will be new pairings and combinations across the field. How well Minnesota does will largely depend on how well they can communicate and how quickly they learn to play together.
For Vancouver, things are much simpler: they just need to go out and play. But of course, as has been said, the hardest thing to do in soccer is to play simply. Part of Vancouver's problem this season is that things have been too complicated. Generally, tactical flexibility is a good thing in a team. But under head coach Vanni Sartini the Whitecaps have moved from tactical flexibility to over-thinking complexity. In their first four regular season games they have played in at least three different formations, usually with drastic changes made in-game. And so everyone in Vancouver is thinking and no one is playing.
Who to watch
Although most of the focus this season has been on the absence of Reynoso and the need for more depth in attack, Minnesota United is, at the moment, incredibly thin at left back. With Lawrence away, the club seems to have two options: Valentin in a position he has very little experience with or the very young Padelford. Given the team's insistence on getting DJ Taylor minutes at right back last weekend, it seems Valentin will get the start at left back this weekend, as the best of two difficult options.
Micky Tapias and Boxall have very quickly become a very good center-back pairing. Tonight, Tapias will need to learn a new partner. That will most likely be Brent Kallman who has slowly been working his way back into fitness. Although Kallman was able to get a few minutes last weekend to close out the game, he and Tapias will need to develop a full-90 partnership.
One of the most talked-about new players in pre-season was Cameron Dunbar. It seems that the young LA Galaxy product will get his first appearance with the Loons tonight, in what is being set-up as a very important first-impressions kind of game. Whether he starts at his more familiar left-wing or in the middle of the field, he will need to be a creative playmaker in attack.
Since arriving in Vancouver in 2021, creative midfielder and designated player Ryan Gauld has regained a form that early in his career made him the hope of many Scottish fans. After leading the Whitecaps last season with 8 goals and 9 assists, he is yet to find the scoresheet in 2023, although he is third in the league this season with 11 key passes.
Julian Gressel is one of the best wide-creators in the league, and this season he already has 3 assists, tied for third best in MLS. Having spent most of his career as a traditional, if very good, wing-back, Sartini has him playing more as an outside midfielder; but wherever he lines up there is no one in the league as dangerous as he is down the right side.
After joining the Whitecaps midseason last year, Austrian midfielder Alessandro Schöpf struggled to find his place on a new team in a new league. But as a slightly deeper midfield playmaker, he seems to be settling in as a great compliment to Gauld and Gressel, already in this young season contributing a goal from 5 shots.
Availability
MNUFC:
Suspended: Emanuel Reynoso
Out: Bakaye Dibassy (thigh)
Ryen Jiba (knee)
Kervin Arriaga (international duty – Honduras)
Michael Boxall (international duty – New Zealand)
Bongokuhle Hlongwane (international duty – South Africa)
Kemar Lawrence (international duty – Jamaica)
Robin Lod (international duty – Finland)
Joseph Rosales (international duty – Honduras)
Dayne St. Clair (international duty – Canada)
VWFC:
Out: Sergio Córdova (right hamstring strain)
Javain Brown (international duty – Jamaica)
Andrés Cubas (international duty – Paraguay)
The more you know
In 2022, the Vancouver Whitecaps were 2-11-4 on the road, tied for the worst road record in the league with fellow Canadians, Toronto FC.
Three other teams are missing seven first-team players for the international break this weekend: Atlanta United, Orlando City SC, and the Philadelphia Union.
While Minnesota has only averaged 42% possession this season, Vancouver has only had slightly more of the ball at 45% for the regular season.
---
Northland Soccer Journal thanks our Patrons for supporting our coverage.
If you would like to support independent soccer media, subscribe to NSJ on Patreon.