Despite Conceding a Very Late Goal, MNUFC Earn a Draw With the Vancouver Whitecaps
In the moment, of course, it felt entirely unfair.
After holding back the flood for what seemed like an eternity, or at least much more than the originally announce 6 minutes of added time, and really most of the second half, Minnesota United FC conceded a very late equalizer to the Vancouver Whitecaps. A 98th minute equalizer, 90'+7'17" if you are keeping track of seconds. And it was such a bad and fluky goal that Minnesota conceded.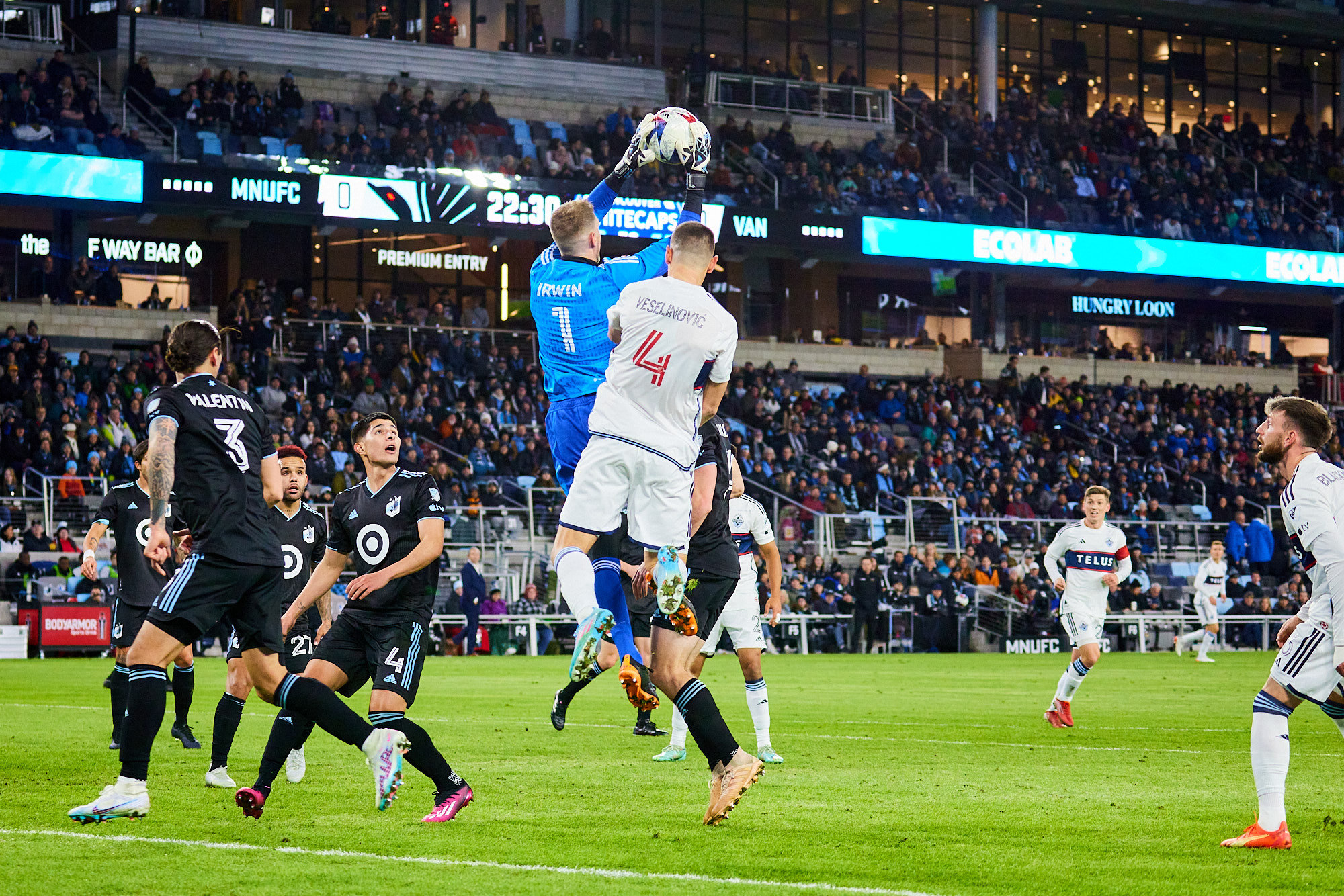 In only his sixth touch as a Loon, Mikael Marqués gave up the ball at midfield on a decision to try for control rather than safety (a decision he will certainly want back) and with one pass, one unchallenged cross, one Marqués deflection later, the ball was sitting at the back post, goalkeeper Clint Irwin beaten, waiting for Simon Becher – a second half, game changing substitution – to slide in. The last touch of the game for a draw at home, one point that can only be seen as a dropped two points.
"I don't really want to get involved in that," Heath said after the game, in reference to the extended added-time. "I don't want to make excuses for the performance of the players."
And some of the performances were quite good.
"When I look at the performances," Heath noted "of people like Brent Kallman and DJ Taylor and Cameron Dunbar, [Emannuel] Iwe who's been injured for so long and coming on. I just wanted the players to get the reward of getting over the line, because there were five or six of them running on fumes at the end. I thought that they deserved to take something from it. It's always disappointing when it is that last kick of the game."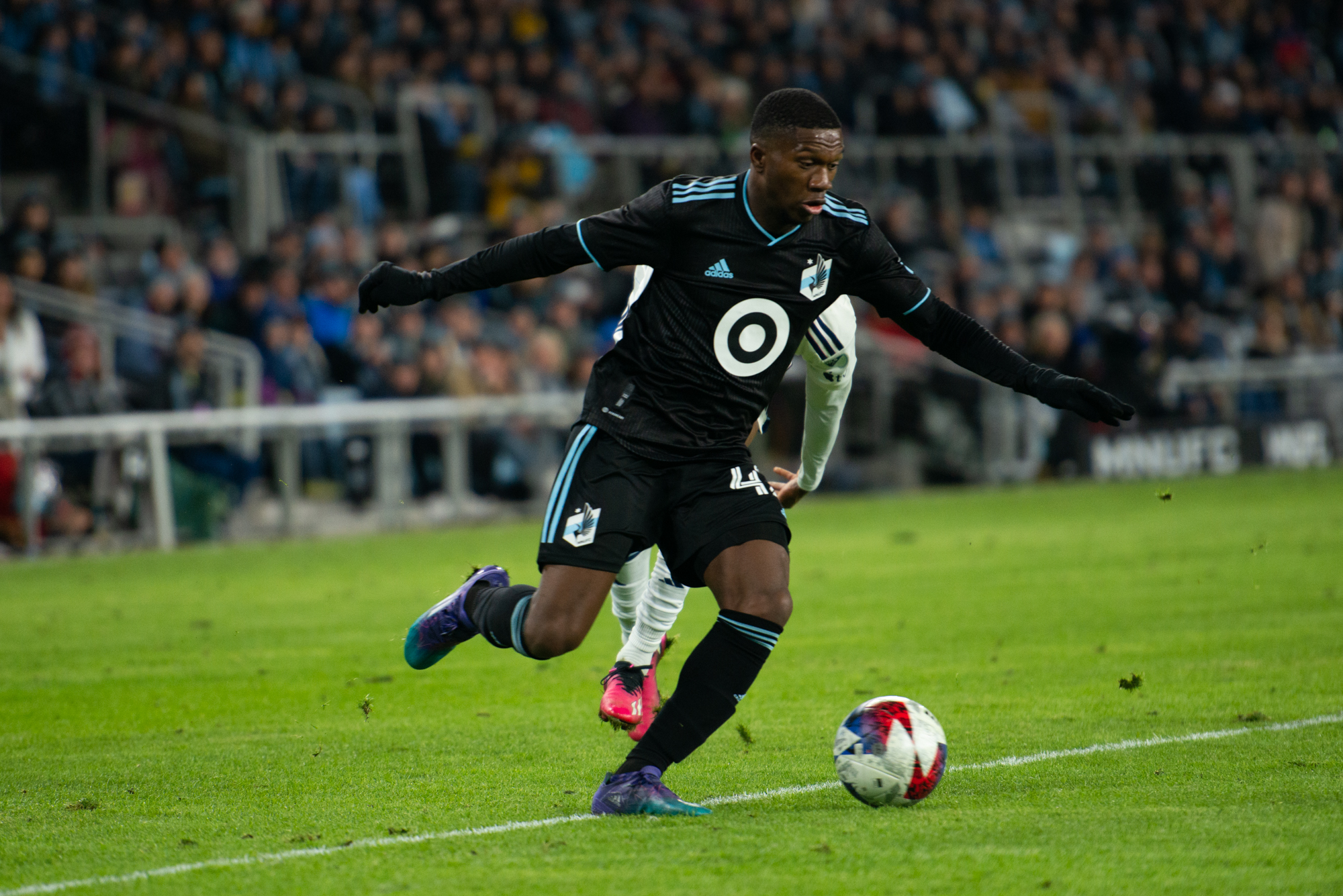 Disappointing, certainly, But against the feeling in the moment, it was probably not unfair. Minnesota maybe even should be considered lucky on the night; lucky to have still been in it that late.
In the first ten minutes of the night it seemed that all the fans' worst fears would come true. Within the first minute, Brian White kissed the cross bar with a lob over Irwin's outstretched hand as Kallman, Micky Tapias, and Trapp could not sort out their assignments, a problem they would have all night. And then Minnesota allowed two quality crosses and three corners to a team that seemingly can only score on set pieces and crosses, giving up two more quality chances in the run of play as the new defensive line tried to figure itself out. It was a very rough start.
But Minnesota survived that first 10 minutes and most of the game. Or rather, Vancouver continued to not score. The stats on the night were really something. Vancouver won the possession game 63% to 37%, completing 481 passes to Minnesota's 229. Vancouver outshot Minnesota 23 to 8 and had 10 chances from the corner to the home team's 2. And Vancouver ended the night with an xG of 1.9 to Minnesota's xG of .6.
For a team that has struggled to find its attacking rhythm this year, the Whitecaps seemed very clear in their intent: either quickly find a posted-up White, with his back to the goal, to feed the secondary runs of the often interchanging Cristian Dájome and Ryan Gauld; release Julian Gressel out wide for service into the box; or clear the space for Alessandro Schöpf to carry the ball to the top of the box. And although Kallman and Tapias, Hassani Dotson and Trapp had an incredibly hard time sorting out their assignments and responsibilities, Vancouver simply could not score. Until they did, of course.
Early in the week Heath tried to turn the difficulty of the league's decision to play through the international break, and the absence of 8 players to international duty, into a positive, an opportunity he called it. "Some of the younger guys will be on the bench and maybe get on the field," he said. "So when one door closes, it opens for other people. As Dayne [St. Clair] proved last year, opportunities can come along and if you take them, it can be a career changing decision sometimes."
And he was good to his word. Dunbar got his first start as a Loon. MNUFC2 call-ups Iwe and Zaydan Bello both got significant time, even as the game was still in the balance. And Marqués got his first minutes after suffering an injury early in his Minnesota career. And the kids did well. Dunbar had a great 70 minute shift, especially out wide in the 4-4-2 the team started in. It seemed that the talk around his first appearance might have gotten a bit out of hand, bringing too much expectation on the 20-year-old. But after getting his first touch out of the way he was composed and creative, offering a near-post run on Zarek Valentin's cross that freed the space for Ménder García's goal.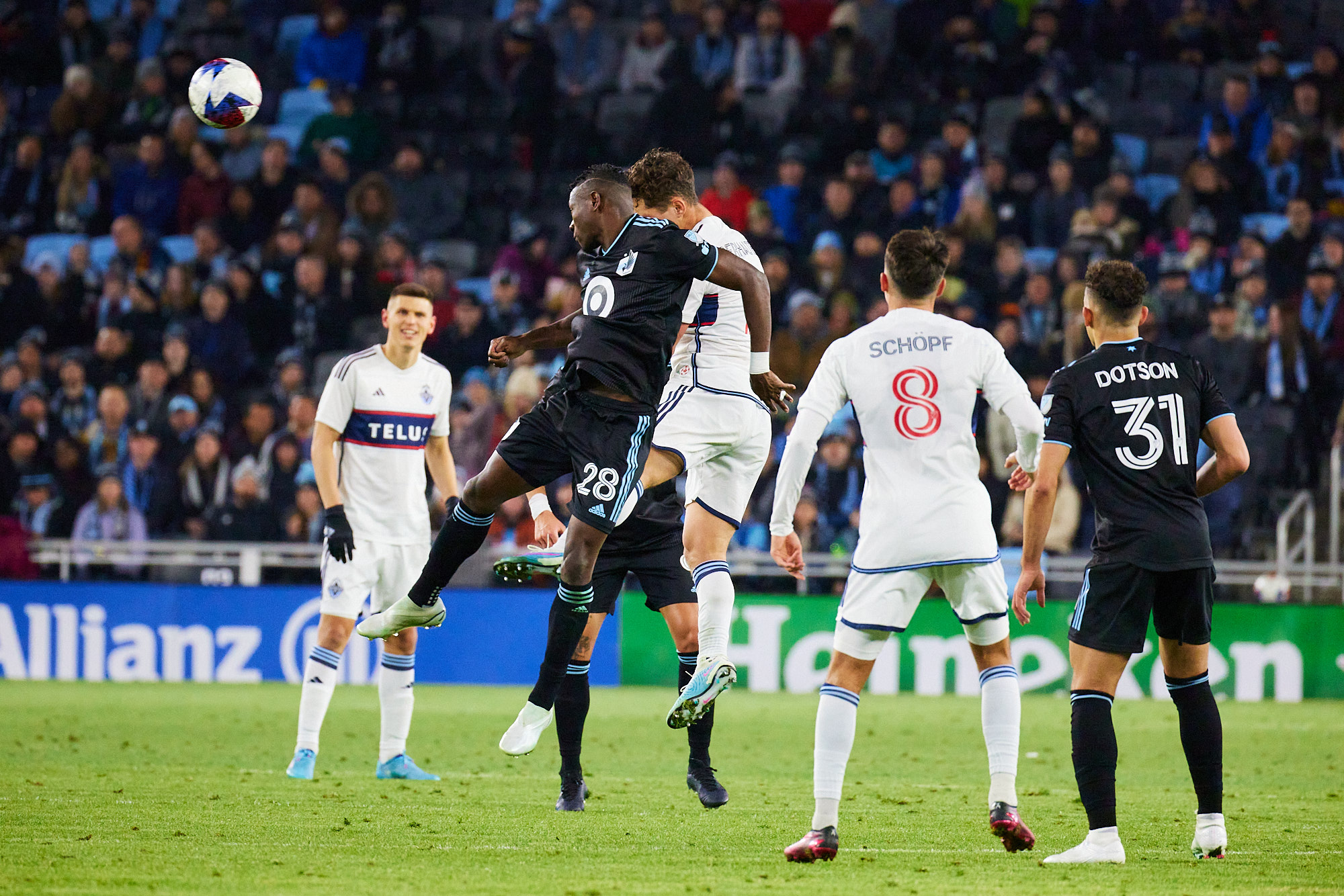 Iwe and Bello were also quite good in their shorter but more intense shifts to try to close out the game. Iwe looked especially dangerous with a directness to goal that changed, in flashes, the complexion of the game, even as his finishing and final touch still need a little work, while Bello was strong and consistent, doing everything that was asked of him.
This Minnesota United team is often at its most tactically innovative and creative in moments of necessity, when injuries and absences require a change in formation and line-ups. Last night was no exception. The 4-4-2 that the team started in, often looking more like a 4-2-2-2 with Dunbar and Franco Fragapane pinching in tight, allowed Taylor and Valentin to create width down the sides. It was the most consistently fluid Minnesota's attack has looked all season, especially when Valentin was freed down the right side.
"We worked on it nearly all week" Heath noted after the game. "If we can switch play and get to two on ones in those wide areas and that's what we did for the goal. We did it a few times in the second half where we got Zarek [Valentin] down here. I don't think we did it enough during the game, but in hindsight we had worked on that particular phase of play where the goal came about."
Dotson and Trapp remained, in this new formation, rather deep, often stranding Luis Amarilla and García alone up top, but with the width out on the wings, some of that gap could be covered from the touch-line. It is certainly a fun speculation to imagine what that formation would play like with Robin Lod out wide, Bongokuhle Hlongwane or Sang Bin Jeong paired with García up top, and Kervin Arriaga and Dotson pushing the play through the middle.
But whatever comes of the necessity of the night, it will be good to have the full first-team back next week as Minnesota travels down to St. Louis for their first meeting against the expansion side, the 5-0-0 St. Louis City SC. After a great start against a number of teams that seem to be struggling, St. Louis will be a good measure of how good these Loons can actually be.
---
Northland Soccer Journal thanks our Patrons for supporting our coverage.
If you would like to support independent soccer media, subscribe to NSJ on Patreon.