Matchday 33 Preview: MNUFC @ LA Galaxy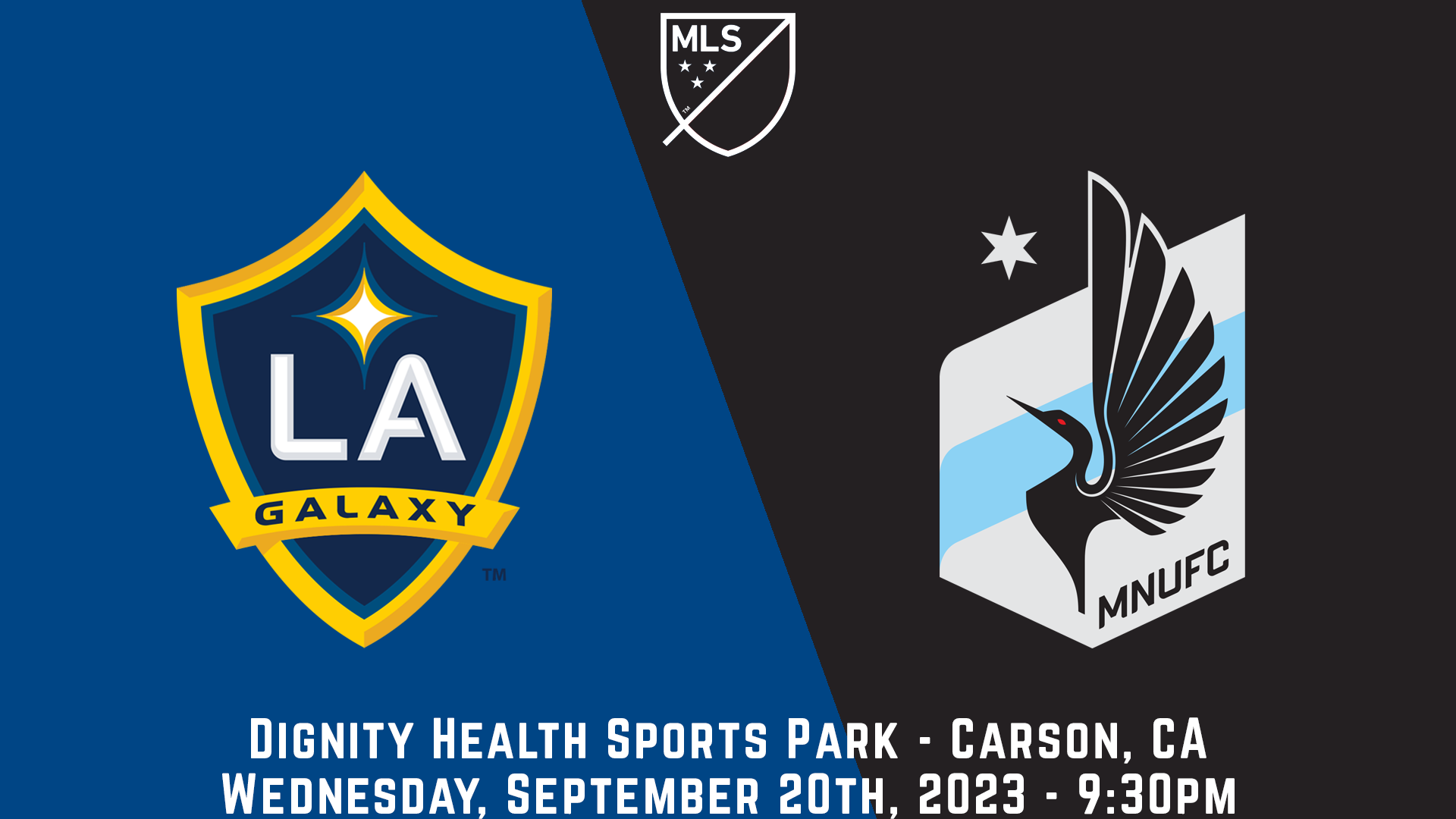 Matchday 33
LAG vs. MIN
AppleTV | 1500 ESPN
After slipping down to 8th place with Saturday's 1-0 loss at home to Sporting Kansas City, MN United FC flies to Carson City, California, to face the LA Galaxy, in 13th place following a 4-2 loss away to LAFC. Both sides are focused on this final stretch of the season, not points lost in past games. On paper, the matchup looks good for the Loons but reality (like lost points) bites.
Form
MIN: 8th in West, 37 pts; 9-9-10, 6-6-2 away; 34 GF, 34 GA
Last match: 0-1 loss to SKC, ending 6-match unbeaten streak
LA: 13th in West, 30 pts; 7-11-9, 4-4-4 at home; 35 GF, 45 GA
Last match: 2-4 loss to LAFC, ending 4-match unbeaten streak
Key Performers and Moments
Despite missing preseason and months of MLS play, Emanuel Reynoso's form is on par with his 2022 All-Star season. His 6 goals and 2 assists in 13 league appearances is on track to exceed last year's 11 goals and 6 assists in 30 appearances, if only the season were just a few matches longer. His wing man, Bongokuhle Hlongwane, returned from injury on Saturday to trouble SKC but he looked like a guy who was working his way back from knee inflammation.
At the other end of the pitch, Michael Boxall put up a Man of the Match performance complete with a diving headed clearance and a disallowed (offside) goal. He was a vocal presence, from box-to-box, and certainly factored into SKC's inability to score until the 84th minute.
"The performance was there and we carried on the momentum. We dropped in-game in the last handful or so," Boxall said when asked about the next game and the playoff picture. "It's not the end of the world. Everything is in our hands. We go on the road now where we've been pretty good. A quick turnaround. LA is a tough place to travel but we'll freshen up and get ready for that."
LA Galaxy's Billy Sharp leads the league in Goals per 90 with 1.7. He scored in the loss at LAFC, tallying his third goal in 5 matches. Diego Fagundez was credited with the assist on both Galaxy goals, to Sharp in the 25th and Maya Yoshida in the 59th, bringing his tally to 3 assists in 2 appearances.
Sharp's and Yoshida's goals were the only 2 shots the Galaxy put on target that night, but the squad totaled 5 shots from 5 different players. With the Achilles' heel of Minnesota's defense being scarce yet purposeful shots, LA Galaxy is exactly the kind of side that could unlock the Loons with a split-second of decisiveness.
Playoff Picture
Earlier this week, Galaxy head coach Greg Vanney said, "We've got enough points in front of us. We've got to perform. For us, our home games are really important. The next two games are against teams we are trying to track down, amongst other games in front of us."
Wednesday's match against MNUFC is the first of four at home out of the Galaxy's seven remaining games and every opponent is above them in the standings. (Only Colorado is below the Galaxy and they've already played them twice.) But Vanney's positivity is not unfounded. Only 6 points separate them from the 8th place wildcard spot, now occupied by the Portland Timbers who share LA's conference high 45 goals against.
Minnesota has only six matches to go, with half on the road. "As I said a few weeks ago we're probably going to need to win four or five of those [six] games," coach Adrian Heath said following Saturday's match. "But we still need to win at least two, I would think, to give ourselves a good opportunity of making the playoffs."
While Heath's squad has excelled on the road, that is a tough test. Of their three away games (LA Galaxy, LAFC, and Sporting KC), Wednesday's game at Galaxy is the most winnable. That fact, however, is nothing for a Minnesota team to hang its hat on. After all, their lofty wildcard perch is only 7 points above LA.
Availability
MIN:
Questionable: None. Out: Kervin Arriaga (knee), Robin Lod (SEI – knee), Ryan Jiba (SEI – knee)
LA:
Not available at time of writing.
---
Northland Soccer Journal thanks our Patrons for supporting our coverage.
If you would like to support independent soccer media, subscribe to NSJ on Patreon.