Seattle's Yeimar is Only Man on Scoresheet in 1-1 Draw Between Loons and Sounders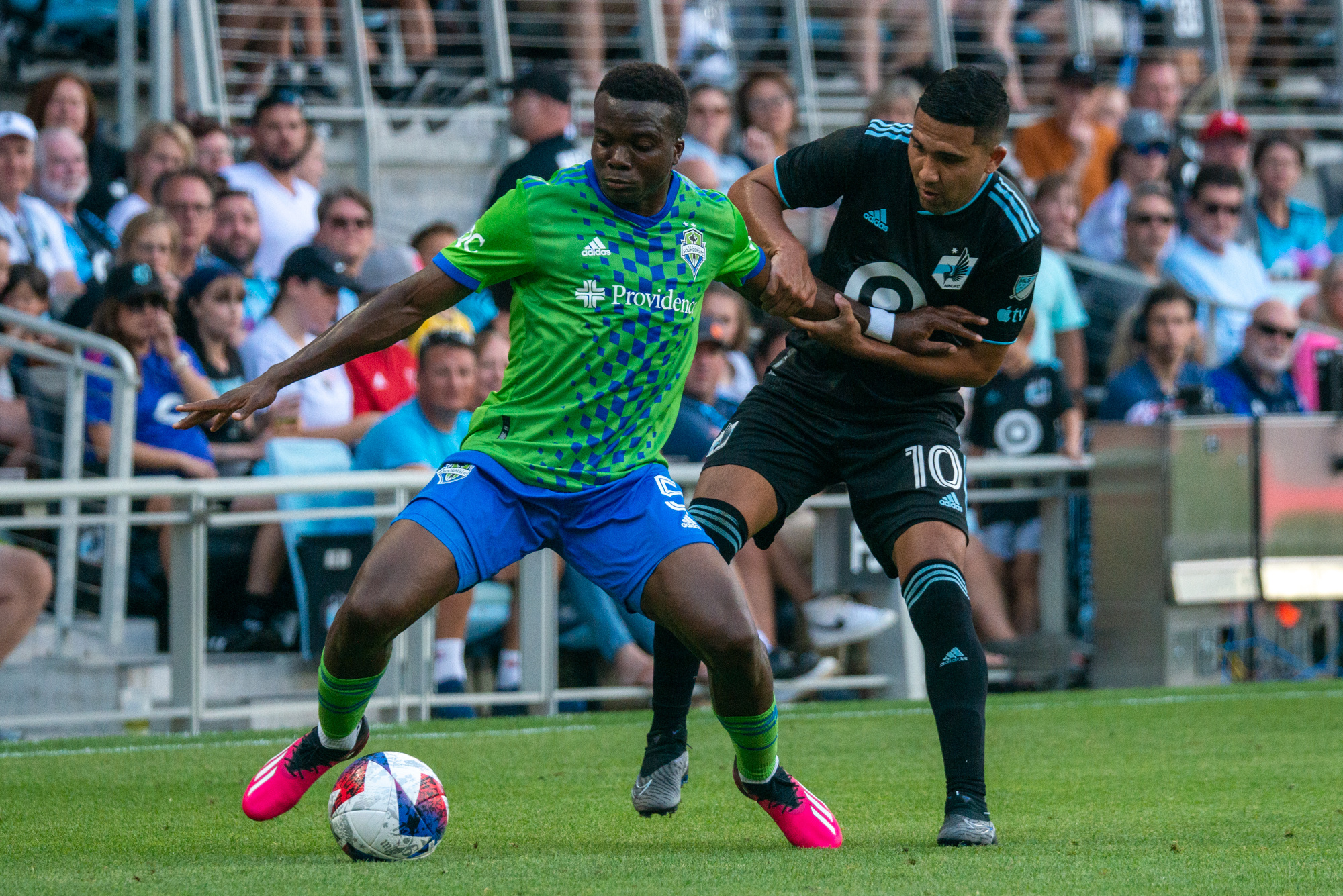 Minnesota United came into Sunday's match with Seattle having only obtained four points all time in 13 previous meetings since the Loons joined Major League Soccer. Following the match the Loons walked out with a fifth point after securing a draw with the Sounders, thanks to the head of the visitors own Yeimar Gómez. "I thought we deserved more than what we got out of the game." said Heath. "I thought [there were] some really good performances. Obviously we fell asleep a little bit for their goal, but after that we created numerous opportunities and I think we were just about shaded most of the game I thought."
The Loons Starting XI saw only one change from their win over New York City FC, that being Ján Greguš stepping in for Bongokuhle Hlongwane in the XI. "Day to day. Maybe Wednesday, if not Wednesday then the weekend I would hope," Adrian Heath said about Hlongwane's return. The change resulted in slight shift in formation, with Hassani Dotson shifting up to right wing and Greguš taking over as a defensive midfielder alongside Wil Trapp.
Match 🧵 | #MINvSEA

Starting XI for #LegionOfLoons and #Sounders

Only one change for #MNUFC from last week. Ján Greguš steps in and Dotson moves to RW to replace Hlongwane who is not in the lineup after being listed as Questionable for this afternoon. pic.twitter.com/corl5NpMfv

— Northland Soccer Journal (@NorthlandSoccer) August 27, 2023
Once again in similar vein to the match in New York last week the recently hot starting Loons were shut down early by Seattle's stingy defensive effort and the Loons own choice to slow play down. Just 17 minutes into the match, Seattle took the early lead when a cross from Nicolás Lodeiro was put in by a Yeimar header.
What a start 😍@NicolasLodeiro finds Yeimar for the 1-0 lead! 🙌#MINvSEA | #Sounders pic.twitter.com/AQmeqM9qRz

— Seattle Sounders FC (@SoundersFC) August 27, 2023
"In the 10-15 minutes before that, we were struggling to get pressure on the ball. They [Seattle Sounders FC] were finding players, they had plays open everywhere you looked so you're weary of when [Nico] Lodeiro and [Raul] Ruidiaz make those runs between myself and DJ [Taylor]," Michael Boxall said following the match.
Minnesota United struggled through the remainder of the half, taking just five shots and attaining only a single shot on target.  When the match resumed play in the second half, it initially continued in the same fashion the first ended in, fouls and free kicks. It was one of those free kicks, taken from just under 40 yards out by Emanuel Reynoso that Yeimar headed into his own goal to draw the match even at one-all.
Perfect placement, imo.#MINvSEA | #MNUFC pic.twitter.com/h8d8XkqS2i

— Minnesota United FC (@MNUFC) August 27, 2023
From that point on the match kicked into high gear when rather than slowing the match down as they had, the Loons made a change in tempo. Minnesota, taking control of the match and hammered Seattle with regular shots. Most of those shots came following the 71st minute change that brought on Ménder García and Sang Bin Jeong to replace Teemu Pukki and Wil Trapp. MNUFC came close to taking the lead on a few separate occasions, forcing Stefan Frei to make a few big diving saves to keep the match level. Hassani Dotson said following the match "I think they are an experienced roster and they've got a really good team and they have been winning for a long time for a reason. I think today with how we played, we should be happy, but we need to be a little bit more clinical in the final third."
Minnesota United will face Colorado Rapids on Wednesday, August 30the for a special midweek match. The Rapids currently sit in last place in the 14 team Western Conference with a 3-11-10 record (19 points). Colorado is 1-2-2 in their last five MLS matches and went 0-2 in the Leagues Cup. The Rapids are 13 points back from the final playoff spot, currently held by Austin FC via tiebreaker with Minnesota at 32 points.
---
Northland Soccer Journal thanks our Patrons for supporting our coverage.
If you would like to support independent soccer media, subscribe to NSJ on Patreon.