Leagues Cup Quarterfinals Preview: Nashville SC v MNUFC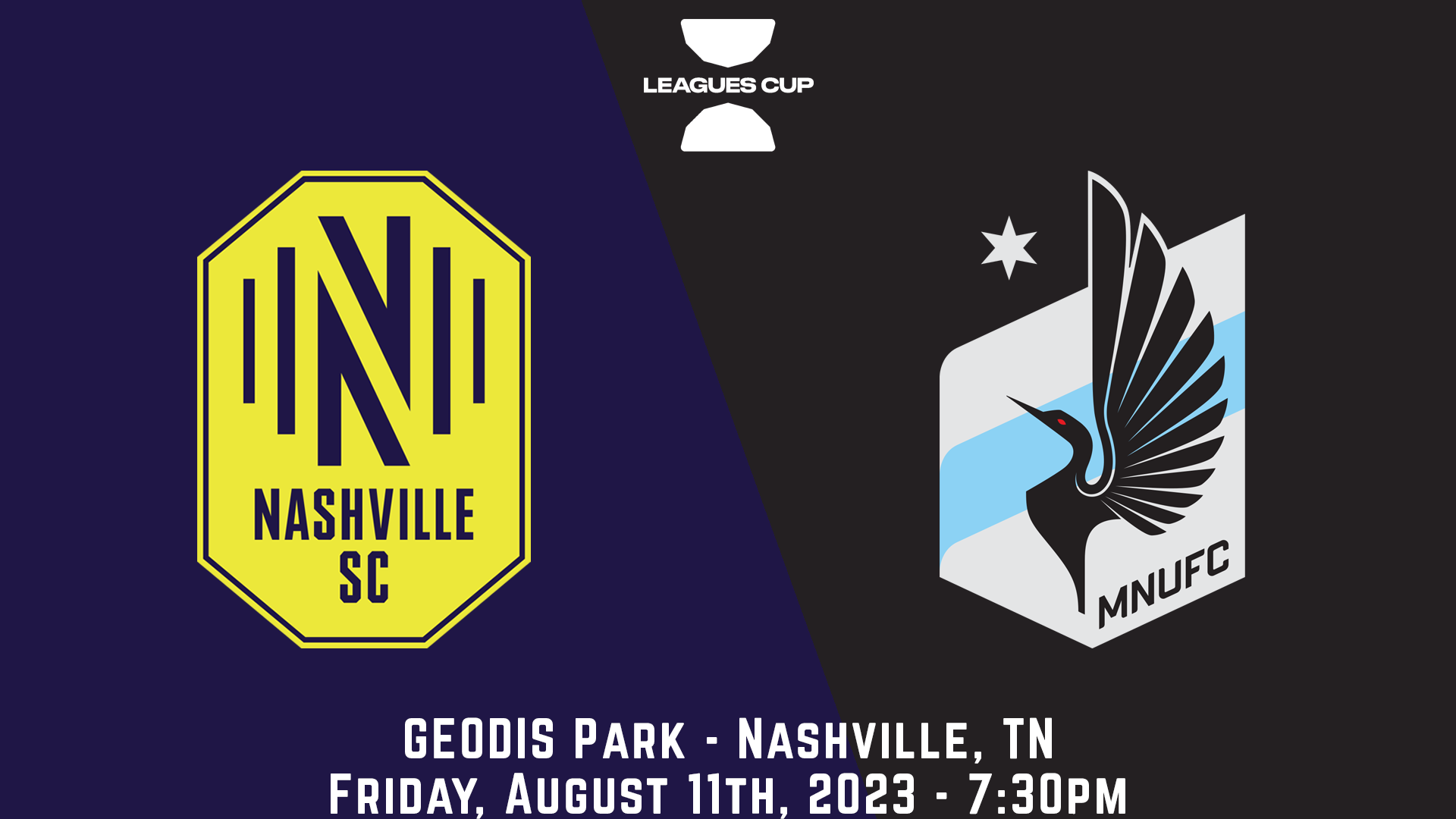 Leagues Cup Knockout Stage – Quarterfinals
NSH vs. MIN
AppleTV
For the first time in almost a year and the only time during the 2023 season, Minnesota United travels to Nashville, TN for a clash with Nashville SC. Both sides come into Friday night's clash off penalty kick wins earlier in the week. Minnesota forced their match with Toluca to penalties following suffering a red card in the 73′ before giving up the lead on a 75′ goal. The Loons held on for the remaining 15 minutes, advancing the match to penalties and winning in just four rounds of kicks.
On the other hand, Nashville advanced on the oddest of circumstances in their match with Club América. Both sides scored one goal each in stoppage time, pushing the match to penalties with a 22 scoreline. In the sixth round of kicks, Jack Maher's shot was saved by América keeper Luis Malagón seemingly ending the match. Following an extended VAR review Malagón was determined to have been off his line with Mahar making the best of the re-kick to keep the match going. It then took time for the field to be cleared and during that time the original result was listed as final on placed like Google, creating another confusing element. After the delay Club América's Jonathan dos Santos hit the post and then Nashville's Daniel Lovitz claim the win on his seventh round kick.
Form
MIN: 10th in the West, 28 pts (of 66 available) / 7-8-7 / 26 GF, 30 GA
Leagues Cup group stage: 2nd in Group E, 3 pts / 1-0-1 / 6 GF, 3 GA
NSH: 4th in the East, 38 pts (of 72 available) / 11-8-5 / 31 GF, 22 GA
Leagues Cup group stage: 1st in Group D, 6 pts / 1-0-1 / 5 GF, 5 GA
Last meeting: 8/14/22 NSH 1–2 MIN (Mukhtar 61′) (Fragapane 27′, Benítez 75′)
What to watch
Minnesota United and Nashville have had nearly identical runs heading into the Quarterfinals. Both sides winning their previous two matches on penalty kicks and each team having won and lost one game in the group stage. The Loons and Nashville are also tied on goals allowed, having each given up 8 goals through the four matches played in the competition. Scoring does favour Minnesota, as MNUFC has scored 11 goals compared to Nashville's 8 to this point in the Leagues Cup. The reliability of Bongokuhle Hlongwane to continue to score for Minnesota at a rapid pace during this tournament has him in competition with Lionel Messi for the golden boot. On the other hand Nashville has an ever changing look, having lined up in a different formation for each match so far. The combination should prove the match to be an exciting one.
"It's always tough there [GEODIS Park], they played against Club America [LIGA MX] and more than held their own. A bit like our game, looked a really exciting game, penalties and the atmosphere. So, hopefully [it will be] the same again on Friday. – Adrian Heath
The atmosphere at GEODIS Park may well prove challenging to Minnesota. Nashville is averaging an attendance of 28,604 per game, good enough for third in the league. Additionally they hold an 8-2-2 record at home in MLS play this season and have gone 2-1 on their home pitch in the Leagues Cup.
Who to watch
Bongokuhle Hlongwane without question is the top player to watch on the night for Minnesota United. Hlongwane has scored 7 of Minnesota's 11 goals to this point in the tournament and only Inter Miami has scored more goals and is still in the tournament then the Loons. On the other end of the pitch, goalkeeper Dayne St. Clair has continued in regular season form throughout the Leagues Cup. He has 3 saves on 10 the 10 shots faced in Minnesota's two knockout save wins, and has only allowed five total goals in the two shootouts. Former Nashville SC midfielder Ján Greguš, whom the Loons acquired last week, will not be eligible to play due to cup tied with Nashville.
On the other side of the pitch, Hany Mukhtar leads Nashville's attack, having scored 13 goals and assisted on 7 more in MLS play along with a goal and an assist in the Leagues Cup. Goalkeepers Joe Willis and for the last two shootouts Elliot Panicco form a two headed monster at goal. Willis has started three of four while Panicco started one and has two sub appearances, capturing both shootout wins. Maple Grove native Luke Haakonson is also rostered for Nashville SC and has one goal in his lone Leagues Cup appearance, and listed as sub in all four matches
Availability
MIN
Out: K Arriaga (knee – SEI)
Questionable: Tajouri-Shradi (thigh)
NSH
Not available at time of writing
---
Northland Soccer Journal thanks our Patrons for supporting our coverage.
If you would like to support independent soccer media, subscribe to NSJ on Patreon.