Matchday 26 Preview: MNUFC vs. LAFC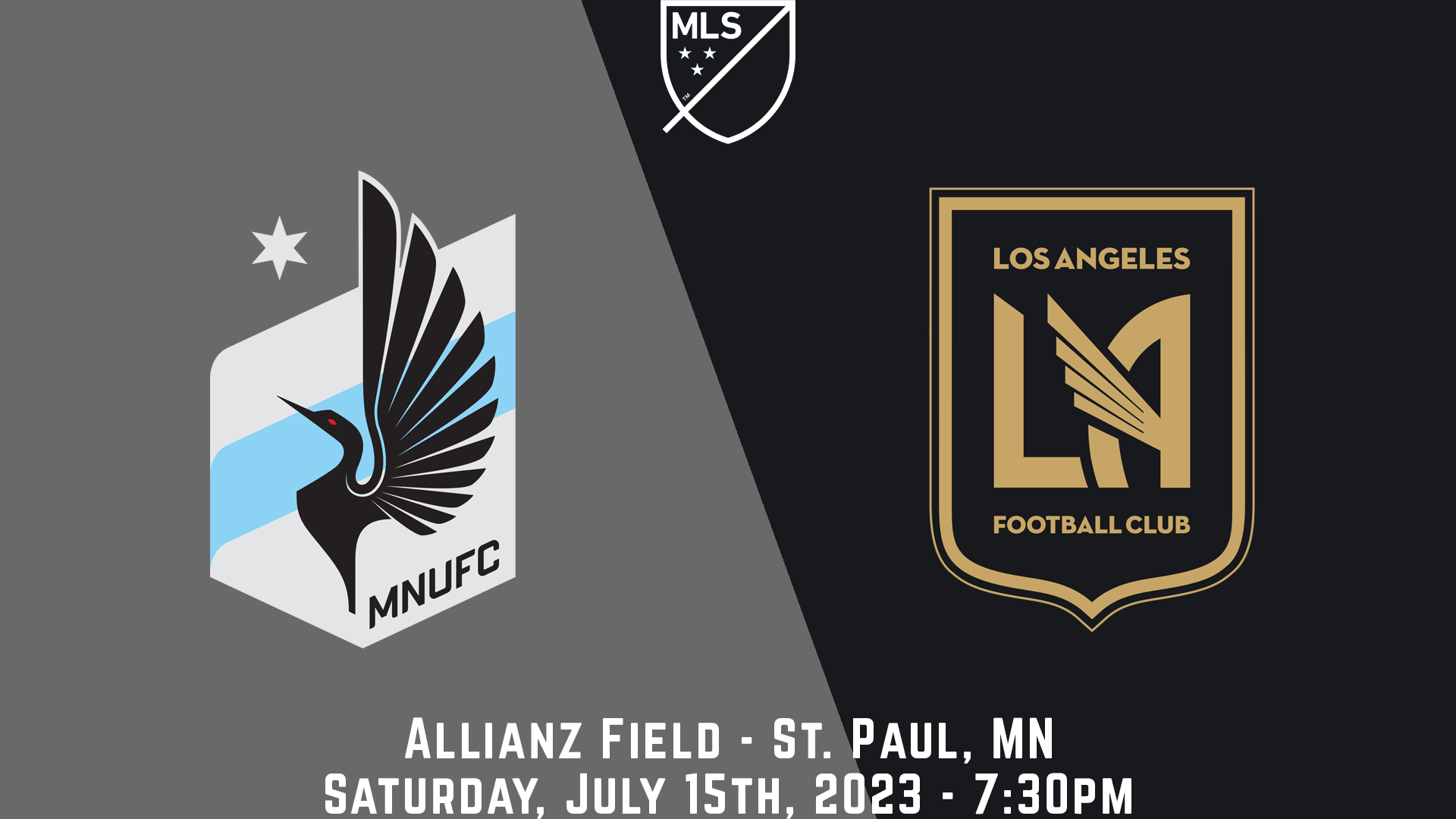 Matchday 26
MIN vs. LAFC
AppleTV | 1500 ESPN
Since their 2019 overhaul, Minnesota United has been a consistently mid-level team that can put together a great run of games and is capable, on any night, of beating anyone. Their 2020 playoff run to the conference finals, ending 20 minutes short of an MLS Cup appearance, was the height of the former. Their September 2019 win at LAFC was the best of the latter. At the time, LAFC was in the midst of what would become an historically good season, undefeated at home to that point and on their way to winning their first Supporters' Shield in their second season. Setting up in front of new Loons Vito Mannone and Ike Opara, Minnesota ended the night conceding 77% possession, giving up 23 shots, only mustering 5 of their own. But in a brief five-minute span Mason Toye finished two of those chances and the defense held, as the team walked away with a little Sunday night glory.
Early in 2023 Minnesota seemed to be returning to that kind of form. Without Emanuel Reynoso the team looked content to sit back and absorb pressure, doing just enough on offense to get the results. And they were getting results: eleven points from their first five games. Then, playing more open and expansively, they squandered the start, taking a mere thirteen points from their next fifteen games, a run of poor results that saw them drop below the playoff line. On Wednesday in Houston, though, they refound that early season form: conceding 73% possession, giving up 24 shots while only mustering 8 of their own, they walked away from Texas with a dominant and in-control 3-0 win. With the defense back to its organized, stingy ways and new DP striker Teemu Pukki raising the level of the attack to more than doing just enough, Minnesota looks poised to make a late season push through the League's Cup and into the playoffs.
LAFC comes to Minnesota not as dominant as in 2019, or the domestic double winning side of last year. But to say that the team has struggled is unfair, and only true in a relative sense: They have been so good in their first five seasons that anything less than great feels like a let-down. If their Concacaf Champions League finals loss to Club Léon disrupted their regular season play, a run to the finals that means they have already played 33 games this year, they are still comfortably 2nd in the West. And after a rather convincing midweek win over St. Louis City, the other team from LA seems to have decided to start playing. They found their joy in that midweek game, Kellyn Acosta said after, adding "That felt like us." Like Minnesota, LAFC seems to be enjoying a bit of late-season form as they look to the Leagues Cup and their own playoff push.
Form
MIN: 10th in the West, 27 pts., 1.29 ppg, 7-8-6 (2-2-5 at home)
25g, 29ga (32.1xG/26.6xGA)
Last five: WLWDL
Last game: 7/12 HOU 0 – 3 MIN (Hlongwane 15', Pukki 20', Tajouri-Shradi 87')
LAFC: 2nd in the West, 36 pts., 1.64ppg, 10-6-6 (3-3-3 on the road)
32g, 24ga (34.7xG/23.2xGA)
Last five: WDLLL
Last game: 7/12 LAFC 3 – 0 STL (Vela 72', Biuk 82', Cifuentes 90'+2')
All-time head-to-head: 2-2-4 (MN 1-0-3 at home)
Last meeting: 9/13/22 MIN 1 – 1 LAFC (Kallman 45')(Vela 64')
What to watch
Minnesota has struggled at Allianz Field this year, falling to 2-2-5 in regular season play. As head coach Adrian Heath noted after the mid-week game in Houston, "teams playing at home generally try to push forward and take more opportunities and more chances" leaving themselves open to quick counters. Minnesota, though, has also been unable to stay locked into games for a full 90 minutes at home, conceding too easily in key moments, dropping points from winning positions. Regardless of tactics or formation, then, the team will need to bring the mental strength and desire that they showed in Texas to their home field if they hope to get a result tonight.
In their short MLS history, LAFC has created a strong tactical and stylistic identity: expansive control of the field from a 4-3-3, quick ball movement with even quicker recovery when dispossessed, too many attacking pieces to keep track of. In their second season under head coach Steve Cherundolo the team has also found the defensive solidity that it lost when the club let Walker Zimmerman go in 2020. Their 24 goals against on the season is second best in the Western Conference, while their 33 goals scored is seventh best in the league, and their 34.7xG second best in the league. In other words, LAFC is still able to play on their front foot, opening teams across the width of the field, while also now being able to sit back and absorb pressure, suffering through games before exploding on the counter.
Who to watch
With a compressed July schedule, newest Loons Teemu Pukki and Ismael Tajouri-Shradi are learning the club and finding their fitness in real time. With Pukki and Tajouri-Shradi already on the score sheet and putting in good shifts, the season-changing veteran additions should only get better with time played.
Along with the return of Emanuel Reynoso, the veteran signings should also help to settle Bongokuhle Hlongwane. Absent the pressure to be the team's primary offensive option, the young Loon now has the freedom to take the next step in his development, finding spaces opened by Pukki's movement, becoming the dynamic option for Reynoso's magic vision.
FC Barcelona youth product Ilie Sánchez does not always lead the LAFC stat sheet. But with incredible vision and the lightest of touches, the midfielder remains the rhythmic center of the team.
All-star forward Dénis Bouanga, on the other hand, often is atop the team's stat sheet, his second best in the league 12 goals leading the team, his 14 total goal contributions top as well.
At 34 years old LAFC captain Carlos Vela continues to be Carlos Vela. His veteran intelligence has him leading the team with 6 assists, while his goal scorer's instincts have him at a second best 7 goals. And while everyone knows he is going to his left, it still does not matter.
Availability
MIN
Out: none
Questionable: Franco Fragapane (thigh)
Season ending injury: Ryen Jiba (knee)
Robin Lod (knee)
LAFC
Out: Maxime Crepeau (leg)
Jesus Murillo (lower extremity)
Sergi Palencia (lower extremity)
Questionable: none
---
Northland Soccer Journal thanks our Patrons for supporting our coverage.
If you would like to support independent soccer media, subscribe to NSJ on Patreon.