Matchday 25 Preview: Houston Dynamo FC vs. MNUFC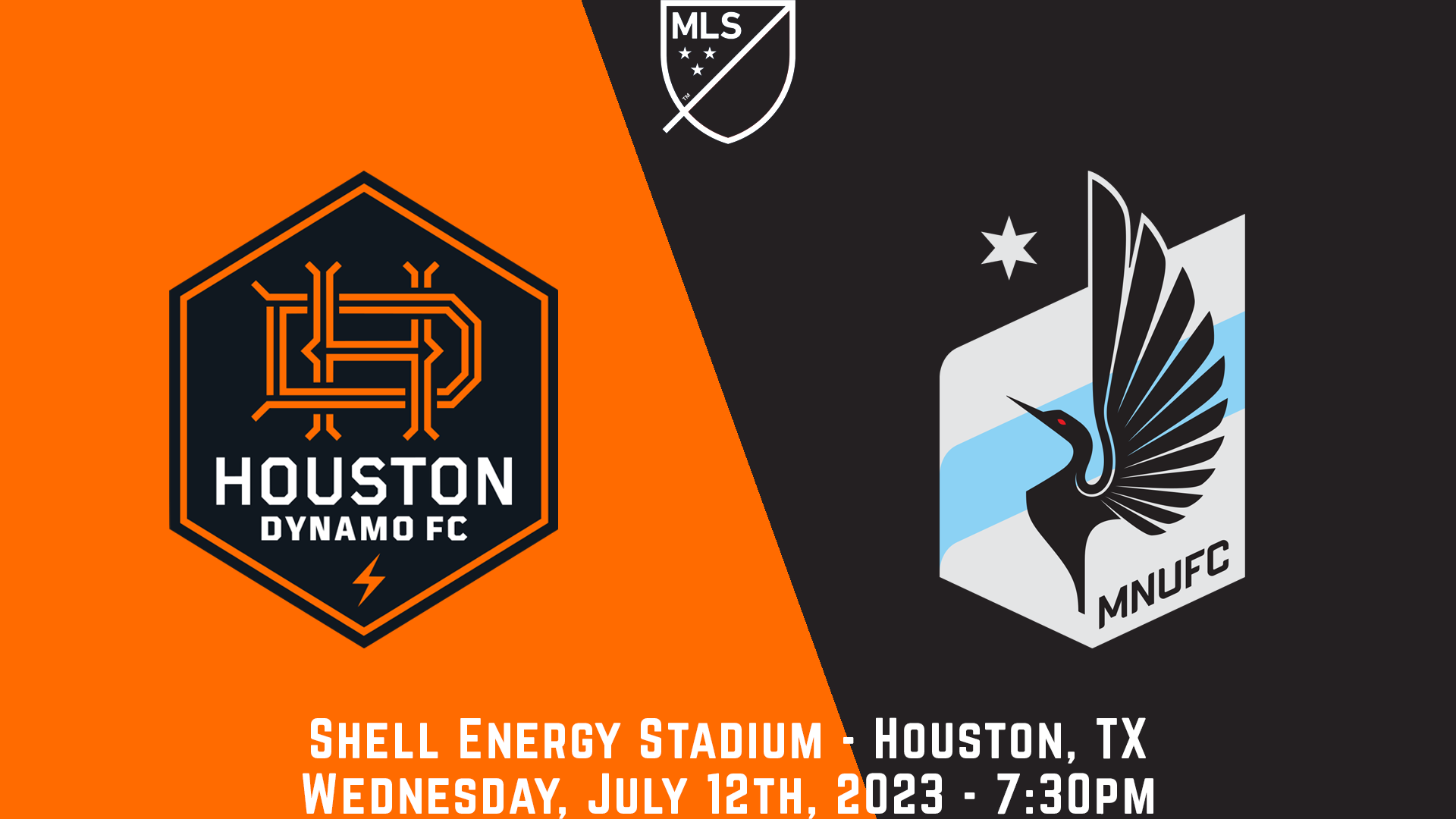 Matchday 25
HOU vs. MIN
AppleTV | 1500 ESPN
Early in pre-season Minnesota United head coach Adrian Heath noted the importance of the team finding some consistency this season. Following a 4-1 win against the Portland Timbers with a 4-1 loss to Austin FC is probably not what he had in mind. The loss was quite a let-down after a week full of hope for Minnesota's faltering attack: Emanuel Reynoso was quickly coming back into the team, scoring three goals in four games, and would be joined by the newest Loons, Teemu Pukki and Ismael Tajouri-Shradi. Now, with two games before the All-Star Game and Leagues Cup regular season breaks the team is starting over again, hoping to gain some momentum and form, this time on the road in the fortress of Shell Energy Stadium against the Houston Dynamo. Though the underlying numbers still look good, Minnesota remains below the playoff line in a season when most teams will make the playoffs, struggling to get organized for an end of season push.
In mid-May Houston visited St. Paul short-handed and fell 1-0 to a home team that had yet to win at home. A week later Houston ended Minnesota's 2023 US Open Cup campaign with a rather thorough 4-0 win in Texas as the visitors spent most of the game down a man after Kervin Arriaga's early red-card. Now, it seems, the Dynamo have settled into their form as a solid mid-table team, playing with a strong and fun identity and style, but with a tendency to drift from games, short the one or two quality players to push them into the top of the West. Coming into the night 5-4-2 in their last eleven, Houston will look to continue their, at times literally, blistering home form, where they are 9-1-2 in all competitions this season.
Form
MIN: 11th in the West, 24 pts., 1.20 ppg, 6-8-6 (road 4-6-1), 22g, 29ga (30.5xG/25.0xGA)
Last five: LWDLD
Last game: 7/8 MIN 1 – 4 ATX (Padelford 85')(Fagundez 35', Druisi 45' (PK), 51', Rigoni 90'+5')
HOU: 8th in the West, 28 pts., 1.33ppg, 8-9-4 (home 7-1-2), 26g, 28ga (26.3xG/29.2xGA)
Last five: DLLWW
Last game: 7/8 HOU 2 – 2 SKC (Ibrahim 45'+2', Franco 90'+8')(Pulido 25', 62')
All-time head-to-head: 9-6-4 (MN on the road 3-6-2)
Last meeting: 5/17 (MLS) MIN 1 – 0 HOU (Hlongwane 14')
5/23 (US Open Cup) HOU 4 – 0 MIN (Baird 33' (PK), 68', 89', Ibrahim 79')(Arriaga, RC 38')
What to watch
At their best, Minnesota and Houston are quite similar. Neither team likes to have the ball (Minnesota is averaging 46% possession for the season, while Houston is averaging 49%), preferring to build success off of, if not always from, the back, relying on central playmaking DP's to drive their team forward through quick counter-attacks (Reynoso for the Loons, Héctor Herrera for the Dynamo). Minnesota this season has been much more direct from the wings, with Bongokuhle Hlongwane and Sang Bin Jeong starting out wide after the loss of Robin Lod and more recently Franco Fragapane, and has also at times been missing the width from the back that they have relied on in the past. Houston, meanwhile, prefers to play tight and fluid through the middle in attack: backed by defensive midfielder Artur, the front five are free to create and interchange at will, with only an occasional bit of width added from the back, especially from Franco Escobar. Although not a direct head-to-head matchup, the game will most likely be decided in the effectiveness of the dueling #10's, Reynoso and Herrera.
Who to watch
Not yet fully game fit, especially in the heat of Houston, newest Loon Teemu Pukki may still get his first start tonight. With the team holding a worst in the league -10.5 G-xG (excluding own-goals), the club is desperate to find a proven goal scorer to begin finishing the chances they are creating.
In a forced start covering for the suspended Michael Boxall last weekend, Bakaye Dibassy put in a gutsy shift that was not quite good enough. Facing a team that loves to create through the middle, the center of the defense will need to be very good tonight; whether the pairing is Boxall with Micky Tapias or Dibassy, they will need to be much more organized than they were against Austin, especially in their relationship with Wil Trapp.
In a short first appearance last weekend Ismael Tajouri-Shradi put in a wonderfully veteran performance. With Sang Bin Jeong close to back to full fitness, and Joseph Rosales getting a game under him after being away on international duty, the club will again have options on the wings, a new found depth that will be important on the road and in the heat.
Hector Herrera. That's it.
Y así se juega el fútbol champagne aquí en Houston 🤌🤘#HoldItDown pic.twitter.com/iofKV5p5Fe

— Houston Dynamo FC (@HoustonDynamo) July 9, 2023
The last time these two teams met, in the US Open Cup, young forward Aliyu Ibrahim netted his first goal for the club. Last weekend, in a draw with Sporting Kansas City, he recorded his first MLS goal. With a 3.3xG he should be doing better, but if that first MLS goal offers the confidence to unlock his potential, he may be the final dynamic piece that Houston's attack needs to fully take the next step up in form.
Although with 8 goals and 3 assists it is hard to believe, it still feels like attacking midfielder Amine Bassi has not yet found his full form in Houston. After missing the match in Minnesota, his presence tonight will be an exciting addition to the game.
Availability
MIN:
Out: Robin Lod (knee)
Questionable: Franco Fragapane (thigh)
Sang Bin Jeong (thigh)
Emmanuel Iwe (thigh)
International duty: Kemar Lawrence (Jamaica)
Season ending injury: Ryen Jiba (knee)
HOU:
Out: Ifunanyachi Achara (knee)
Teenage Hadebe (leg)
Tate Schmitt (knee)
Andrew Tarbell (concussion protocol)
International Duty: Adalberto Carrasquilla (Panama)
Suspended: Sebastián Ferreira
---
Northland Soccer Journal thanks our Patrons for supporting our coverage.
If you would like to support independent soccer media, subscribe to NSJ on Patreon.