Leagues Cup Preview: MNUFC vs. Chicago Fire FC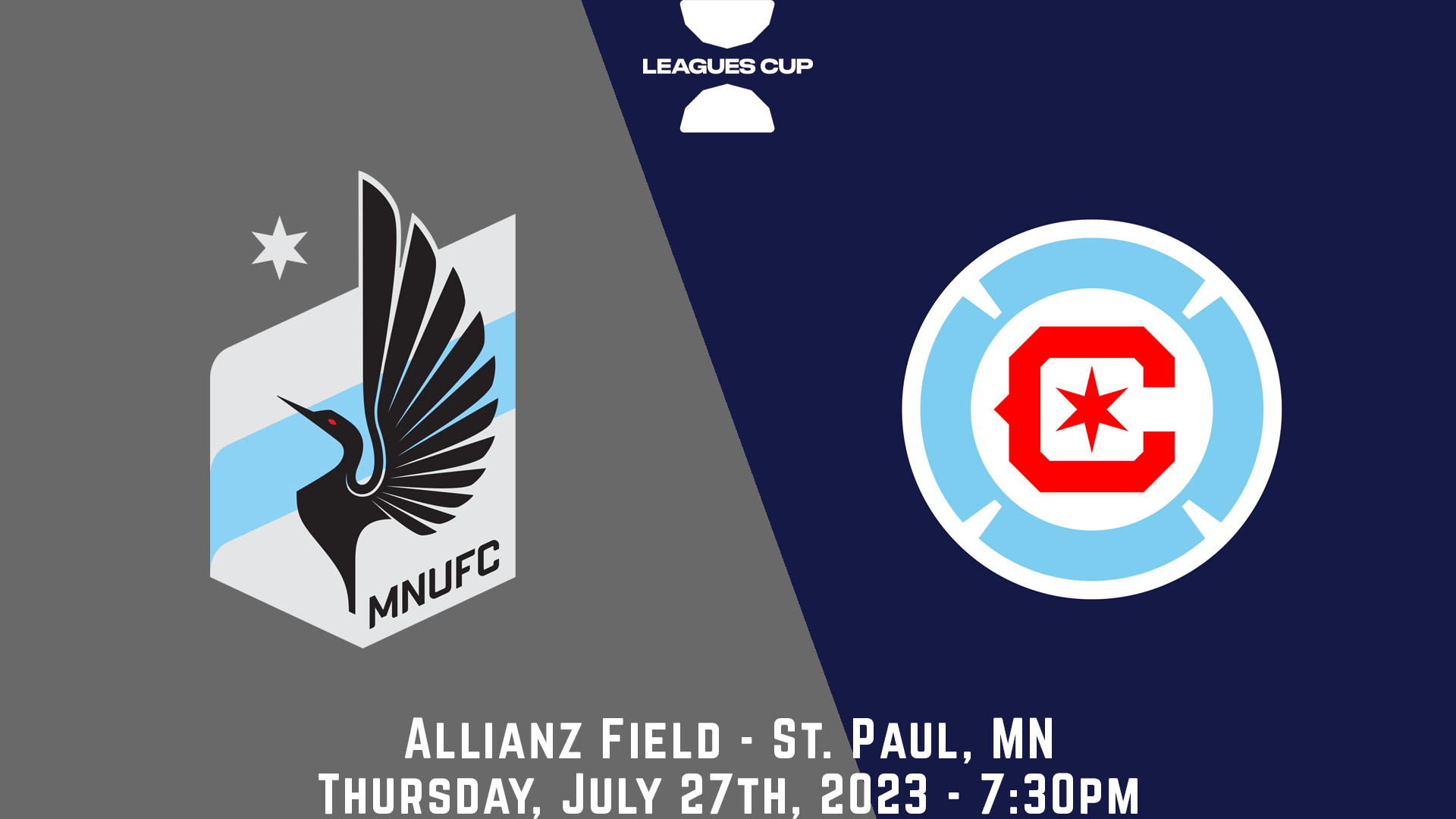 Leagues Group Stage – Match 2
MIN vs. CHI
AppleTV
After a shorthanded 4-0 rout of Liga MX's Club Puebla on Sunday, Minnesota United FC will close out Leagues Cup group play against Chicago Fire on Thursday night. After ceding 'hosting' duties to Puebla at a neutral Allianz Field, the Loons will reclaim proper hosting duties in this home match against their cross-conference neighbors. A win against Chicago, whether in regulation (3 points) or penalty shootout (2 points), will secure the Loons' passage to the next round of the 2023 Leagues Cup.
Form
MIN
MLS West: 10th in the West, 28 pts (of 66 available); 1.27 ppg, 7-8-7; 26 GF, 30 GA; Last 5 (all comps): WLWDW
Last Game (Leagues Cup): 7/23 Club Puebla 0 – 4 (Hlongwane 24′, 51′; Reynoso 59′, 65′; Boxall RC 29′)
CHI
MLS East: 8th in the East, 32 pts (of 69 available); 1.39 ppg, 8-8-7; 31 GF, 31 GA; Last 5 (all comps): WLWWW
Last Game (MLS play): 7/15 Chicago Fire 1 – 0 Toronto FC (Przybylko 90′)
What to watch
After captain Michael Boxall's surprising red card ejection just a half hour into Sunday's match, the Loons rallied to score four unanswered (not counting one called off for Puebla) goals from Bongokuhle "Bongi" Hlongwane and Emanuel Reynoso. The final stats were perhaps more surprising than the red card offense, with the Loons maintaining only 31 percent possession and attempting just 238 passes to Puebla's 531. The four goals came from what longtime Loons color commentator Kyndra de St Aubin frequently calls "purposeful possession," with 7 of the Loons' 13 shots being on target compared to Puebla's 4 of 14 shots on target. With Adrian Heath's side buoyed by Sunday's result, Minnesota seems all-in for a Leagues Cup run. They also have the advantage of finishing their round-robin play in Central Group 2 first, with their result over Puebla setting the tone for the group and a chance to watch the final result play out when Chicago faces Puebla on Monday.
On the other hand, Chicago Fire has the advantage of scouting both opponents in group play before setting foot on the Leagues Cup field. They saw a veteran MNUFC captain lose his cool and be sent off early; they saw a struggling Liga MX side be picked apart repeatedly by the quick feet of Minnesota's attacking midfield; and they saw that Liga MX side, their next opponent, further unsettled by an emergency meeting called to discuss the dismal start to their season (losing to a shorthanded MLS side is, as we know, the final straw for many a club).
Chicago Fire is fighting for its first Concacaf Champions Cup (nee League) berth in two decades, not having earned an appearance since 2004 and this group could be a great launching pad. It is fairly obvious that the Loons' are the Fire's main threat, but we've all been here before: A middling Minnesota side has all the tools to overcome adversity against a middling cross-conference opponent but becomes a little too confident and falls to further adversity of its own making, rolling out the red carpet for said rival to storm on ahead – if only temporarily.
In short, goals change games and whichever side scores more will likely win.
Who to watch
Minnesota will have to further test its defensive depth in Boxall's absence, but that is nothing new. The only question is which two of three tested centerbacks – Bakaye Dibassy, Micky Tapias (who returned to full training this week after a knock), and Brent Kallman – will start in Heath's favored four-man backline. With no significant change to the Loons' attacking availability, a change up top is unlikely. While Teemu Pukki did not make the scoreboard on Sunday, his work off the ball made the runs by Reynoso and Hlongwane possible and all are fit so why not start a sure rotation again on Thursday?
Against them: Xherdan Shaqiri. After a slow start to the season, Shaqiri has scored three goals and one assist in his last five MLS appearances for Chicago. Kacper Przybylko is a wildcard, working his way back to fitness but coming off of a high in Chicago's last match — The striker subbed on in the 89th minute against Toronto and scored the game-winner in the 90th. And then there is former Loon Kei Kamara, whose goal against Minnesota earlier this year made him the first player to score for ten different MLS teams. The striker leads his squad with five goals (Przybylko is in a three-way tie for second with four goals, while Shaqiri trails with three) and would surely like to add a second against one of his nine former clubs. Goalkeeper Chris Brady will have his hands full with the Loons but his save percentage of 71.3 (67 saves, 27 GA) rivals Dayne St. Clair's 67.2 (45 saves, 22 GA), proving that Chicago has stood up to its own share of adversity this season.
Availability
MIN
Out: Sang Bin Jeong (ankle), Michael Boxall (red card suspension)
Questionable: Franco Fragapane (thigh), Ismael Tajouri-Shradi (thigh)
CHI
Out: Wyatt Omsberg (left lower leg), Federico Navarro (right lower leg), Javier Casas (right upper arm), Victor Bezerra (right lower leg)
Questionable: Carlos Terán (right upper leg)
---
Northland Soccer Journal thanks our Patrons for supporting our coverage.
If you would like to support independent soccer media, subscribe to NSJ on Patreon.