Tough Run for MNUFC Ends with A Comprehensive 4 Goal Loss to CF Montréal
We like to tell stories. They give us context and meaning, shaping what is possible, anticipating how we might experience what is to come, helping us understand what we have experienced.
Heading into an international break Minnesota United head coach Adrian Heath insisted that the story of his team's lopsided 4-0 loss to CF Montréal was not what it seemed: "It's not an easy one," he began his post-game comments, "because normally when you get beat four-nil, you think about the game and think 'yeah, they probably were better than us in most departments of the game.' I don't actually think that's the case this evening. We've conceded poor goals, the first two especially. But in between that, we played really, really well. I know some people who watched the game might not think that, but that's the case. I actually think that we've had better chances than they have tonight."
Statistically, the case could be made, as Minnesota had, in a rare show of form, the better of possession 53.5% to 46.5%, while taking 16 shots to Montréal's 13. Montréal got more of its shots on target, 8-4, but Minnesota had better control and passing in its attacking half and final third, winning both those with 72.8% to 64.3% success and 75.5% to 58.7% success respectively.  And although they were under on expected goals, 1.1xG to 1.5xG, that was much less than the final score.
But it was, in the end, a rather comprehensive loss as Minnesota was outplayed, beaten tactically and technically, and lacked the club depth to make the changes needed to keep up with the game.
After a first 5 minutes of both teams feeling themselves out, Montréal opened the scoring in the 7th minute off of simple individual effort. Hassani Dotson, working to dispossess Mathieu Choiniere at midfield, chasing back with a determination seemingly learned last weekend, couldn't gain possession. As the ball bounced free, Micky Tapias was a half a step late allowing Mason Toye, with a few big touches, to get free on goal. DJ Taylor came close to recovering from out wide but was only able to get half a foot in to disrupt Toye's shot, powered past Dayne St. Clair. There was not much form or technique to the goal, nor much run of play. Toye just outplayed everyone else to put Montréal up before the game had even seemed to begin.
Montréal's second, though, had all the form and technique a club could ask for. The play began on the left side, with Montréal drawing Minnesota's back line across the field, Zarek Valentin, in for the injured Kemar Lawrence, Michael Boxall, and Tapias all on that side of the field, pulling Taylor centrally in coverage. Montréal, recognizing the imbalance, quickly reset, circulating the ball back around to Gabriele Corbo who dropped a perfect cross over the backpedaling Taylor to Zachary Brault-Guillard. Cleanly settling the ball outside the box with a clear lane to goal, Brault-Guillard beat St. Clair on the angle to put Montréal up by 2 before the 15-minute mark.
With a palpable sense of relief after a rather hard week, Montréal fell back, allowing Minnesota back into the game, although the Loons weren't able to capitalize on the brief 10 minute spell of control, before the half played itself out.
Both coaches made changes at the half, Heath bringing Emanuel Reynoso on early for Ménder García, shifting the team into a kind of 4-3-3 or maybe even 4-2-4, with a fluid and interchangeable attack, while Hernán Losada made two changes, bringing on Ariel Lassiter for Lassi Lappalainen and Bryce Duke for Nathan Saliba.
The addition of Reynoso tipped the field in Minnesota's favor.

Although their chances did not start to come until the hour mark, the point again at which the team realized they were in a game.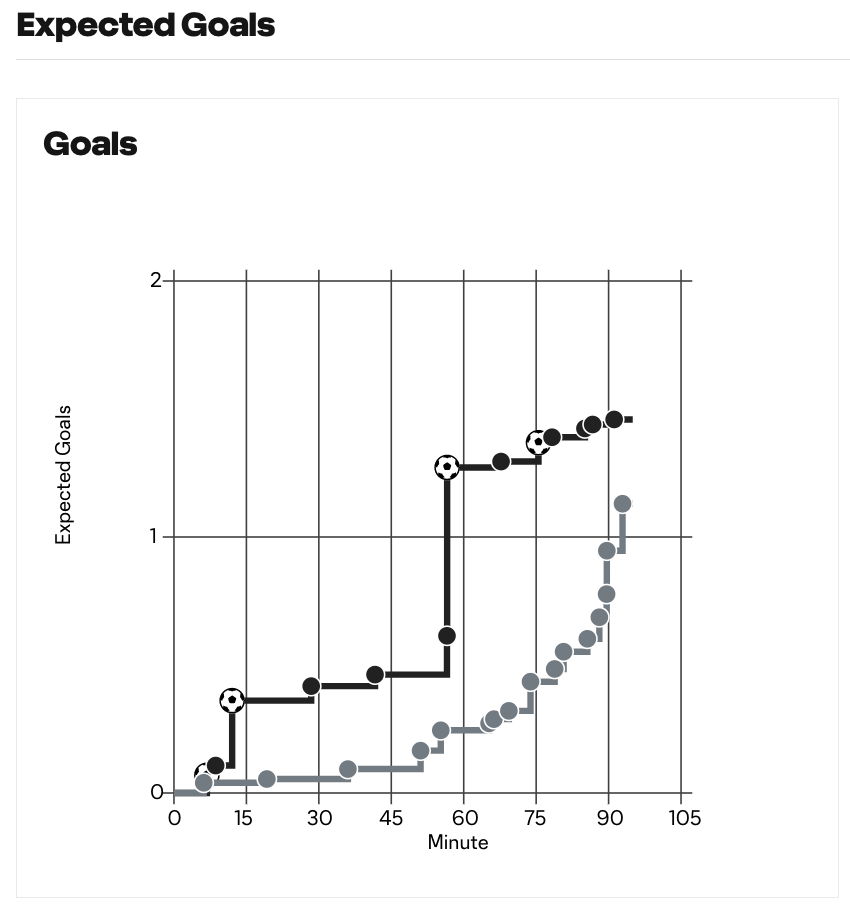 Reynoso coming on for García was a bit of necessity, Sang Bin Jeong not making the trip to Montréal, at home with a tight hamstring, but Montréal's back-three had a hard time figuring out their assignments without a true striker to mark up against and Reynoso becoming a displaced center of gravity Spaces began to open for Franco Fragapane and Bongokuhle Hlongwane in front of the Montréal's back line, but Minnesota was unable to capitalize on their opportunities, as again their final effort let them down.
While Minnesota struggled to convert and get back in the game, Montréal's third goal was a fully executed success. Positionally opening the field on the left, Bryce was able to find space in between Wil Trapp, Joseph Rosales, and Taylor, with Tapias left to chase Sunusi Ibrahim out wide. After Bryce's easy turn and through ball to Ibrahim, Montréal crashed the goal with a series of half field runs from a team that should have been out of gas at the 50 minute mark, Choiniere heading to the near post, Lassiter to the back, Bryce following his pass to the top of the box, Toye drifting into a dangerous spot. With Minnesota in full retreat Ibrahim found Lassiter at the back – the third untouched cross in as many games for Minnesota – but his shot was denied with an incredible effort from St. Clair. Toye, though, was the first to react to the rebound and rolled his shot over St. Clair's trailing leg. On a night when Minnesota announced the departure of Luis Amarilla and their starting striker had been subbed off at the half, it was hard to watch Toye, the lost Loon, not celebrating his brace.
As Minnesota continued to chase the game, Montréal's fourth was a return to the form of their first, Rudy Camacho simply out working Trapp to get free on a corner. There was a bit of a scrum before the corner was taken, but in the end Camacho was easily able to just shake his mark for the open header.
Heading into a long break the team will certainly look to find some positives from the night to build off of. But after getting 11 points from their first 5 games, Minnesota has only gotten 9 from their last 12, falling dangerously close to the low playoff bar. With the transfer window opening back up July 5, the club having cleared some roster space for a few more additions, Reynoso returning, and Bakaye Dibassy getting closer every day, the season is certainly not lost. Something, though needs to be figured out quickly for the club to begin moving forward.
---
Northland Soccer Journal thanks our Patrons for supporting our coverage.
If you would like to support independent soccer media, subscribe to NSJ on Patreon.