MNUFC continues slide with loss to Sporting Kansas City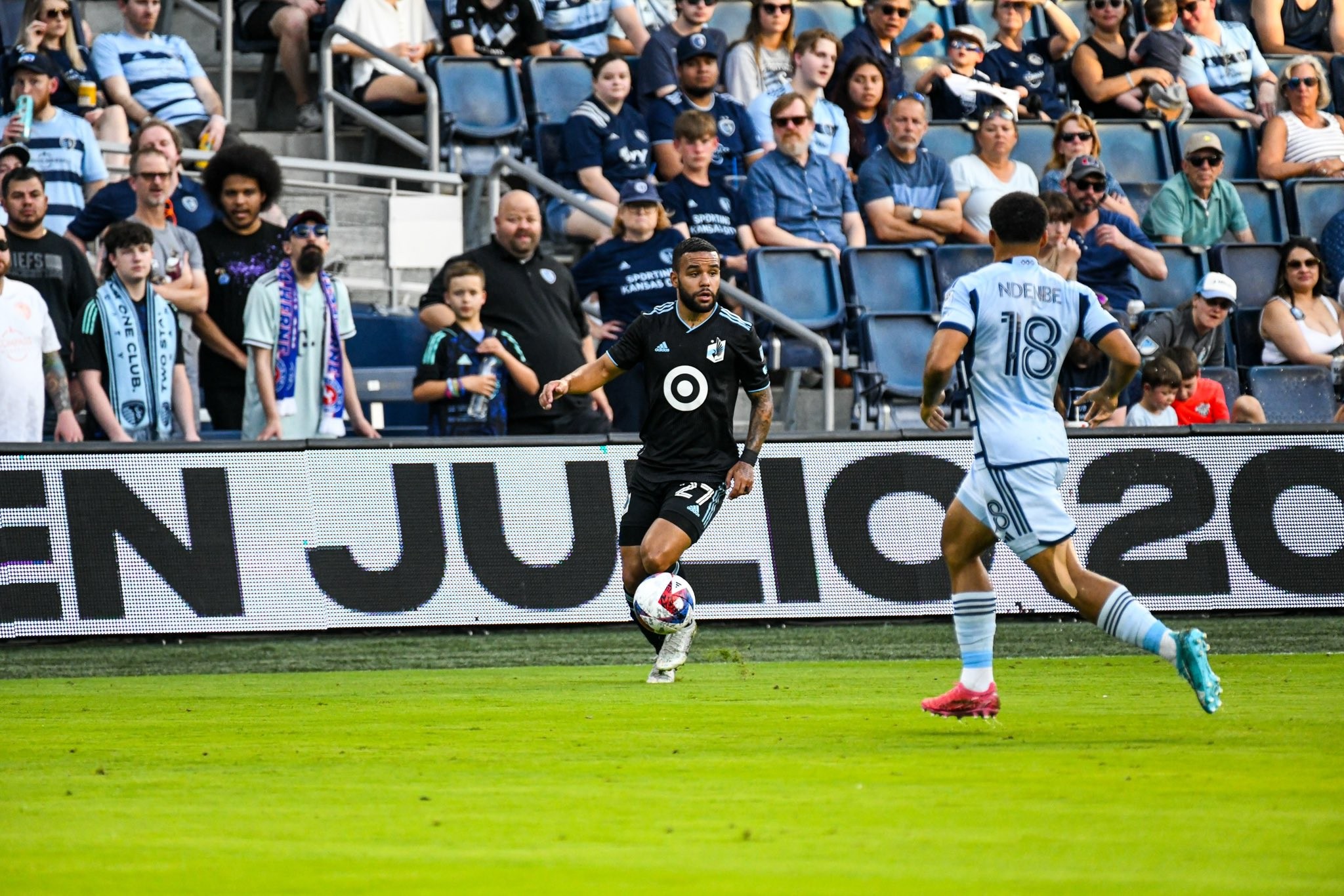 MNUFC fell 3-0 to Sporting Kansas City on Saturday, May 13, at Children's Mercy Park in Kansas City, KS (Photo courtesy MNUFC)
On Saturday night, Minnesota United FC travelled to Kansas City, KS, to face Sporting Kansas City as part of Major League Soccer's 2023 Rivalry Week. The Nicest Rivalry in Sports as it's called did not seem like much of a rivalry on that night. After two first half goals by SKC and a missed penalty by Sang Bin Jeong, Sporting had the match entirely under their control. SKC laid off slightly in the last 45 minutes, but still managed to drop another goal to push past Minnesota 3-0, continuing the Loons' woes at Children's Mercy Park.
Minnesota United took to the pitch in an unconventional (for MNUFC) 3-5-2 formation for the second consecutive match after good results with it earlier in the week in the US Open Cup. Unfortunately for Minnesota the match started off disastrous. Sporting was nearly able to score right out of the gate when Johnny Russell came sprinting into the box to meet a cross, but mistimed a shot on the fly sending it backwards. As Minnesota was attempting to clear the ball from the box defender Brent Kallman nearly cost his team a goal, heading the ball to the goal and requiring Dayne St. Clair to make a jumping catch to avoid an own goal.
Moments later Kallman conceded a corner to SKC, who had taken the third most corners of any MLS team to that point but had not scored on one. Dániel Sallói sent a floater into the box where Dany Rosero put himself at the right place at the right time, sending a header into a wide open space in the goal on Dayne St. Clair's right side.
Following the match, Dayne St. Clair said, "We knew they were going to come out pressing hard trying to win those battles early on and kind of set the tone for the game."
After allowing the first goal, things did not get better for Minnesota United as Sporting Kansas City continued to build momentum, while the Loons just looked flat for a large portion of the first half. 13 minutes after the first goal, the Loons allowed another when Sallói sent a rocket into the bottom corner toSt. Clair's wide open left side.
Minutes after going down 2-0, momentum looked to briefly shift to MNUFC's favour. Sang Bin drew a foul inside the box after SKC goalkeeper Tim Melia lunged at him, bringing him down in the process. Following a VAR review a penalty was awarded giving MNUFC a glimmer of hope to change the momentum in a stadium the Loons are historically very poor in. Sang Bin stepped up to take the spot kick and sent a slow roller straight down the middle to a waiting Melia.
Adrian Heath stated post match,
"I think that if Sang Bin scores it goes to two-one, it might have changed the complex of the game"
Minnesota continued to struggle through the remainder of the first half, which included Miguel Tapias being issued a yellow card for dissent after a foul, the second of only three issued between both sides with the others occurring in the 21st minute (Dany Rosero, bad foul) and  66th minute (Michael Boxall, bad foul).
Heading into the second half, Adrian Heath made a number of adjustments. Kallman was subbed off in favour of Franco Fragapane and Heath changed the formation from a 3-5-2 to a 4-2-3-1  due to SKC's pressing attack. The changes seemed to work as Minnesota got their first shot on goal, during a run of play, by Franco Fragapane, nine minutes into the second half.
Adrian Heath made his next two subs in the 65th, having Mender García and Luis Amarilla come on to replace Hassani Dotson and Sang Bin Jeong. With the substitutions and formation change Minnesota finally started to take control of the match from that point onward. Amarilla got his first shot just two minutes into his shift on a play that would be SKC keeper TIm Melia's last in the match as he was subbed off due to a hip flexor injury. While MNUFC did control a vast majority of the run of play in the second half, it did not stop SKC from scoring a third goal on the night. Gadi Kinda's 84th minute goal capped off the victory for Sporting.
In comparison to the first half where MNUFC struggled to do much of anything, the Loons second half was a much different affair than the first half. SKC held 61% possession at the end of the first 45 and allowed only one shot from Minnesota, that being Sang Bin's penalty. In the second 45, MNUFC picked up the possession to end at 44% and managed five shots, with two of those going on target.
Post match Adrian Heath stated, "At this moment, we've got a particularly poor thing because we are not scoring at one end and we are giving away too many goals away at the other"
Minnesota United FC will attempt to break their six match skid in a rare midweek match under the new MLS scheduling format, against Houston Dynamo. Wednesday night's match at Allianz Field is the first of three matches that the two sides will play this season and will serve as a preview of the following week's US Open Cup match that will take place in Houston, TX.
---
Northland Soccer Journal thanks our Patrons for supporting our coverage.
If you would like to support independent soccer media, subscribe to NSJ on Patreon.