Matchday 16 Preview: Austin FC vs. MNUFC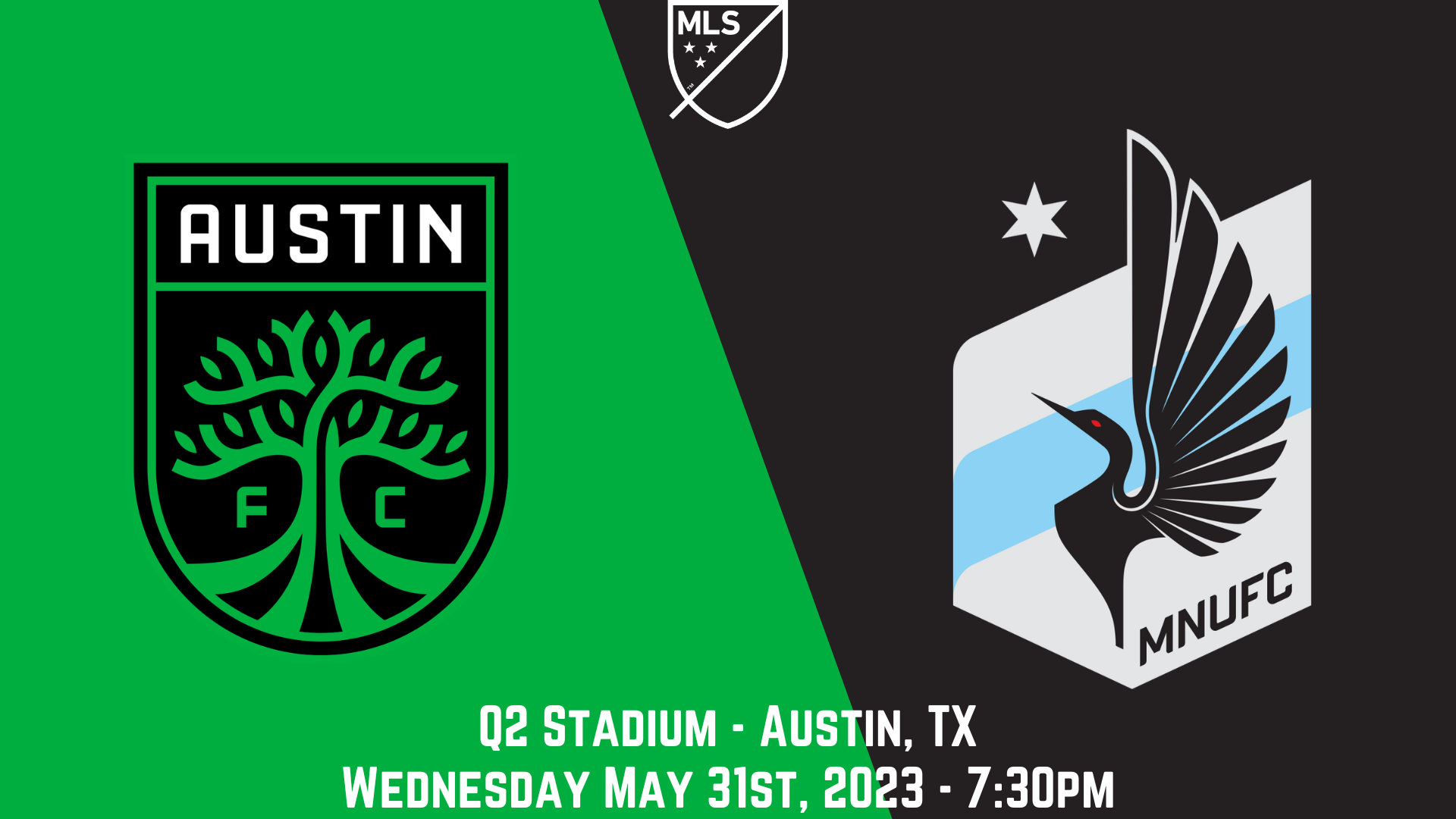 Matchday 16
ATX vs. MIN
AppleTV  | 1500 ESPN
Again. Again. Again. In another mid-week fixture Minnesota United head down to Q2 stadium to face Austin FC for the first time this season, nearing the end of a very busy run of games. With one more to go after tonight to round out the 12 in 43 days, closing it out at home against Toronto FC next weekend, the results, at the moment, are rather mixed: the team has gone 4-4-2 over the first ten with a -5 goal differential from 11 goals and 16 conceded. With the league's best road record, 4-4-0, and a faltering record at home, 1-1-3, road points are quite important for the Loons right now. But with the team looking gassed at the end of their draw with Real Salt Lake, and head coach Adrian Heath only using two substitutes in that one, tonight will certainly be a test of physical and mental endurance as the team awaits the reinforcement of returning players Bakaye Dibassy and Emanuel Reynoso.
After a stunning 2022, when the club, only two years in Austin after "leaving" Columbus to make a threesome of the Texas Derby, finished 2nd in the West and 4th in the league, 2023 has been a bit more difficult for Austin FC. It's easy to attribute the difference in seasons to luck and its lack, as Austin finished 2022 with a ridiculous +13.1 in G-xG (65 goals with a 50.9xG). But luck is often a product of effort, discipline, and tactics so it is also important to note the noise and injuries that Austin  and head coach Josh Wolff have had to struggle through this season, with the chaotic departure of their sporting director to open the year, and the recent loss of playmaking Argentinian DP Sebastián Druissi  to injury, a stretch when the team was winless in 8 games. But that run of poor results ended with an emphatic 1-2 win against the Seattle Sounders in Seattle, with the scoring started for Austin by Ethan Finlay, and now, with Druissi and Diego Fagúndez both ready to return from injury, Austin looks to settle back into the effort, discipline, and tactics that brought them so much luck last season.
Form
MIN: 6th in the West, 19 pts, 5-5-4 (road 4-4-0), 13g, 15ga (18.3xG, 15.5xGA)
Last five games: D(L)WWL
Last game: May 27, MIN 1-1 RSL (Glad (OG) 31')(Savarino 28')
ATX: 10th in the West, 16 pts., 4-6-4 (home 2-2-3), 14 g, 20ga (15.4xG, 18.3xGA)
Last five games: L(L)WWL
Last game: May 27, HOU 2-1 ATX (Herrera 37', Franco 87')(Zardes 22')
All-time head-to-head: 3-2-0 (1-1-0 away)
Last meeting: August 20, 2022 MIN 2-1 ATX (Reynoso (PK) 21', Fragapane 62')(Druisi 45'+2')
What to watch
It is, it seems, an understatement to say that Minnesota looked gassed at the end of their 8th game in 28 days, Heath's lack of substitutions both a statement about the shortness of their roster and his sense of the team. On the road, where a draw will be enough, expect the team to sit back and conserve energy, staying compact against Austin's possession play, hoping for a moment of quality on the counter or a quick transition from pressing Austin's at times rather daring build-up confidence.
Austin looks to slowly be regaining their confidence in the positional play that brought them so much success last season, although it still looks more like season and version 1.0 than 2.0, at times quite beautiful but capable of also looking rather awful. The 3-4-3 that plays like a 3-2-2-2+1 is the most possession-based style that Minnesota has faced in a while, but even at it's best, Austin's compact attacking patience has often had a hard time breaking down Minnesota's own defensive patience, with the two teams averaging 1.6 goals a game in their five meetings.
Who to watch
With 3 consecutive starts as a defensive-minded left-wing Joseph Rosales is making a place for himself in this post-Lod pre-Reynoso Loons' line-up. With fewer opportunities his development has been slower than Bongokuhle Hlongwane's this season, but he is taking advantage of the time he is getting, playing with defensive discipline and confidence in possession, while offering the occasional near-banger.
Although Minnesota's goal on Saturday night was officially credited as a Real Salt Lake own goal, it should go to Bongokuhle Hlongwane, which would make it 7 in all competitions this year. We can worry about the extent to which this club continues to rely on individual players, but for now, we should just try to enjoy it.
Many teams in MLS are, at this point, running on fumes, as the profit demand for games meets the limit of the league's roster rules and the roster building skills of clubs. Although this club has not learned to do it well, it seems that tonight will require some form of rotation of players to avoid any long-term injury problems.
US Men's International and veteran striker Gyasi Zardes had a slow start to his first year in Austin. But with 3 goals in their last 3 games, the most recent entering him into the century club with 100 regular season MLS goals, he seems to have found his form.
Leading the team in passes, successful dribbles, and blocked shots and second on the team in tackles, Daniel Pereira is the centerpiece of all that Austin tries to do. Expect him to be everywhere and doing everything, as Austin's night will go as well as his does.
In their first 16 games, prior to Sebastián Druissi, Austin averaged .81 goals a game; since his arrival they are averaging 1.55 goals a game. Although the sample size of this stat (from the Austin FC Game Notes) is a little misleading, the point is still well-made: he is that good, and if he is healthy, he will be a difference maker.
Availability
MIN
Out: Bakaye Dibassy (thigh)
Ryen Jiba (knee)
Robin Lod (knee)
Mikael Marqués (shoulder)
ATX
Out: Žan Kolmanič (right ACL)
Leo Väisänen (right LCL)
Owen Wolff (International duty, US, U20 World Cup)
---
Northland Soccer Journal thanks our Patrons for supporting our coverage.
If you would like to support independent soccer media, subscribe to NSJ on Patreon.