Matchday 9 Preview: Seattle Sounders FC vs. MNUFC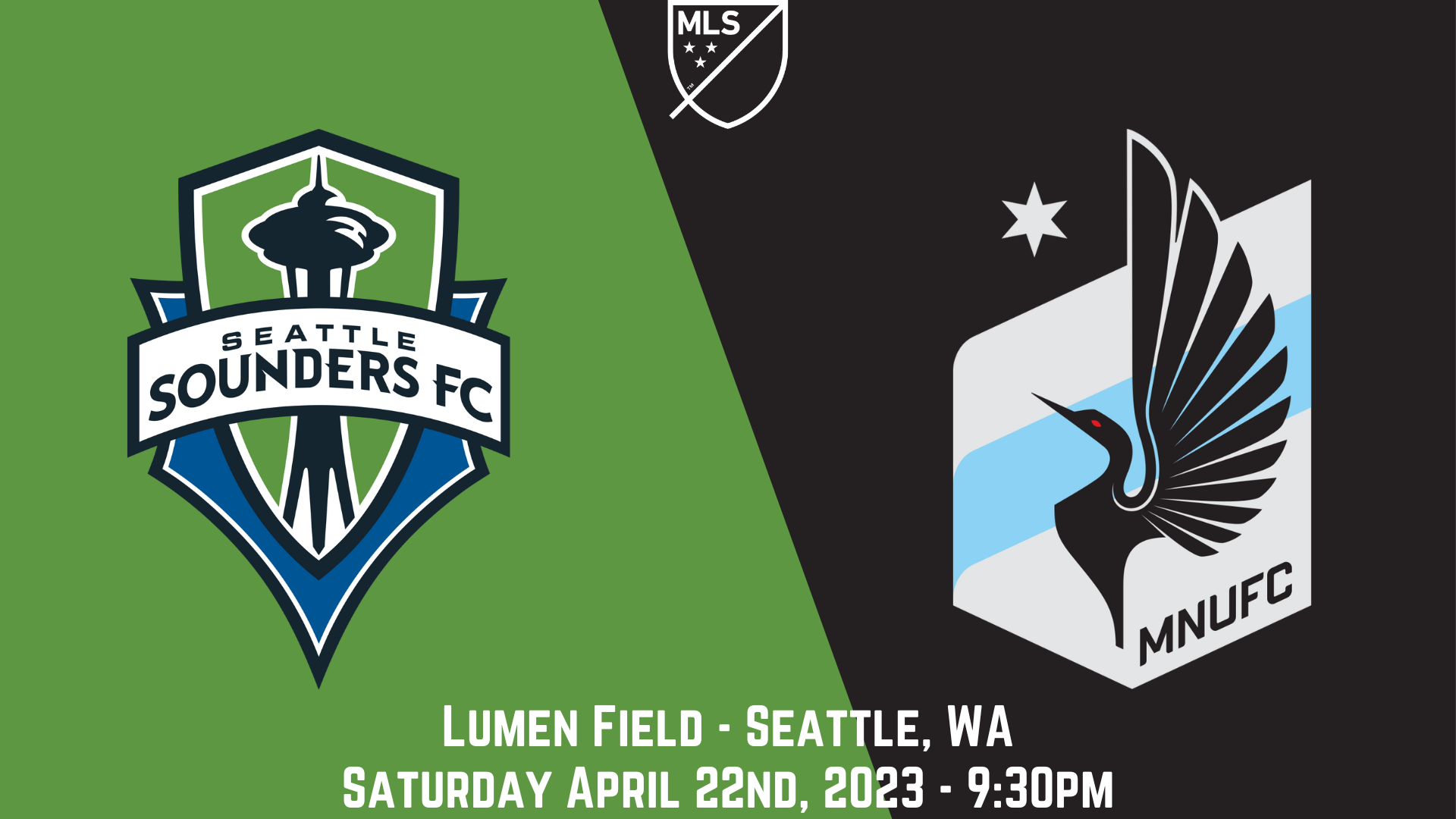 Matchday 9
SEA vs. MIN
AppleTV  | 1500 ESPN
After two tough losses against Eastern Conference opponents, Minnesota United heads to Seattle in search of some of their early season form in a place they have never won. That early season form was good enough for 3 road wins and 11 points from 5 games, an unconvincing but consistent run of results without their playmaking DP Emanuel Reynoso. Their two losses, though, came in very different ways: against Chicago, Minnesota offered up, in the first half, one of its worst performances in quite some time, looking disjointed and chaotic with little energy or passion; against Orlando the Loons began strong, controlling the game for 6o', before a change in shape let the points slip away. Still in search of a Reynoso-less identity, the Loons will need something special tonight to get back to their consistent ways and finally take home some points from Seattle.
The Sounders, though, might be coming into the game with a little something extra to prove after a 4-1 walloping from regional rival Portland last weekend. But then, it will not be quite that Sounders team to take the field tonight. Raúl Ruidíaz is now out 4-5 weeks with a hamstring injury and Joshua Atencio has suffered a setback in his quest for fitness this season, so both will be unavailable, while Cristian Roldán is returning from concussion protocol and so also most likely unavailable, although he is officially listed as questionable. League leading goal-scorer Jordan Morris will be available but limited after a near 90' mid-week performance in the US Men's National Team draw with Mexico, where he provided the assist on the US goal.
2022 was a weird year for Seattle: after their historic Concacaf Champions League win, the first for an MLS club, they finished the season out of the playoffs for the first time in their history, ending a 13-year run of playoff appearances. It was a reminder of how difficult MLS roster rules make it for clubs to build deep and balanced rosters that can survive busy international schedules and injuries. This season, they are back to their dominant selves and, even without their first-choice XI, Seattle is very good, seemingly more than enough for head coach Brian Schmetzer to build on his team's 10-1-1 record against Minnesota.
Form
MNUFC, 6th in the West, 3-2-2, Last five: LLWDW
Last game: April 15, MIN 1 – 2 ORL
SEA, 3rd in the West, 5-1-2, Last five: LWWWD
Last game: April 15, POR 4 – 1 SEA
All-time head-to-head record: 1-10-1
Last meeting: May 15, 2022 SEA 3 – 1 MIN
What to watch
In the first 5 games of the season, the Loons seemed to settle into a consistent post-Reynoso style, sitting deep, absorbing pressure, and doing enough on offense to get some results. In their last two games they have drifted from that style, suffering from defensive sloppiness. In training this week Wil Trapp suggested that a return to their early consistent form against Seattle will require the team to "be disciplined defensively, that's been our strong suit to start the season and we have to get back to that," recognizing that, "it will be a game [where] we're going to have to weather the storm at times." A younger and more aggressive 4-2-3-1 showed promise in the first 60' against Orlando last weekend, but it will take a certain kind of nerve to try that again on the road against Seattle. Even if the Loons line up formally in a 4-2-3-1, expect it to look at times like the 4-4-2 which brought them success early in the season. Seattle, meanwhile, will of necessity start with a heavily rotated team. But even with that they will remain dangerous across the field, and tactically flexible and intelligent enough as a team to take advantage of whatever spaces Minnesota leaves them.
Who to watch
In his first 60' shift against Orlando, newest Loon Sang Bin Jeong showed incredible promise in the #10 spot. Not a traditional playmaker in the #10, his directness of play continually pushed forward, even as he showed an impressive commitment to defensive work. Against one of the best holding midfielders in the league – Seattle's João Paulo – tonight will be an important next step in his integration into the team and the team's adjustment to him.
One of the greatest surprises of the season so far for Minnesota has been how quickly Micky Tapias has settled into the team. Top ten in the league this year in interceptions (16), his ability to read the game and anticipate opposing team's build-up will be essential tonight as he, Michael Boxall, and whoever is lined-up in midfield try to stop Nicolás Lodeiro.
One of the most intriguing matchups on the night will occur at a distance in the space between Minnesota's right back and Nouhou Tolo. After spending much of the week at home in Jamaica caring for a family emergency, Kemar Lawrence may not be available tonight. In the past, in Lawrence's absence, Heath has switched DJ Taylor to the left, starting Zarek Valentin on the right. But regardless of how the team lines up in back, Minnesota has always been at its best when its outside backs provide width and verticality in attack. Admitting that Nouhou does not contain that kind of offensive sensibility, Seattle often switches to three backs when in possession, sliding Nouhou centrally and freeing Álex Roldán on the other side, opening space to counter into if Minnesota gets their timing right.
Nicolás Lodeiro continues to be very good. The 34-year-old playmaker is tied for top of the league with 5 assists, second in the league in shot creating actions, and top 10 in the league in key passes. He is, simply, a joy to watch.
Like his counter-part on the offensive end, João Paulo continues to be very good from a defensive midfield position. Not always garnering the same attention as some of his teammates, except when scoring bangers that we will not talk about here, he is another in a tradition of solid holding-midfielders that call Washington home.
Seattle will most likely line-up tonight with a new look front-three of Léo Chú, Héber, and Albert Rusnák. Although a new attacking front, the talent of this three is a testament to Seattle's depth and versatility. Chú comes into the game tied top of the league in assists with Lodeiro (and Thiago Almada of Argentina's World Cup wining side and Atlanta United), leading the league in assists per 90 minutes, while Héber is top 10 in xG with 3.1, and Rusnák, as a converted midfielder, can be good anywhere on the field. If their playmaking cohesion and rhythm takes a moment to find, their talent will be there from the start.
Availability 
MIN:
Suspended: Emanuel Reynoso
Out: Bakaye Dibassy (thigh)
Ryen Jiba (knee)
Mikael Marques (ankle)
SEA:
Questionable: Cristian Roldán (concussion protocol)
Dylan Teves (hamstring)
Out: Josh Atencio (right adductor)
Jacob Castro (left adductor)
Raúl Ruidíaz (right hamstring)
---
Northland Soccer Journal thanks our Patrons for supporting our coverage.
If you would like to support independent soccer media, subscribe to NSJ on Patreon.