Matchday 10 Preview: MNUFC vs. FC Dallas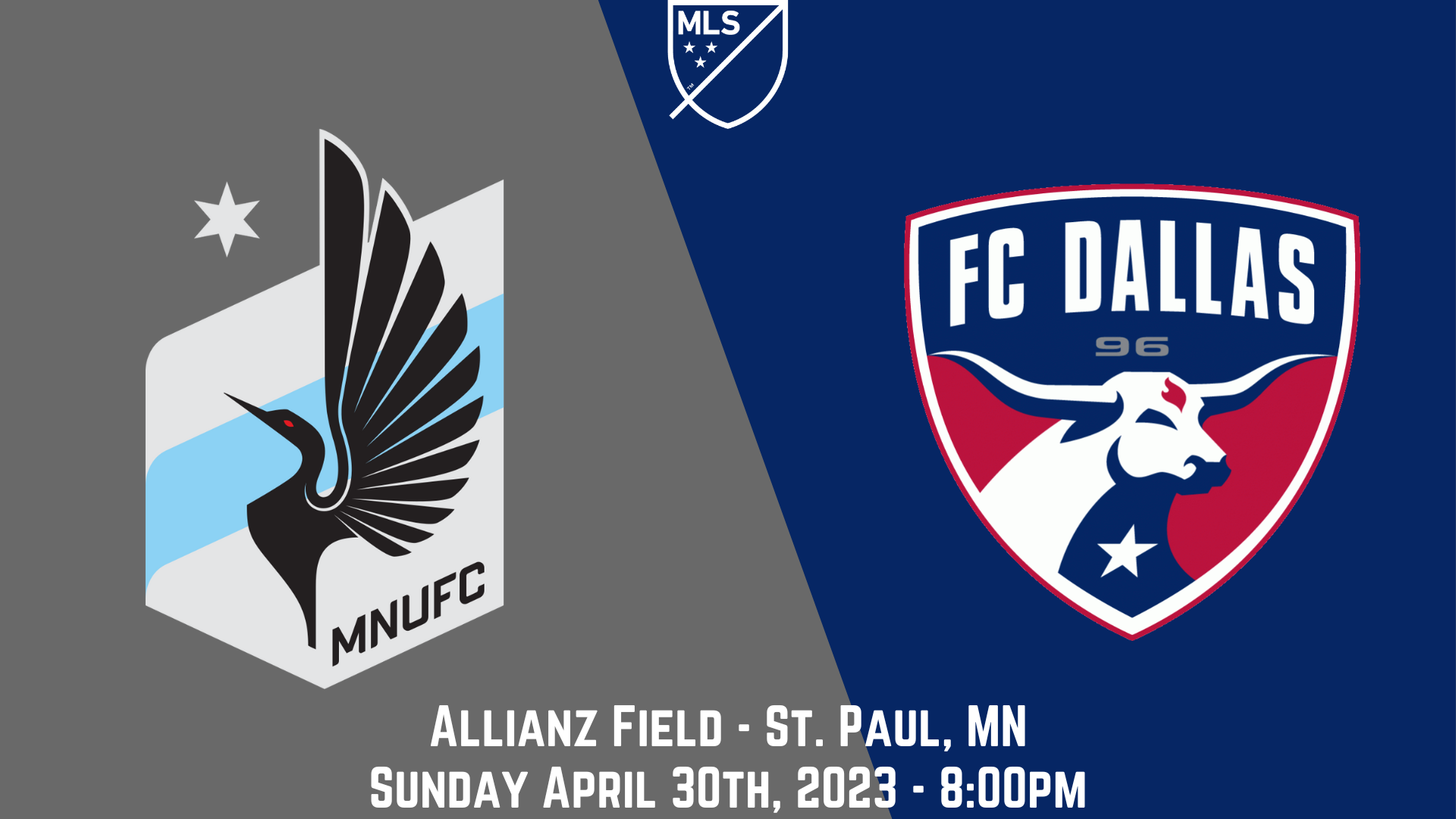 Matchday 10
MIN vs.DAL
AppleTV  & FS1 | 1500 ESPN
One would like to make of this an epic Biblical showdown, where, in a strange plot twist, the Archangel takes on the Savior, three Michael's against three Jesuses, a battle for the ages, witnessed by the multitudes of a Sunday night national TV audience. A true MLS After Dark clash.
But MN United and FC Dallas are two clubs that go about their business without much flash or fanfare. Typically, they simply and quietly collect points. At 7th and 4th in the West respectively, they are separated by 3 points – essentially the game that Minnesota holds in hand from their early season bye. The two clubs have also almost split the all-time series, with the Loons gaining a slight edge over the Toros, 7-6-3. Although anything can happen in this league, we should probably expect a rather more subtle battle tonight.
It feels like a long time ago now, but Minnesota opened the 2023 season with what was a rather shocking result in Dallas, the first win of a run of 5 unbeaten. That run, though, was followed by 3 straight losses. Now, coming off a midweek 3-1 victory over Detroit City FC to begin their US Open Cup campaign, Minnesota is hoping to end their poor form in MLS, while gaining their first home win of the season. "Let's see if we can hear Wonderwall for the first time this weekend," head coach Adrian Heath said in training on Thursday. "That will be important for us." Important not only to secure 3 points against a competitive Western conference opponent, but also to find a lost consistency as the team makes its way through a busy stretch of the season.
Since that home opening loss FC Dallas has reversed its fortunes, losing only twice, both times on the road, against LAFC and NYCFC. But if they have been consistent, they have not been convincing. With a number of key players still looking to get going this season, it feels like Dallas has another level to reach to improve on their 3rd place finish last year. Without a mid-week Open Cup game of their own (they enter the competition in the next round) Dallas has had a week to stew and refocus after their loss to NYCFC. Looking to play the spoiler at Allianz, they will also be looking for that next step up in quality.
Form
MIN, 7th in the West, 3-3-2, Last five: WLLLW
Last game: April 25, DET 1 – 3 MIN (US Open Cup, 3rd Round)
DAL, 4rd in the West, 4-3-2, Last five: LWWDL
Last game: April 22, NYC 3 – 1 DAL
All-time head-to-head record: 7-6-3 (MIN 5-2-0 at home)
Last meeting: Feb. 25, 2023 DAL 0 – 1 MIN (García 48')
What to watch
It is, of course, a good thing for a club to have tactical flexibility and the depth of roster to rotate players. But that must be intentional, and at the quarter poll of the season, it is still hard to say exactly what this Minnesota United team is, or even always who it is. Is it the high-pressing team that beat Dallas away to start the season? Or is it the sit back and absorb pressure team that found so much success early on? Or is it the more balanced and expansive team that showed so much promise for 60' against Orlando and 20' against Seattle? And is this team a 4-3-2-1 that plays like a 4-4-2? Or an actual 4-4-2? Or an actual 4-2-3-1? And if any of that is set, is there a preferred XI? That's hard to know, although there does seem to be a preferred V: Sang Bin Jeong, Robin Lod, Michael Boxall, Micky Tapias, and Dayne St. Clair. But the rest of the team? Kervin Arriaga and Hassani Dotson have shown the potential for a great partnership in midfield, but with Wil Trapp probably available and Arriaga questionable, what will the midfield look like? While up front, it doesn't seem like Bongokuhle Hlongwane or Ménder García have done enough with their opportunities to secure their spots, especially after Luis Amarilla and Franco Fragapane had good enough showings mid-week to at least make a case for time. It is only in the back where the indecision seems intentional and a sign of quality, as Kemar Lawrence, DJ Taylor, and Zarek Valentin can be rotated without much change in quality. Heading into Matchday 10 this still feels like a team in search of a Reynoso-less identity.
In his second season in charge head coach Nico Estévez has turned Dallas into a team that is tactically flexible but stylistically consistent. While rotating players and formations, between games and in games, the Toros remain committed to expansive possession, quick recovery of the ball in the middle of the field, and turning on lighting quick attacks. They have sacrificed a bit of their defensive fortitude from last year – in 2022 they finished with 1.09 goals against per 90 minutes and are at 1.22 this season – but they remain a solid, well-organized team that is searching for just a bit more precision in the final third.
Who to watch
In his 7 starts and 8 appearances this season, Ménder García has contributed 2 goals and 0 assists, off of 2.6xG and .6xA. With a good work rate and excellent athleticism, he has shown flashes of incredible skill and goal scoring instincts. Also contributing 2 goals in MLS this season, adding another against Detroit mid-week, Luis Amarilla has struggled so far to find his form. Although struggling strikers has been a feature of MN United under Manny Lagos and Heath, neither Amarilla nor García has done enough, and the club quickly needs to figure out a way to get more from its strikers.
Before his season ending ACL injury last year, Hassani Dotson looked poised to take over in midfield. This year, he and Kervin Arriaga have shown incredible potential playing together, a potential that, if the team is going to find success, they will need to turn into control of the middle of the field. With Arriaga a game-time decision tonight and Wil Trapp also dealing with a hamstring injury, it will be up to Dotson to step up.
Last season FC Dallas conceded a mere 37 goals, second lowest in the league after the Philadelphia Union and their 26 (a total Minnesota almost doubled at 51). Goals against is, of course, more a team structure statistic than a goalkeeper's, but Maarten Paes was one of the best keepers in the league in 2022. His numbers have slipped a little this year, but he is still very good. He might not be busy tonight, but against Minnesota's opportunism he will need to keep control of the ball and his box.
The subject of trade rumors last week as the primary trade window was closing – the LA Galaxy wanted him, Dallas didn't want to lose him – Paul Arriola has struggled to find his form this season. After contributing 10g+7a last year, second best for Dallas behind Jesús Ferreira's 18g+6a, he has only contributed 2 assists this year. But when he clicks, he will be a difference maker in attack.
The second of Dallas' three Jesuses, Geovane Jesus has been a revelation at right back. With 2 assists on the season, he has the potential to pin back Minnesota's left side, and if the Loon's defense is preoccupied with the Toro's front three, Geovane will take advantage of the opening.
Availability
MIN:
Suspended: Emanuel Reynoso
Out: Bakaye Dibassy (thigh)
Ryen Jiba (knee)
Mikael Marques (ankle)
Questionable: Kervin Arriaga (thigh)
DAL:
Out: Tarik Scott (season ending injury)
Questionable: Alan Velasco (right knee sprain)
---
Northland Soccer Journal thanks our Patrons for supporting our coverage.
If you would like to support independent soccer media, subscribe to NSJ on Patreon.