Matchday 3 Preview: MNUFC vs RBNY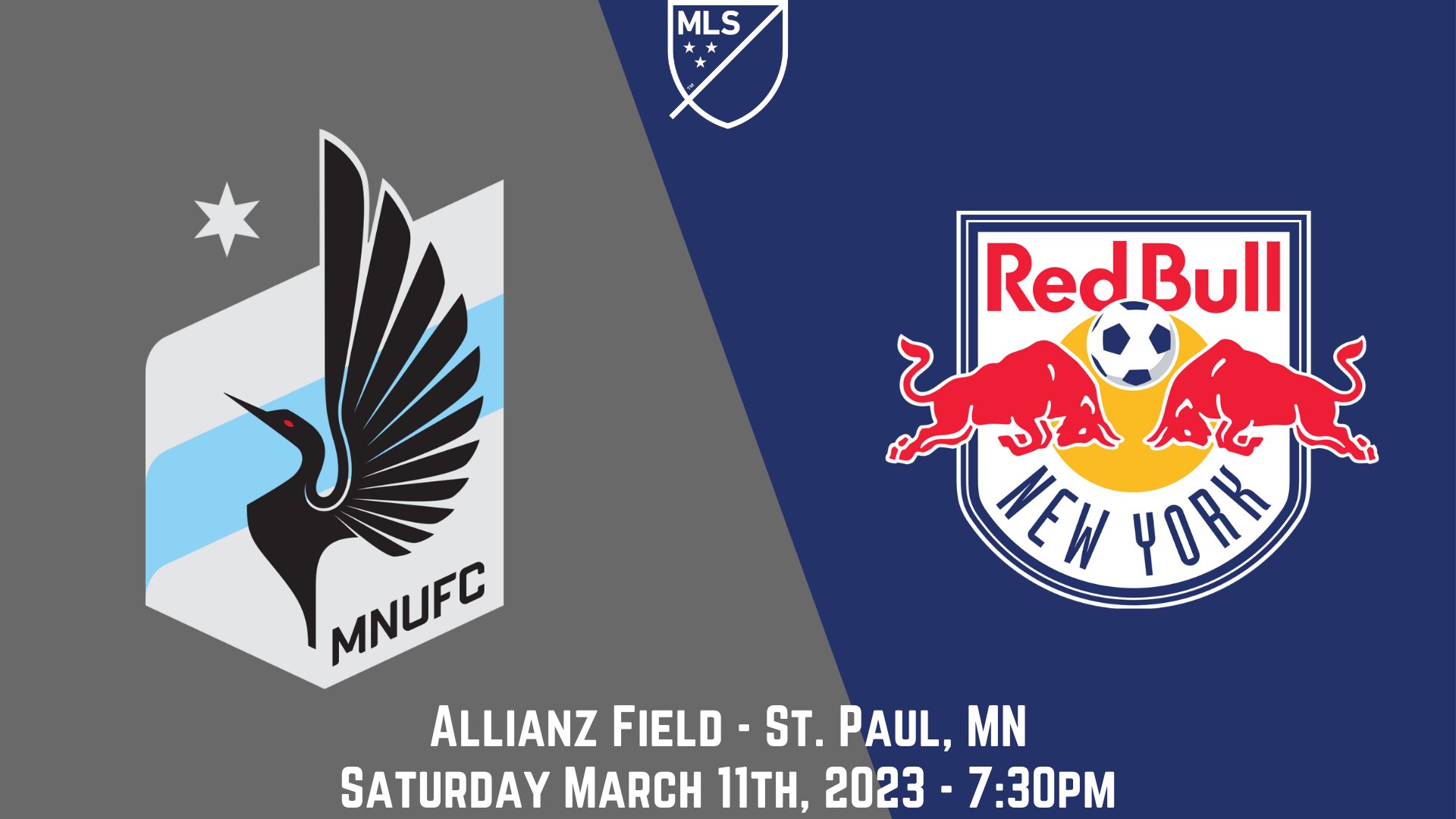 Matchday 3
MNUFC vs. RBNY
AppleTV  | 1500 ESPN
Minnesota United FC will welcome fans back to Allianz Field on Saturday night, hosting Eastern Conference side New York Red Bulls at 7:30 PM. The Loons' first match since the nailbiter on Matchday 1 (1-0 win at FC Dallas) will be played in the snow. With a week of team building and regeneration under their belts and the return of a couple key players, fans can expect a flurry of action both on and off the pitch.
With only one match under their belts, MNUFC has already shed some of the preseason narratives:
Can they score goals without Reynoso? They can.
Maybe Rey was holding us back all along…

— AniPlaysBass (@AniPlays) February 26, 2023
Does Heath have enough depth to replace a couple key starters? He does.
The report of our death was an exaggeration.

— Mary Burke (@slapshoe) February 26, 2023
Can Boxall's remixed backline find a rhythm? Clean sheet says yes.
Defense was rock solid and i'm super happy

— Tim "BBall Paul Victory Tour" Nichols (@timcities555) February 26, 2023
Which Loons will fly?
Despite the bye week the club's available personnel for Matchday 3 looks about the same. While Luis Amarilla is back from administrative obligations in Paraguay (likely fighting Garcia for that starting spot), there have been no real changes to the injury list. Bakaye Dibassy (thigh), Doneil Henry (thigh), Ryen Jiba (knee), Brent Kallman (thigh), Mikael Marques (ankle) and Emanuel Reynoso (suspended) all remain out. Bongi Hlongwane and Wil Trapp have both been cleared for selection despite injuries that kept them out of full training earlier this week; a hamstring and a rib contusion, respectively.
So, given the solid shifts of the Matchday 1 starters, it's doubtful there will be big changes to the lineup. Surely the back four – Lawrence, Tapias, Boxall, Valentin – will remain the same. (They will have to adjust for Michael Boxall's absence during the international window later this month but that's an asterisk to deal with another day.) With Hassani Dotson coming back into fitness, he could split some midfield time with Trapp. Perhaps with Hlongwane recovering and Amarilla available, Ménder García could drop back to the right wing. Or maybe Heath will see if the eleven who took care of business in Frisco can do it on a cold and snowy day in St. Paul.
Snow & gusty winds are expected this weekend, with the heaviest snow coming Saturday morning & afternoon across central MN. The March Sun angle may limit accumulation on roads & sidewalks during the day tomorrow, but gusty winds will lead to low visibility with the falling snow. pic.twitter.com/tOWGUGte3S

— NWS Twin Cities (@NWSTwinCities) March 11, 2023
The Loons' home opener record is a mixed bag (1W – 2L – 2D) but, with the exception of the original "Snowpener" (2017: 6-1 loss to Atlanta), every game has been close (2018: 2-1 win, 2019: 3-3 draw, 2021: 2-1 loss, 2022: 1-1 draw). In four previous meetings, MNUFC and RBNY each have two wins and two losses.
One ugly, scrappy goal will be enough tomorrow.

— OnlyPunsCEO (@MarknessVisible) March 11, 2023
Wet boots wet socks cold feet fun game

— David Maas (@ClosetMetro) March 10, 2023
Adrian Heath has been preparing his side for the Red Bull brand of soccer:
"They've got talent. They've got a lot of energy. They've probably pressed more than any team in Major League Soccer, that's in their DNA as a Red Bull organization, and we know what's coming. It's not going to change. The ball goes forward, the next one will go forward as well, and you have to be ready for that."
Will the Red Bulls find their shooting wings?
While MNUFC goes into Saturday with a win and rest, the New York Red Bulls are winless and scoreless in two, having played Nashville to a 0-0 draw in their own home opener last week. And, according to the club's By the Numbers, it has been 2,058 days since the club has played in Minnesota, meaning they have yet to meet the Wonderwall in its current, Allianz form.
New York's scoreless draw last week was not for lack of shooting. They registered 8 shots (3 on target) to Nashville's 5. Elias Manoel and John Tolkin each notched two shots, with both of Manoel's on target. The squad posted similar numbers in their 1-0 loss at Orlando on Matchday 1. They're certainly not afraid to shoot and their defense is solid, having conceded just one goal (a penalty to Orlando). While the team will need some time to work out the kinks that come with losing a presence like Aaron Long, there is plenty of confidence that results will come.
Head coach Gerhard Struber said: "I think this will be a game with a little bit similarities [sic] to the Nashville SC game, many second ball fights and many long balls from them also and I think in this direction we need to be ready. I think [it's] a big challenge, a tough game again. Every game in the league is always a challenge that in the end that you create points, but in Minnesota it is a big one."
One thing is certain going into this match: Chances will change the game.
Availability
RBNY
Out: Cameron Harper (concussion protocol), Dru Yearwood (hamstring), Serge Ngoma (hamstring), Matt Nocita (hamstring)
MNUFC
Out: Bakaye Dibassy (thigh), Doneil Henry (thigh), Ryen Jiba (knee), Brent Kallman (thigh), Mikael Marques (ankle), Emanuel Reynoso (suspended)
And lest we forget,
The Red Bulls actually play in New Jersey

— El Guerra (@TheGuerra1) March 11, 2023
---
Northland Soccer Journal thanks our Patrons for supporting our coverage.
If you would like to support independent soccer media, subscribe to NSJ on Patreon.